The popularity of go-karting is rising every day. With the rise of popularity, the go-karts market is now more competitive than ever. Purchasing a go-kart can be extremely difficult for someone new who wants to be a part of this growing trend.
However, there is nothing to worry about as this article is all about helping you out. As a go-kart enthusiast myself, I used my extensive experience and user feedback from different sites to compile this list of the nine best go-karts for adults.
With so many excellent go-karts for adults available on the market, it was not easy to narrow it down to only nine. A buying guide too will show you the aspects you should look for in a go-kart.
Lastly, I answered some fundamental questions and reviewed five of the best go-kart tracks where you can have all the fun. So without further ado, let's begin.
Which One is the Best Go-Kart for Adults?
Considering the power, mileage, and innovative features, Segway Ninebot is the best go-kart for adults. My 2nd option is XPRO 125 CC. The price is a little higher, but I assure you the premium performance will satisfy you. In short, this is a go-kart that excels in every department. First of all, the frame is made of steel. So, there is no scope to question the material.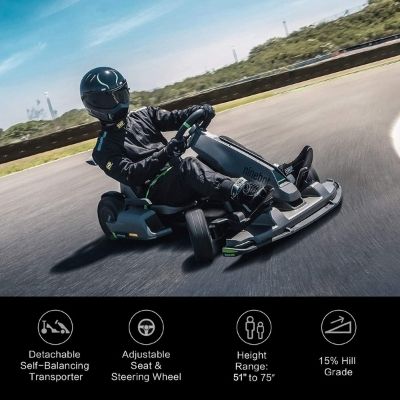 Then comes the performance, and it's outstanding for an electric go-kart. Despite having a powerful 4800W motor, this electric go-kart will deliver you a mileage of 15.5 miles for one full charge.
Electric go-karts are known for their faster acceleration, not for their high Speed. However, this go-kart has a top speed of 23 mph, one of the highest in its price segment.
Additionally, features like seat and steering wheel adjustability, app-based controls, and a sound simulator make this go-kart arguably the best electric go-kart for adults.
How Much is a Go-Kart for Adults?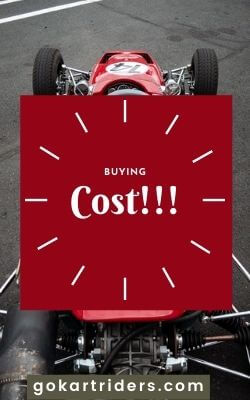 When purchasing a go-kart, the first thing that comes to our mind is the price. Before making any decision, you have to know if you can afford a go-kart or not.
Depending on various factors, a go-kart can cost from around 400$ to up to thousands of dollars. There is no capping the upper limit here. The priciest one will cost you around two thousand bucks if I talk about the list I made.
Factors like the type, engine/ motor capability, and innovative features play a crucial role in deciding the price. If you choose to go for a custom build one, you can get the quality and performance at a lot less money.
#1: MotoTec Mud Monster XL 212cc 2 Seat Go Kart Full Suspension Red
The MotoTec Mud Monster XL 212cc 4-stroke 2 Seat Adult Off Road Go Kart with Front and Rear Suspension is now available! 212cc 4-Stroke OHV Engine, Padded Roll Cage Safety Bar, Metal Throttle and Brake Peddles, Adjustable Seat, More Seating Space Than The Competition, and Four-Point Safety Harness.
Features:
⦁ Excellent Go Kart at a reasonable cost
⦁ Expertly crafted using top-quality components
⦁ Crafted to meet your precise requirements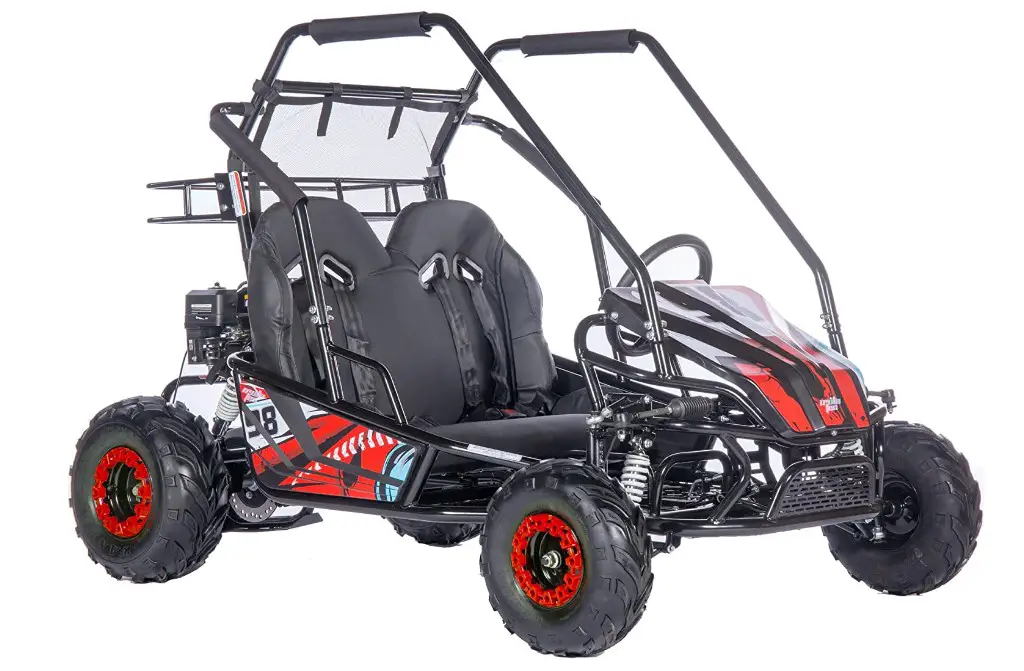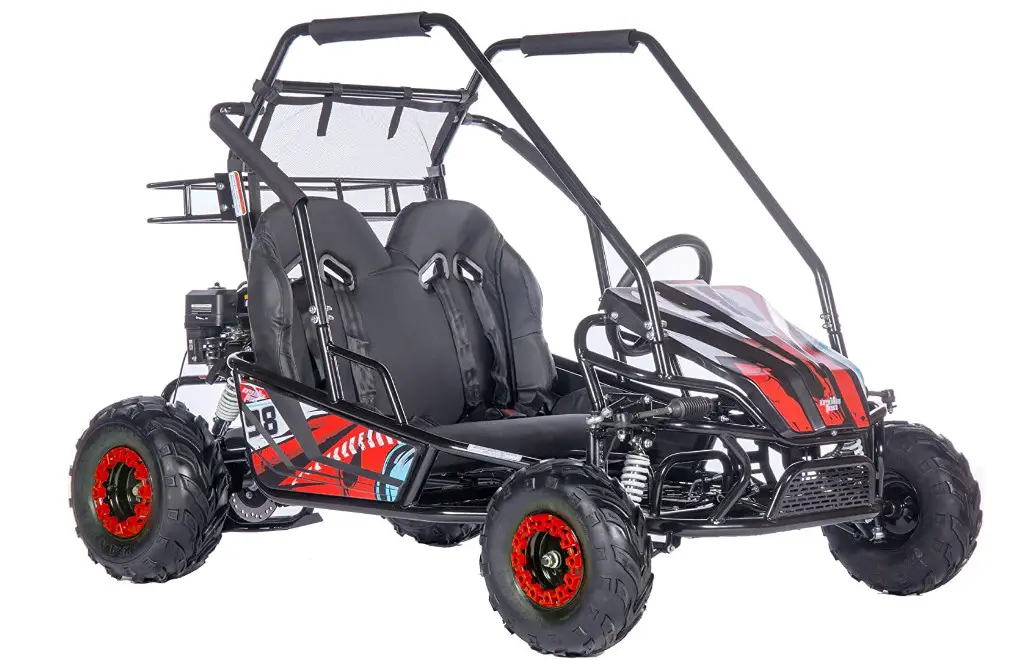 This go kart is tough and long-lasting. Equipped with low pressure tires for good traction and riding comfort, a CVT torque converter, a rear storage rack, and an easy pull start system.
You can buy with confidence knowing that this item is brand-new and backed by the manufacturer's warranty.
This go-kart is undoubtedly for explorers who like the need for speed as well as thrills.
Make sure a speed governor is installed if you intend to purchase this kart for adults. The dealer might take care of this for you, depending on where you buy. Keep in mind that some assembly is necessary after delivery, however it does come with a detailed manual.
Also, it received great grades for comfort, as the padded seats and low-pressure tires provide a comfortable ride over a variety of rough terrain. To make sure you are properly restrained, the dual seats also include seat belts. In addition, the 212cc has a sturdy roll cage for further security. It is really nicely made and offers excellent value for the money. A fantastic winner all around!
Pros
⦁ Ride Safe
⦁ 4-Point Seat Belt
⦁ Padded Roll Bar
⦁ Adjustable Seat
⦁ Independent Front Hydraulic Shock
⦁ Dual Rear Hydraulic Shock 
⦁ Foot Operated Hydraulic Rear Disc 
Cons
⦁ It requires assembly
#2: Segway Ninebot Electric GoKart, 13.7 Miles and 10MPH, W. Capacity 220lbs, Outdoor Race Pedal Go Karting Car for Kids and Adults, Adjustable Length and Height, Ride on Toys
The model in question was released in 2019. The manufacturer claims that the product will be the best gift for children or people who love outdoor activities.
If you sync your GoKart Drift Kit with Ninebot S, which you can purchase separately, you can enjoy a full-fledged kart. The range is 13.7 miles. The operating speed is no more than 10 miles per hour, and the speed is gained in 2 seconds. This is an ideal device not only for children but also for adults. It also claims to be unisex.
Operates at temperatures from 14 to 104 degrees Fahrenheit. The design is supplemented with a hand brake. There is a brake pedal that provides switching between forward and reverses the movement. Thanks to the excellent gear ratio, it is easy to control the device with high accuracy.
The structure unfolds and the maximum size is 54x32x24 inches. When assembled, the size is 40x32x18 inches. Weighs only 60.9 pounds. Segway has several driving modes, so it will be appropriate for different age groups. You can adjust the length of the frame, as well as the height of the steering wheel.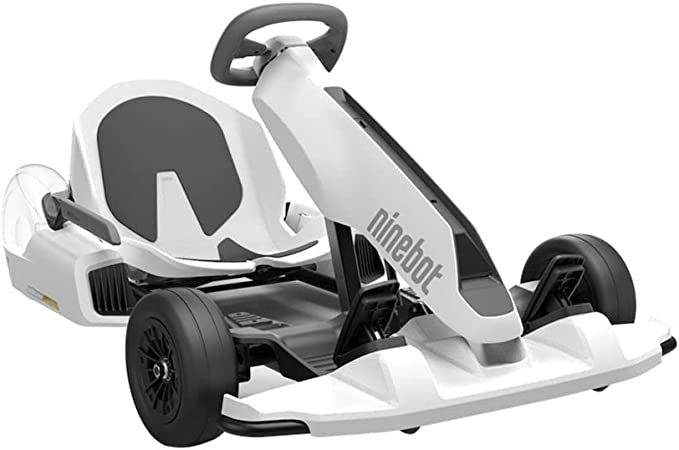 Suitable for drivers whose height ranges from 4.3 feet to 6.5 feet. The maximum weight the structure can support is 220 lbs. Not to mention the portability of the design. The set is foldable for easy portability. You can fit it in any car trunk, regardless of its capacity.
Thanks to this, the device can be taken with you anywhere. The manufacturer provides a guarantee for the product. To facilitate the assembly process, or to receive notifications of the required speed, you should install the Segway app. Synchronization with the application allows you to receive notifications in real time.
The device runs on batteries. The kit comes with 6 AA batteries required.
#3: Coleman Powersports 98cc/3.0HP CK100-S Go Kart, 13 inches
This is a great entry-level kart that will introduce your child to throttle/brake control and provide hours of off-road fun! Coleman Powersports makes some pretty good rides designed to give your kids a lot of fun with safety and reliability built into the design.
Features:
⦁ Elegant single card design
⦁ Sports seat with four-point seat belt
⦁ The weight of the off-road kart is 146 pounds
Fully automatic, 4-stroke, 1-cylinder, overhead valves, 98cc/3.0hp will allow you to tackle trails all day long with plenty of power and save fuel at the same time.
Easy pull start thanks to torque converter CVT system. Low-pressure tires provide a soft and smooth ride even on rough terrain. Hydraulic foot disc brakes for secure stopping.
Recommended for riders up to 150 pounds and for ages 13 and over.
A reinforced seat and four-point harness keep you in the driver's seat, while a padded, durable roll cage provides added security. The emergency power switch provides a quick and easy power off.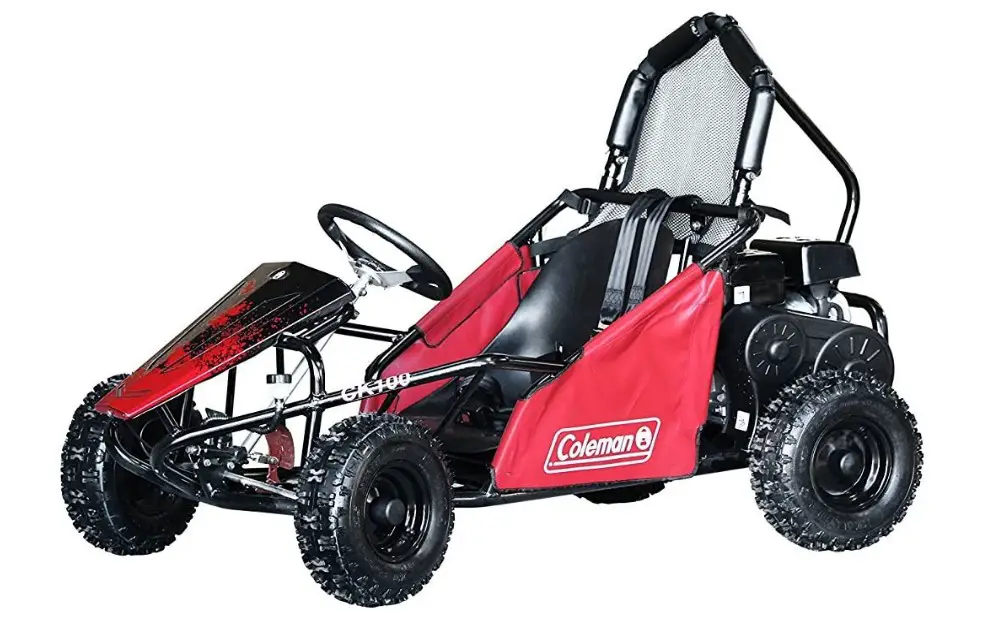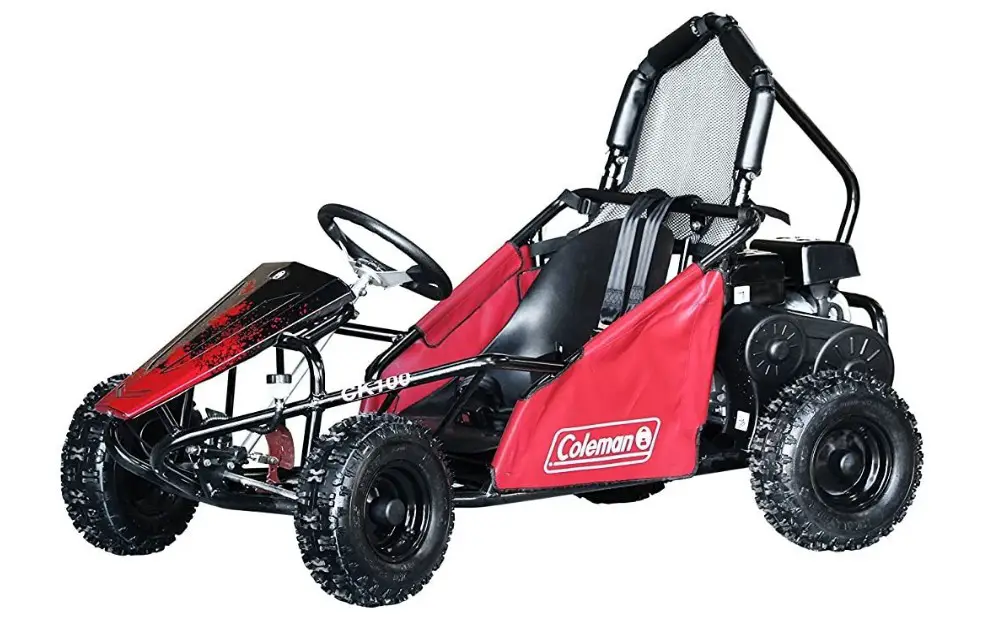 We know you're awesome, which is why this go-kart has been crafted with the utmost care. Constructed with a durable 16 and 13-tubular construction and reliable clutch and chain drive, this durable machine will last for years for all ages.
The top speed of the Coleman CK100-S is 15 mph. Top speed often depends on a number of factors. Depending on the terrain you ride will determine how fast you can get the CK100-S up to speed. For example, if you're driving on a well-groomed dirt road or a smooth trail, you're more likely to reach those top speeds than if you're driving up and down hills on rough trails.
Pros
⦁ Pretty good speed and power
⦁ Works great
⦁ Throttle adjustment is well thought out
⦁ Easy to slow down or speed up
Cons
⦁ It's really hard to add oil
#4: M Massimo Motor GKD200 169CC 4 Stroke Single Cylinder Fuel Tank 10 Liters Hydraulic Suspension Electric Start Go Kart
The Massimo is an SUV that has been around since the early 2000s and has been gaining traction ever since.
Features:
⦁ Speed controller for safety
⦁ Comfortable adjustable seats
⦁ Hydraulic disc brakes
⦁ Reinforced steel frame
⦁ Electric motor start
They are known for their many features and capabilities that make them appealing to people looking for a tough vehicle that can handle any terrain.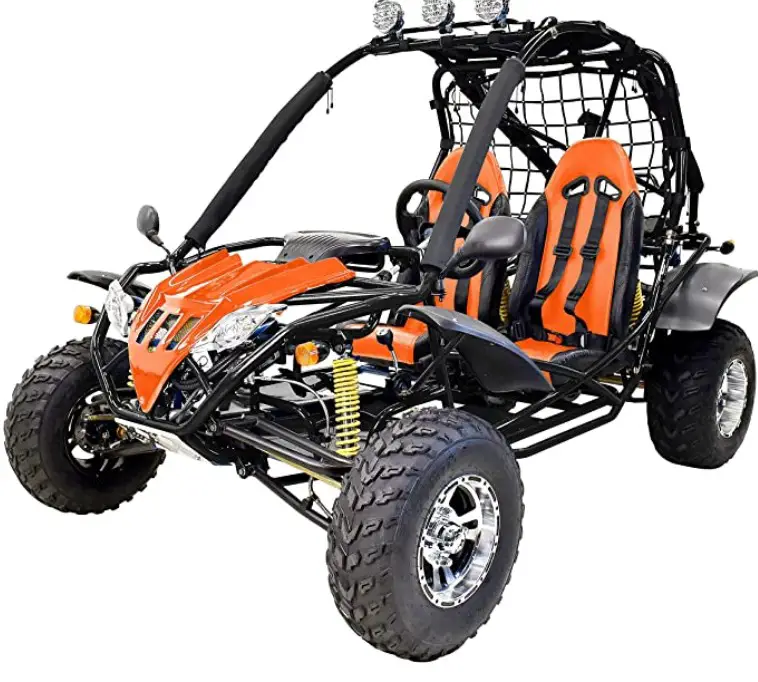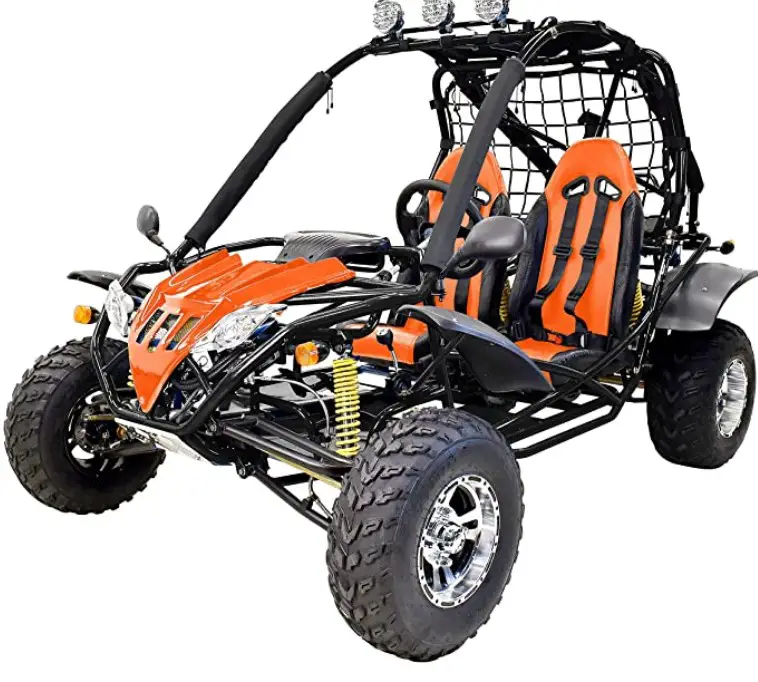 The Massimo GKD 200 Go Kart is made for big kids and for all of us. With a 10hp 169cc engine. see riders up to 350 pounds and 5ft 9 can join in the fun. Oversized 21″ all-terrain tires at the front, in combination with extra wide 22″ rear tires, ensure a secure footing even on the toughest terrain.
Fully independent front suspension and dual shock rear swingarm provide a stable and controllable ride. Extend your ride, stay visible, and stay safe with the standard lighting package that includes: Headlights, Brake Lights, Turn Signals, and Baja Dome Lights. With a 2.6-gallon fuel tank and 6.3 inches of ground clearance, you'll enjoy fewer restrictions on your next adventure.
It is equipped with a powerful engine and other features such as electric start and hydraulic suspension to make your driving experience as smooth as possible! It can accommodate up to two passengers, so you can enjoy your trip with friends or family.
Pros
⦁ Incredibly powerful engines
⦁ Ideal for any demanding terrain
⦁ Incredible suspension system
⦁ Enough space for two people
⦁ Comfortable and well thought-out interior design
⦁ Large rear storage compartments
Cons
⦁ Not the best braking systems
⦁ Bad acceleration system
⦁ Often leaks
#5: Coleman Powersports Off Road Go Kart | Gas Powered, 196cc/6.5hp, Red | KT196 model
The structure weighs about 330 pounds. Dimensions in the assembled state are 68x44x47 inches. The device is fully automatic. The engine is designed for 4 cycles and has 1 cylinder. The valves are located at the top, so the working volume is 196 cubic centimeters.
The power is 6.5 horsepower. So you can ride long distances with minimal fuel consumption. The design is light and smooth. The launch is carried out with the help of traction. There is also a CVT system that has a torque converter.
Thanks to the low tire pressure, you can ride such a device smoothly, even if the terrain is rough. The design ensures safety. The kit includes 4 seat belts that will firmly fix the driver. It has a strong and safe frame, which has a soft lining.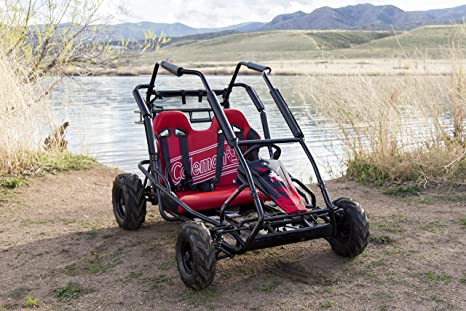 There are soft seats, which are complemented by a shelf for storing small items. An emergency shutdown button is provided. With it, you can quickly and easily turn off the power if necessary. Stopping will be reliable due to the presence of hydraulic disc brakes for the foot.
The device is capable of supporting weights up to 400 pounds. At the same time, it can accelerate up to 15 miles per hour. Karting is best used by children and teenagers from 13 years old. In the manufacture of goods, the manufacturer used modern materials and technologies. Therefore, you can be sure of safety and comfort.
The tires are pretty massive. Therefore, you can ride not only in the city. If necessary, you can take a kart with you on a picnic, and arrange races on a dirt road or sand. In this case, there will be no danger to health or life.
If you realize after a few days that the device does not fit, you can return it. For this, the manufacturer provides a guarantee.
#6: MotoTec Mud Monster 98cc Go Kart Full Suspension Blue
Introducing the new Mud Monster 98cc four-stroke off-road kart. see for children. see with full suspension! Equipped with a powerful 98cc OHV four-stroke engine, roll cage, adjustable seat, metal gas and brake pedals, more legroom than the competition and a seat belt. This kart is strong and durable.
Features
⦁ Equipped with a powerful 4-stroke OHV 98cc engine
⦁ Safety cage
⦁ Metal gas/brake pedals
⦁ Reclining armchair
⦁ More legroom than the competition and a seat belt
⦁ This kart is strong and durable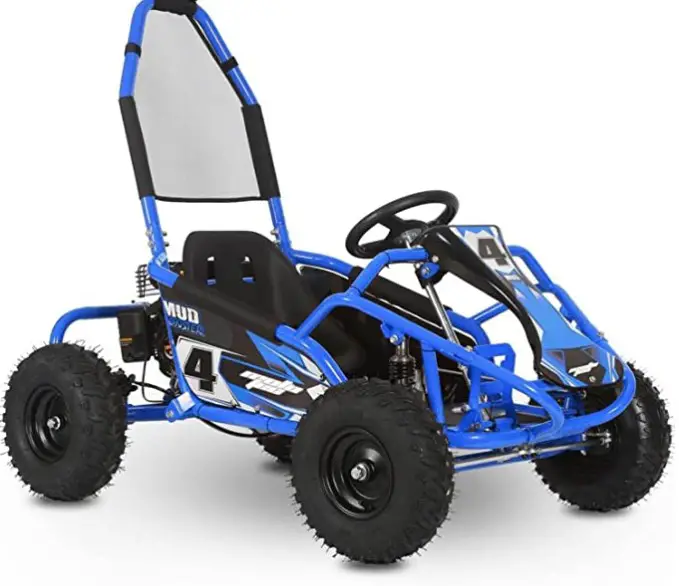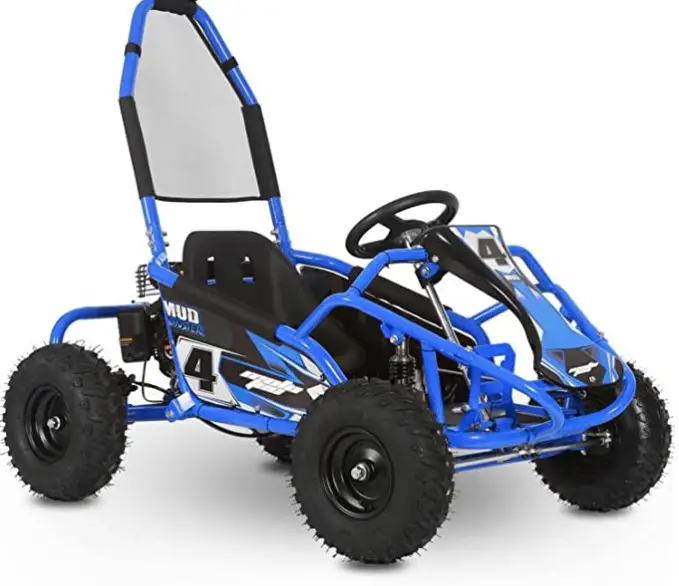 Mud Monster Go Kart is fully automated and has a top speed of 40 km/h. Also equipped with an adjustable hydraulic double shock absorber at the front and a hydraulic shock absorber at the rear. Venom Mud Monster comes with seat belts, roll bar, adjustable seat and safety switch! Fast and efficient braking with rear disc brakes!
Mud Monster GO Kart comes 95% fully assembled. Assembly required on delivery. You need to install the roll bar + steering wheel.
The Mud Monster Go Kart comfortably accommodates riders up to 63 inches tall!
Safe driving: Always wear a helmet and protective gear. Adult supervision required.
Pros
⦁ Perfect Size
⦁ Easy to fix throttle cable
⦁ Very well built trolley
⦁ good quality trolley
⦁ 100% customer service will buy again
Cons
⦁ Before starting the engine requires some maintenance
⦁ Very small frame
#7: HYPER GOGO Drift GoKart Kit-Hoverboard Attachment,Outdoor Race Pedal Go Cart Car for Kids and Adults
The perfect hoverboard accessory, HyperGoGo Karting Kit attaches to any hoverboard on the market with a smart strap system, turning your hoverboard into a complete go-kart. Fun for all ages and customizable for all ages.
Features
⦁ Quick installation
⦁ Compatible with most hoverboards (except Segway hoverboards)
⦁ Traffic control system
⦁ Anti-vibration seat and shock absorbers
⦁ Adjustable length and steering wheel
⦁ Best for kids and adults
⦁ Maximum load 190 lbs. or 90 kg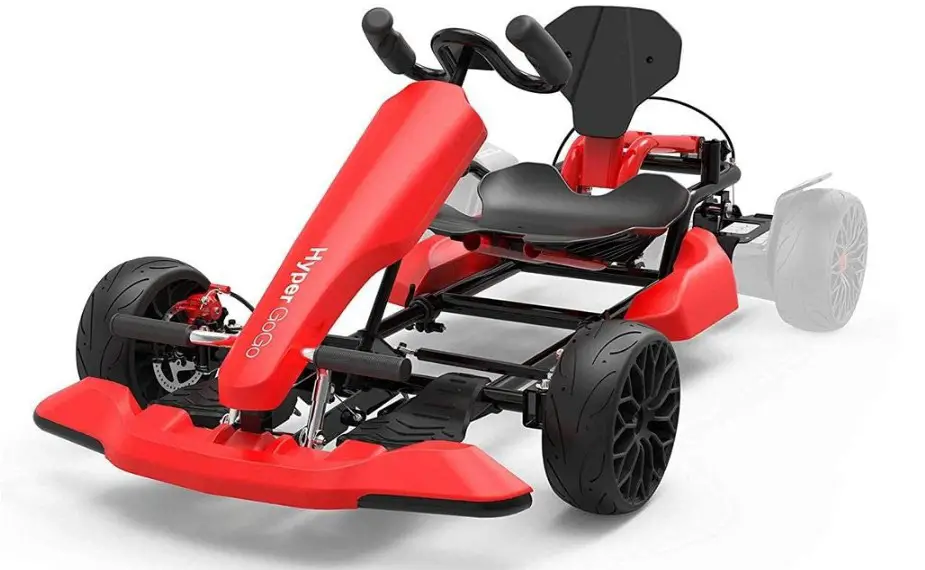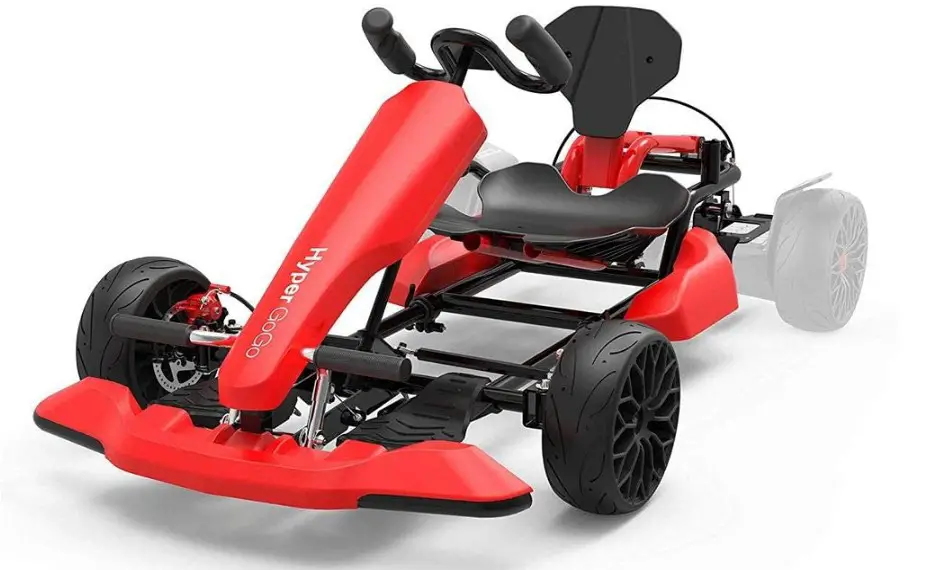 Both kids and adults all over the world use and enjoy their hoverboards, which is why GoKart is designed for them all. The well-designed metal frame expands both in height and width, making it the perfect gift for users of all ages.
There is nothing better than this when it comes to getting your hoverboard life in order. With a full kart mount, shock absorbers, disc brakes and more, this is the perfect accessory for your hoverboard.
Suitable for almost all hoverboards currently on the market. Thanks to the retractable frame in width and height, you can adapt your kart for both children and adults. You can also fold the cards for transport.
Safety is just as important to us as it is to you. Built-in shock absorber reduces shock on uneven surfaces, providing a smooth ride and back support. High quality disc brakes on the front wheels ensure you don't have to rely on the hoverboard for emergency braking.
We designed it to last and added a strong metal frame to withstand any terrain. The telescoping stands support the weight of the cards, allowing you to carry them with you when you need them.
Pros
⦁ Looks good
⦁ It is made of high quality materials
⦁ Definitely worth the money
Cons
⦁ Tires wear out quickly
⦁ This card has very poor speed control
#8: Hover-1 Electric Go-Kart for Kids & Adults | 15MPH Top Speed, 330LBS Max Weight, 15.5MI Range, Dual Disk Brakes, Powerful 700W Motor, 3 Speed Modes, LCD Display
This model card is made in black. It has a large size, which is 55x31x23 inches. The figures are currently in the assembled state. The structure is delivered disassembled, so you will have to assemble it. This can be done independently because the kit has all the necessary equipment and fasteners.
The kart weighs about 83 pounds. Thanks to the high power of the motor, which is 70 W, you can take part in various races arranged among friends. You can easily move around the area because the maximum speed is 15 miles per hour.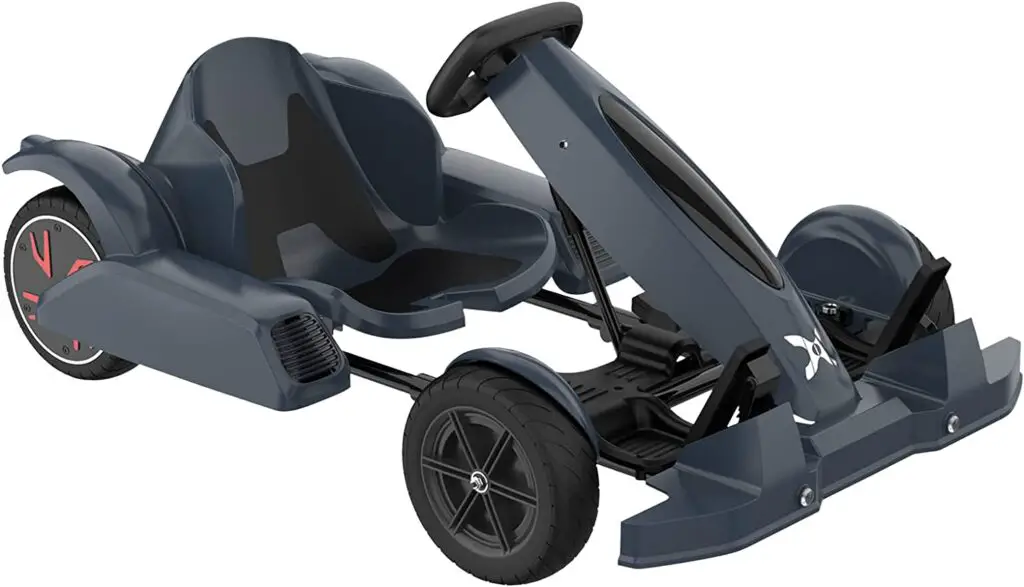 The design will be appropriate not only for children but also for adults. The maximum weight it can support is 330 pounds. Therefore, even adults who like to actively relax in nature and have fun with friends can manage it. This is the perfect replacement for an amusement park.
The device is supplemented with a large battery accumulator. Therefore, one charge is enough to drive about 25.5 miles. The structure is made of polypropylene. Due to the design in black, karting will be appropriate for both girls and boys. This is a universal option, which is not worth the money.
The kart is made of polypropylene, so it is light in weight. The instrument panel has an LCD that will display the battery charge, as well as the speed of movement. You will be able to monitor all indicators for greater security.
There is an indication of moving forward and backward. It should be noted that the manufacturer supplies the kart with a charger. Therefore, you do not have to spend extra money to buy it. It is impossible not to note the high efficiency of the disc brakes, which help to control the device and stop quickly.
The manufacturer provides a 90-day product warranty. During this period, you can replace the device in case of a malfunction, or return it to the store.
#9: Segway Ninebot Electric GoKart Pro and Gokart Bundle, Outdoor Race Pedal Go Karting Car for Kids and Adults, Adjustable Length and Height, Ride On Toys
The design is in great demand and will be a great gift option for a child. Weighs about 125 lb. The manufacturer provides a 12-month warranty for the product. Made in black. High-quality aluminum is used in production. Karting is suitable for both adults and children. The manufacturer claims that the design is unisex.
Karting is capable of speeds up to 23 miles per hour. It is supplemented with a capacitive battery. One charge will be enough to drive 15.5 miles. You can transform the device into a scooter, which is distinguished by the presence of balance. To do this, you need to disconnect some parts.
The structure has an attractive design. The engine and drive are rear-mounted, and their tuning is reminiscent of a supercar. Engine power is 4.8 kW. The maximum torque is 96 N. Thanks to this, the Segway Gokart Pro will accelerate to its maximum speed in just a few seconds.
Karting is very safe to operate. It has a high-strength steel frame. It is capable of carrying loads up to 220 pounds. The maximum tilt of the frame is 15 degrees. It should be noted that there is triple collision protection as well as double bonding. Therefore, the driver can feel completely safe all the time.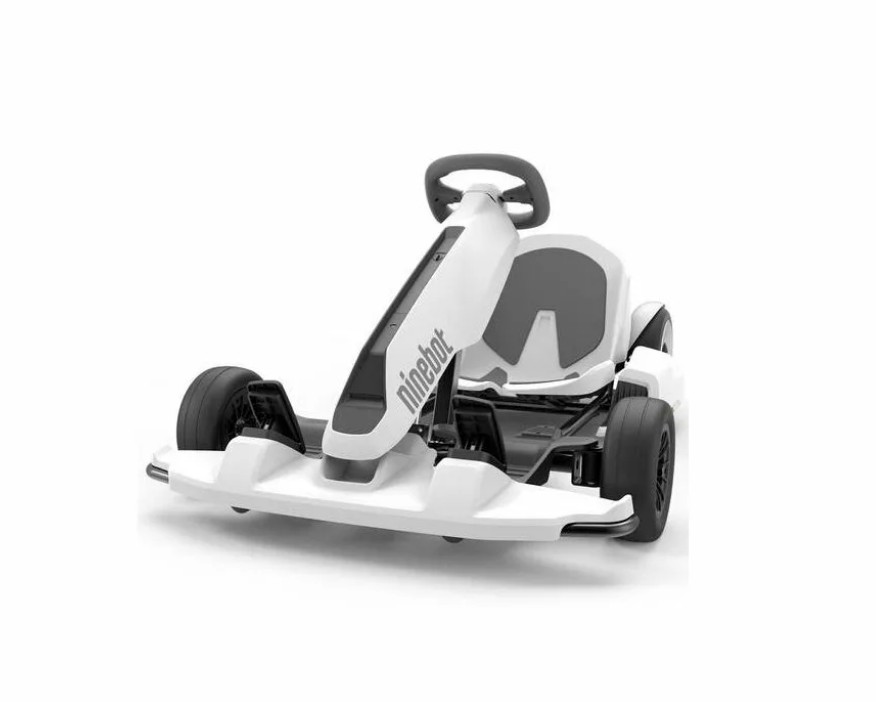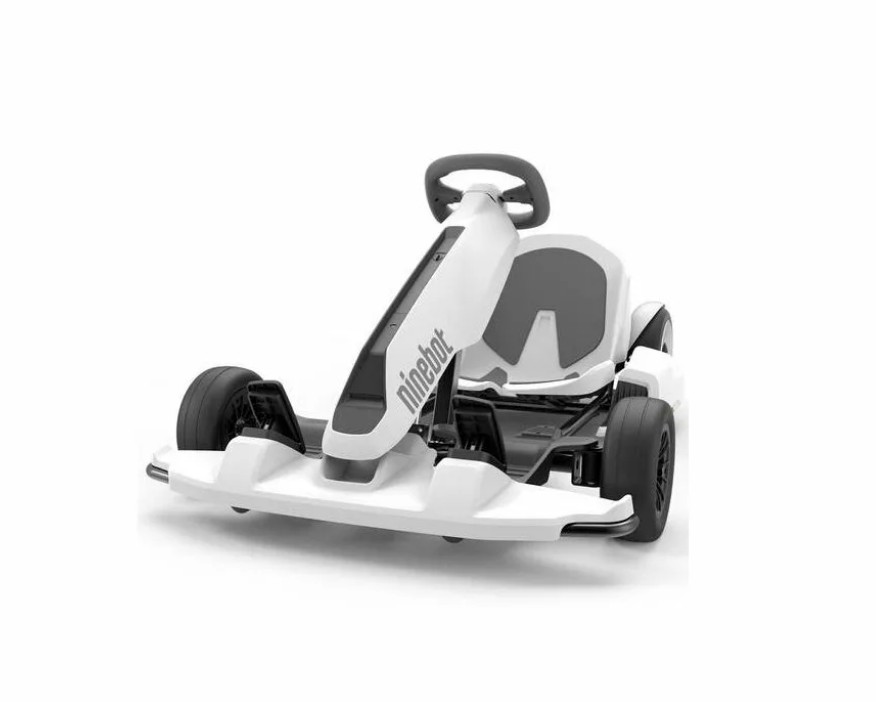 Considering that the frame and steering wheel can be adjusted in length, most users can control the device. Driver height can vary from 4.5 to 6.3 inches. Driving can be carried out in several modes. If necessary, you can fold the structure to fit in the trunk and transport it over different distances.
If necessary, you can download a special application that will allow you to easily control the speed, lighting effects, etc. You can use the handbrake while drifting. It will also be indispensable if you need to urgently stop in an emergency.
Additionally, it should be noted the presence of a weight distribution function. There is an LED light on the front that will illuminate the road in poor visibility conditions.

How to Choose the Best Go-Kart For Adults
Making a go-kart purchasing decision can be extremely difficult these days due to the different options available on the market. I have often seen people getting confused over the features and marketing strategies of the manufacturers.
The fault is not yours, though. As someone new to go-karting, it's completely fine if you don't have any prior knowledge about go-karts. In this part of the article, I will be discussing some crucial aspects of buying a go-kart. After reading this out, it should be easier for you to choose the best go-kart for adults.
Type
The first thing that you need to decide before buying a go-kart is which type would be a better pick for you. Mainstream go-karts are usually divided into two categories, one is the gas go-karts, and the other one is the electric go-karts. Both of these have their pros and cons. So you have to weigh them out and come to a decision.
Let's talk about the electric go-karts first. Its benefits include environmental friendliness, quiet operation, lower maintenance, fuel economy, and better acceleration. However, as it runs on battery, the mileage and top speed are limited. Additionally, charging takes a lot of time. Typically, electric go-karts also cost more.
On the other hand, gas go-karts have the better muscle power due to high fuel consumption. So usually, for racing, gas karts are the preferable option. Though the chance of malfunctioning is higher with gas go-karts plus the cost of gas also adds to the list of cons.
With all these basics pros and cons in mind, you have to make a decision. You can probably understand that it's a matter of personal preference. 
Performance
After you decide which type of go-kart will be a more suitable choice for you, you need to consider the performance. Under the performance segment, I will primarily discuss the muscle power of the engine/ motor.
Assuming you have basic knowledge about the engine cc and wattage of the motor, let's talk in detail. Whichever type you choose, now you should ask yourself about the intended use. Casual karting and kart racing won't need the same kind of muscle.
Electric go-karts usually feature a 4-stroke single-cylinder engine of around 100 to 200cc. For electric karts, it can range from 1000 to 5000W. Now that you have preliminary knowledge about the power range, decide how much power you'll need.
Speed
This aspect is highly related to performance. Still, I decided to discuss it separately. Again, how much Speed you want or expect from your go-kart is purely an individual preference. I would say it's related to your intended use.
One important thing to note here is that the engine/ motor capacity doesn't always reflect on the Speed of the go-kart. Whether electric or gas, most go-karts have a top speed range of 15 to 30 mph.
Speed control is another crucial factor to consider. It will allow you to set the top Speed according to the driver and your need. For example, you can select the Speed lower if you are go-karting for fun or your kids driving. The Speed is usually controlled through system modes and speed governor.
Weight Capacity
The weight capacity is not the same for all the go-karts. You can't just pick a random go-kart to figure out later that it can't carry your weight. So, you need to check out the product information of the go-kart and figure out its capacity.
The capacity mostly depends on two things, one is the engine/ motors power, and the second thing is the sitting arrangement. Usually, adult go-karts and two-seaters can carry more weight than single-seater kid's go-karts.
I won't debate about the seating arrangement here; choose according to your need. Additionally, if you need to carry lots of stuff on off-road adventures, you must calculate the weight capacity accordingly.
Mileage
Running and maintenance cost is essential since it highly affects the overall experience afterward. The mileage of your karts takes a massive chunk of this cost. So before you purchase a go-kart, don't forget to check out the fuel capacity and the ideal mileage of your go-kart.
That way, it'll be easier for you to have a sustainable experience with the go-kart. I'll not mention any specific number for the mileage; you have to check it out and decide if it's good enough for you.
For electric go-karts, mileage plays an even more crucial role. As charging the batteries take a long time, it's essential to figure out how long it can run on a single full charge.
Comfort
When looking for a go-kart, one aspect buyers often forget to consider is comfortability. A comfortable go-kart can make your karting experience whole. Here I want to mention some features that make a go-kart comfortable. The first one is the seat, preferably a padded one. Padded seats are naturally more comfortable to sit on for an extended period.
Furthermore, adjustable seats can be great, considering you can adjust them according to the driver's height. On the other hand, congested legroom can be another reason for discomfort.
Make sure you have enough legroom to place your legs comfortably. Lastly, check the suspension. A good suspension system at the front and rear will provide a consistent handling and braking experience.
Build
Considering the build quality is essential for anything, and even more so for a go-kart. A well-built go-kart will not only last longer but also can make us feel safe. Most of the major manufacturers primarily use a metal frame for the build. You can check those with a cage-like construction.
In case the kart rolls over in an accident, they'll offer better protection. Some cheap options might have plastic chassis, but my recommendation would be to avoid them. When purchasing the go-kart, check out if it's made for smooth roads and tracks or off-road use. Generally, the off-road ones tend to have more solidly built.
Safety Features
Lack of proper safety features on your go-kart can result in life-threatening injuries. So before purchasing a go-kart, you need to make sure that it has enough safety features. Bumpers, seat belts, rearview mirrors, and headlights are some of the most basic ones.
A seat belt will ensure that you don't fall out of your seat in case of a hard brake or crash. Some go-karts feature lap belts or shoulder straps, and that will do the job too.
Next up is the bumper. A durable metal bumper not only minimizes the physical damage of the go-kart, but it'll also keep you safe on racing tracks.
Rearview mirrors are not very common in go-karts. However, it's pretty essential even for an off-road vehicle like a go-kart. On adventure trips, roads especially on race tracks where other go-karts are running, a rearview mirror will provide a safe driving experience.
Last but not least, headlights will let you see the road clearly at night. So if you are planning on riding the go-kart at night, make sure it has headlights installed on them.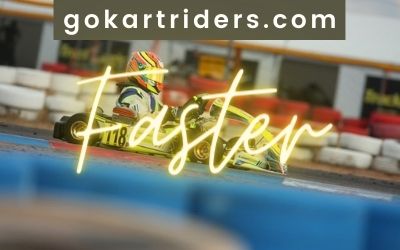 How Fast is a 200cc Adult Go-Kart?
There is no definite answer to this question as the Speed doesn't solely depend on the engine's cc. There are other crucial factors too that decide how fast a 200cc adult go-kart can go. Still, on average, 200cc go-karts tend to have a top speed of 20 to 30 mph. I know it's supposed to go faster than this, but manufacturers set a lower top speed for a safe and controlled experience in some cases.
Wrap Up
In the end, I hope I have been able to share my knowledge about purchasing go-karts with you. Throughout the article, I tried my best to introduce as much variety as possible. I have covered both gas and electric go-karts from high to low price points.
Now the options are boiled down to nine, and all you have to do is just select the best go-kart for adults from the list. So whether you choose to buy from my list or look for other options, the buying guide should help you. Whatever option you choose, just don't forget to have fun above all.