There is no denying the fact that go-karting is one of the most popular forms of motorsports worldwide. Especially in the US and UK, go-karting has been booming for a long time, and right now, it's on another level after the invention of electric karts.
As said earlier, go-karting is super popular in the UK, and what could be a better place than London to visit and have an exciting time of go-karting?
Whether you are a Londoner or a tourist visiting there, you have come to the right place if you are planning to ride a go-kart here. Here, I'll give you a complete overview of go-karting in London with some great go-karting tracks. So, without wasting any more time, let's begin.
Is Go-Karting popular in London?
If you are a Londoner, you might already know the answer. But if you are not, let me tell you, London is one of the karting hotspots in the entire Europe region. There are tons of places where you can try go-karting according to your budget and expertise.
I think the number and versatility of tracks you have available here in London are enough to prove how popular go-karting is in London. So of these tracks are even operating for more than three decades. That indicates that go-karting has been around in this city for a long time, rather than being a recent trend.
Is it legal to ride a Go-Kart in London?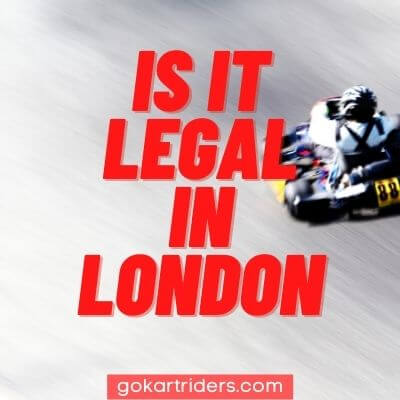 The answer depends on where you are planning to ride a go-kart. If it's an actual road or highway with traffics, then NO, it's completely illegal to ride a go-kart on regular roads like most other countries.
Your kart can get confiscated, and you'll end up getting a heavy fine in this process. Of course, there are rules to make it street legal through customization, but that's a topic for another whole article.
Now, if it's dedicated karting tracks you were talking about, then yes, it's completely legal to drive there. These tracks usually have sound safety measures and are established by maintaining proper rules and regulations. 
How do I start Go-Karting UK?
While you are asking this question, it's safe to assume that you are talking about professional go-karting. If you are interested in this motorsports and want to step in, there are several ways to do it.
At first, rather than rushing to buy a kart, you should take part in arrive-and-drive championships like Club100. If you are doing good and confident enough, it's time to take it to the next level. This time, you have to buy a go-kart alongside Motorsports UK's starter pack for £59.
Then find a track nearby that's part of the association of racing kart school. That track will take you through all the parts of the ARKS test. After that, you'll be able to drive in competitive kart races.
How much does karting cost the UK?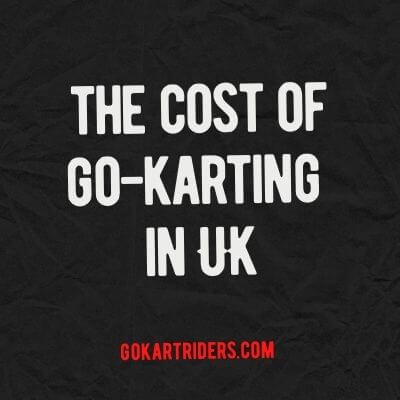 There are no fixed prices for go-karting in the UK as the price depends on different factors. The cost can be divided into two categories, professional and casual. Depending on the location and facilities of the go-kart track, it can cost you anywhere between £15 to £60.
On the other hand, hiring a kart alongside racewear and expert advice can cost you £200 to £350.
I have previously talked about go-karting in Japan. You may check it.
Where shall I go-karting in London?
London is the home of some of the best go-kart tracks not only in Europe but in the whole world. So if you are a Londoner or visiting from outside, you can pick any of the locations I have discussed below.
All these tracks are located in different locations across London at different price points. So depending on budget and location, any of these tracks can be a great option for go-karting in London.
What is London's Best Go-Karting Track?
Considering the location and different facilities, TeamSport UK is the best go-karting track in London. Across five branches in London, you'll see a wide selection of different tracks and karts. This versatility is one of the key reasons TeamSport is so popular in the UK.
Besides, there are all the standard facilities like event reservations and snack corners. All these things considered TeamSport UK is the best go-karting track in London.
1. TeamSport UK
Details
City: London
Type: Indoor
Track: Single, Multistoried
Type of Karts: Electric and gas karts
Age and Height Requirements: 8 years old

Track Facilities
With 35 different locations across the UK, TeamSport has established itself as one of the biggest go-karting racing franchises in the world. They have 5 locations in the capital London, and all these tracks come with the latest and greatest facilities to make up for an enjoyable experience.
Apart from go-karting, you can book this place for different parties or corporate events. But keep in mind that both racing and events require a reservation. There are also restaurants available inside the compound at all branches to enjoy snacks and beverages.
Track Breakdown
The tracks are one of the best things about these go-karting places. Every place has a single track, but they are designed innovatively for the most enjoyable racing experience. Additionally, there are some multistoried tracks too where the race gets even more exciting,
Despite being an indoor track, they are considerably longer and has all the latest facilities. In addition, all the corners are guarded by tires to safeguard you from crashes.
Go-Karts
TeamSport provides the racer with a versatile selection of go-karts in different tracks. For example, while most of the tracks have the flagship BIZ karts, some have old-fashioned gas karts. But no matter which go-kart you are driving, one thing that remained constant is the speed of these go-karts.
All these karts have a top speed of 40MPH with excellent braking and handling. There are junior karts too for kids, and they come with extra safety features and capped speed.
​Contact
Pricing
2. Revolution Karting
Details
City: Mile End, London
Type: Outdoor
Track: Single, ½ KM
Type of Karts: Electric karts
Age and Height Requirements: 8 years old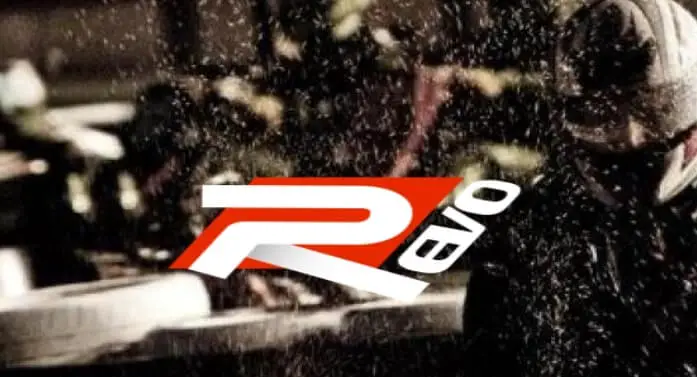 Track Facilities
If you prefer an outdoor karting experience, revolution karting is a place you should definitely check out. Like most other karting places out there, this central London track offers a wide range of packages for different events and parties. So whether you are just a kart-loving individual or coming with your family, Revolution karting has something to offer for everyone.
Another great thing about this track is the reasonable price. With races starting at only £25, this is one of the best bang for buck places I London to ride a go-kart.
Track Breakdown
The track at Revolution karting is made out of concrete and has a length of ½ KM. Often, the track length seems to limit the overall experience in different tracks, but that won't be the case here.
Additionally, the whole track is covered by floodlights at night, so you have the opportunity to have some night-time excitement too. If you are a fan of frequent turns to test your driving skill, you'll surely love this place. Again, the track is safeguarded by tires in case of accidental crashes.
Go-Karts
Revolution karting brings good news for all the speed lovers in London. With electric go-karts that can go up to a top speed of 45 MPH, this is arguably one of the fastest tracks in central London.
There is a total of 36 of these high-speed go-karts in this place, so no matter how big your group is, you'll find spots for everyone to drive here.
​Contact
Tel: 0207 538 5195
Email: sales@revolutionkarting.com
Pricing
Open Race Sessions – £25
Grand Prix – £55
Endurance Race – £55
Super 6 Events – £250
3. Capital Karts
Details
City: Rippleside, London
Type: Indoor
Track: Single, 1050 Meters
Type of Karts: Gas karts
Age and Height Requirements: 125 cm tall, 7 years old

Track Facilities
Capital karts is by far the longest and the fastest track in London on this list. So if you are a fan of both, you are in for a treat in Capital karts. Another thing Capital Karts take pride in is being the winner of the indoor circuit of the year by Kart magazine for five consecutive years.
Starting from any corporate events to birthday parties, you can book the venue for anything at a very reasonable cost. Even there is an option for individual group racing sessions too. For foods and beverages, visit the restaurant located inside the facility. According to the event, Capital Karts can provide you with anything from snacks to a corporate buffet. 
Track Breakdown
Capital karts is the proud owner of the longest track in the whole UK, and that's reason enough to visit here for an exciting time of go-karting. Instead of going multi-stories, Capital kart decided to go flat, and that design seems to pay off quite well.
With 25 tricky corners, you'll have plenty of time to overtake your opponents and showcase your karting skill. 
Go-Karts
Capital kart provides RiMO's latest petrol go-karts for the ridders visiting here. Now, they might not be as environmentally friendly as electric karts, but at the same time, nothing can beat the feeling of an old-school petrol kart.
Equipped with Honda's 270 cc engine, more than 30 adult karts are available in this track that easily top a speed of 45MPH.
​Contact
Pricing
Sprint session – £27.50
Grand Prix – £55.00
Junior karting – £ 24.00
Kart night – £50
4. Rye-House Karting
Details
City: Hoddesdon
Type: Outdoor
Track: Single, 950 Meters
Type of Karts: Gas karts
Age and Height Requirements: 8 years old

Track Facilities
Rye House is one of the oldest go-kart tracks in the UK, with more than 20 years of experience in the industry. So if you are up for a challenging karting experience with hospitality, Rye House is the perfect choice for you. 
Rye House is always up for reservation for parties and corporate events, with frequent promotional offers to save you some money. If you decide to come with your whole family with children, there are quite a few activities here you can enjoy. With mini-golf, splash park, boat races, mini bowling alley and many more, you won't even notice spending a day here.
Track Breakdown
The track here at Rye House is almost a kilometre long. So, you don't have to worry about getting interrupted by shorter; Rye House got you covered. This asphalt track is designed by professional track designers, so you'll immediately feel the challenges when riding in here.  
Go-Karts
Go-karts are often considered the deciding factor whether you visit a certain track. However, you won't have to worry about that in Rye House as this place offers twin engine 160cc GT2 EVO Le Man karts.
With decent control and acceleration, these absolute beasts can quench your thirst for speed anytime. For junior drivers, there are separate karts here with speed limits to ensure safety.
​Contact
Tel: 01992 460895
Email: info@rye-house.co.uk
Pricing
5. Karting Nation
Details
City: Mile End, London
Type: Outdoor
Track: Single, 750 Meters
Type of Karts: Electric karts
Age and Height Requirements: 9 years old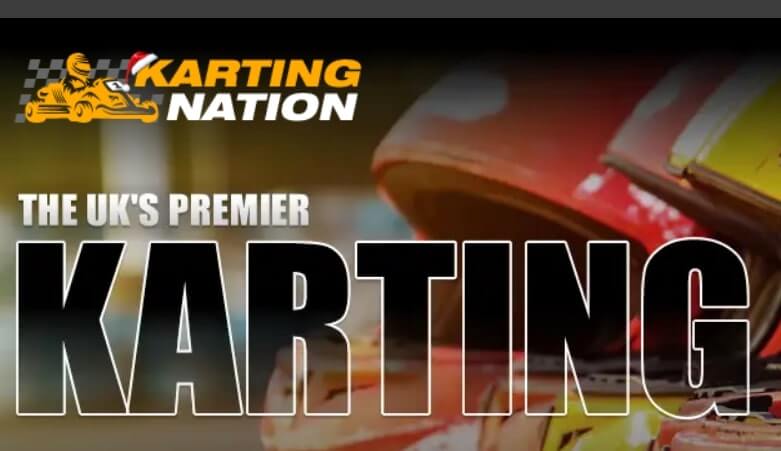 Track Facilities
Another great go-karting track located in Mile End, London. Karting Nation might not be a flagship track like Revolution Karting, but still, it's a great track that has made it to the list with some great facilities. Apart from racing, this place can arrange events in three conference rooms available here.
Don't worry about bringing someone unable to drive here, as there is a nice viewing area from where they can enjoy the race and cheer for you. If you are looking for food, the is a wide range of different vending machines and restaurants nearby where you can visit. Additionally, facilities like changing rooms, lockers, floodlights, and parking make this track a great karting attraction.
Track Breakdown
The track is another highlight feature of this place. It's a 750M asphalt track, neither the longest nor the shortest one on the list. For most of the causal, fun-loving kart drivers, this track should be enough for a fun time. Even in this track, Karting Nation has been successfully added enough turns and straights for a balanced driving experience.
Go-Karts
One segment where Karting nation didn't make any compromise is the go-karts. Unlike most go-kart tracks, Kart Nation provides electric karts for the riders. These karts are no less fast than the petrol ones t there and the absence of fumes and noise is just added benefits. With a top speed of 50 MPH in just 4 seconds, Karting Nation has the fastest karts on my list.
​Contact
Pricing
GP Experience – From £38.50
Under 18s Package – From £55.99
Grand Prix – From £85.99
6. The London Karting Co.
Details
City: Battersea, Dulwich, London
Type: Indoor, Outdoor
Track: Single
Type of Karts: Electric karts, 10 MPH
Age and Height Requirements: 4 years old
Track Facilities
I am wrapping it up with a deicated kid's go-kart destination in London. This track offers some unique facilities that help it it to make a place on the list.
First of all, every package and facility offered by this track is focused towards  kids. There are some reasonable packahes that offer foods, party bags, trophy and medel packages. These packages are a great way to bring the inner competiveness in your kid in a fun way. There is a wide varity of food menu t slect the meal of your kid's choice.
On top of all these, if you want to arrange a go-kart race at your location, London go-kart will bring the whole track with the karts to you. All you have to do is just get in tough and book the private event.
Track Breakdown
The track here is fairly small here, but that's justifyable since the track is dedicated for small kids. However, I really appreciate the fact that London Karting Co. still managed to offer tw different variation in terms of track length.
While the nation track is 90 meter long with five turns, the internation is 150 meter long with seven turns to provide the most challenging experience for kids. If you want, London kart will even come to your location and arrange the tracks.  
Go-Karts
Go-karts here are nothing fancy in terms of speed. As a dedecated kid's track, all the karts here are electric to keep all the noise and air polutiosn away. These kartas has a speed range of 4 to 10 MPH. For kids aged between 4-10 years old, the speed is more thanenough for a enjoyable experience in a safe way.  Additionally, you can limit the speed according to your kid and remotely turn the kart on and off. These features adds a extra layer of safety.
​Contact
Tel: 020 8677 8677
Email: info@formulakidz.com
Pricing
7. Chaos Karts (Video Game)
Details
City: Fleet St Hill, London
Type: Indoor
Track: Single
Type of Karts: Electric karts, 20 MPH
Age and Height Requirements: 5′ tall, 13 years old
Track Facilities
I am wrapping it up with a unique go-kart destination London. No matter how long you have been driving karts, Chas karts will offer you something you have never seen before.
Chaos karts introduce a new form of go-karting by mixing it with augmented reality. With different weapons and power-ups to choose from, driving here is no less than playing a live-action video game. You won't even need a headset as everything from the tracks to games are shown through a projector.
Track Breakdown
As you might already assumed, this is an indoor karting facility. The racing is not the main concern here, so the track is not the largest on the list. Instead, Chaos karts made it interesting by offering different tracks inside one facility.
The tracks are not like your regular tracks, as they are projected on the surface through the projector. There are different themes to enjoy here, like space and Daytona Beach.
Go-Karts
Go-karts here are nothing fancy in terms of speed. It's pretty obvious a high-tech karting facility like this will use electric go-karts, and that's exactly what happened here. If you are a speed junkie, these go-karts might not suffice your need. But if you are in for a completely new experience with safety and a moderate speed of 20MPH, you'll love the karts here.
​Contact
Email – guestservices@chaoskarts.com
Pricing
Wrap Up
There you have the complete overview of tracks for go-karting in London. As you can see, go-karting is quite popular in London, and there is a wide variety of options to choose from. All you have to do now is find the one with suitable location facilities and hit the road there with friends and family.