Arguably one of the most popular kart engines on the market, the Predator 212 engine is also used to power many other types of recreational vehicles, tools, and equipment. Although few people know about it, there are different versions of this Predator engine: Predator Hemi and Non-Hemi engines.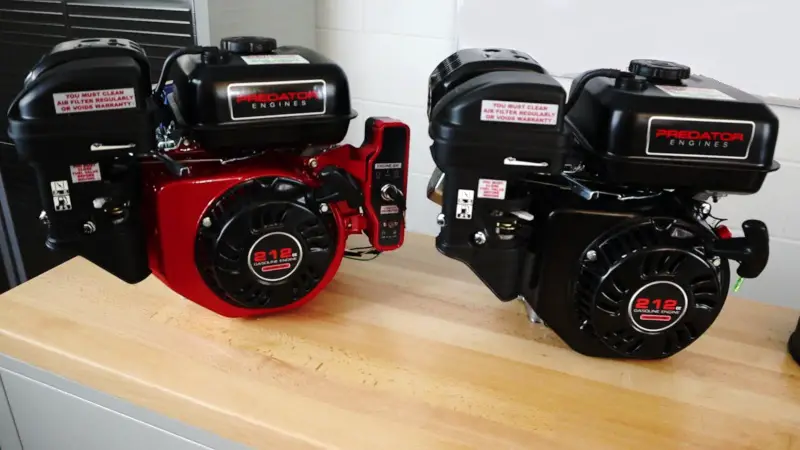 The main difference between the Predator 212 Hemi and the Non-Hemi engines is that the Hemi version features a hemispherical chamber and piston head design, slightly increasing engine power and top speed by about 2–3%. However, the Non-Hemi model offers better parts compatibility and modification options.
In this review and guide, I'll show you a detailed comparison of these two variants of the Predator 212. We'll go over some key similarities and differences, so you know which version (semi or non-semi) is right for you!
Predator 212 Hemi vs. Non-Hemi engine
Name
Image
Specification
Predator 212 Hemi engine
Specifications Predator 212 Hemi:
Camera design: Hemi head
Power: 6.5 hp
Displacement: 212 cc
Torque: 8.1 ft-lbs (at 2500 rpm)
Shaft Diameter: 3/4″
Weight: 37.5 pounds (17 kg)
Predator 212 Non-Hemi engine
Predator 212 Non-Hemi engine specifications:
Camera design: Non-Hemi head
Power: 6.5 – 6.8 hp
Displacement: 212 cc
Torque: 8.1 ft-lbs (at 2500 rpm)
Shaft Diameter: 3/4″
Weight: 37.5 pounds (17 kg)
The Predator 212 Hemi engine and Non-Hemi engine are among the most popular karting engines and are known for their great price.
The first thing to notice is that there are three different types of Predator 212 engines: the Hemi Predator engine, the Non-Hemi engine, and the Non-Hemi EPA engine. Click here to view a list of all Predator 212 Hemi version numbers for reference.
All these Predator variants (Hemi Predator engine and Non-Hemi engine) have a volume of 212 ccs. cm delivers 8.1 ft-lbs of torque at 2,500 rpm. While the Predator Hemi and Non-Hemi models have 6.5 horsepower, the Hemi's actual output appears to be slightly higher, up to about 0.3 horsepower.
Both the Predator Hemi engine and Non-Hemi Predator 212 engines are great for karting because they have horizontal cranks, offer great value for money, and are compatible with a wide variety of parts, modifications, and upgrades.
How do you recognize them?
The easiest way to tell them apart visually is by the difference in the valve cover. The Hemi head has a rectangular rocker cover and the Non-Hemi head has an octagonal rocker cover.
If you buy from a store, you can use the above picture as a reference. If for some reason you can't visually inspect the motor, you can also tell it apart by looking at the part number. #60363 is Hemi, #69730 is Non-Hemi (EPA Approved #69727).
Predator 212 Hemi engine
This 212cc Hemi Predator gasoline engine CM is equipped with gas-saving top valves for cooler temperatures, cleaner operation, and longer life. The horizontal shaft is mounted on ball bearings, making this gas engine an ideal replacement for most standard engine configurations.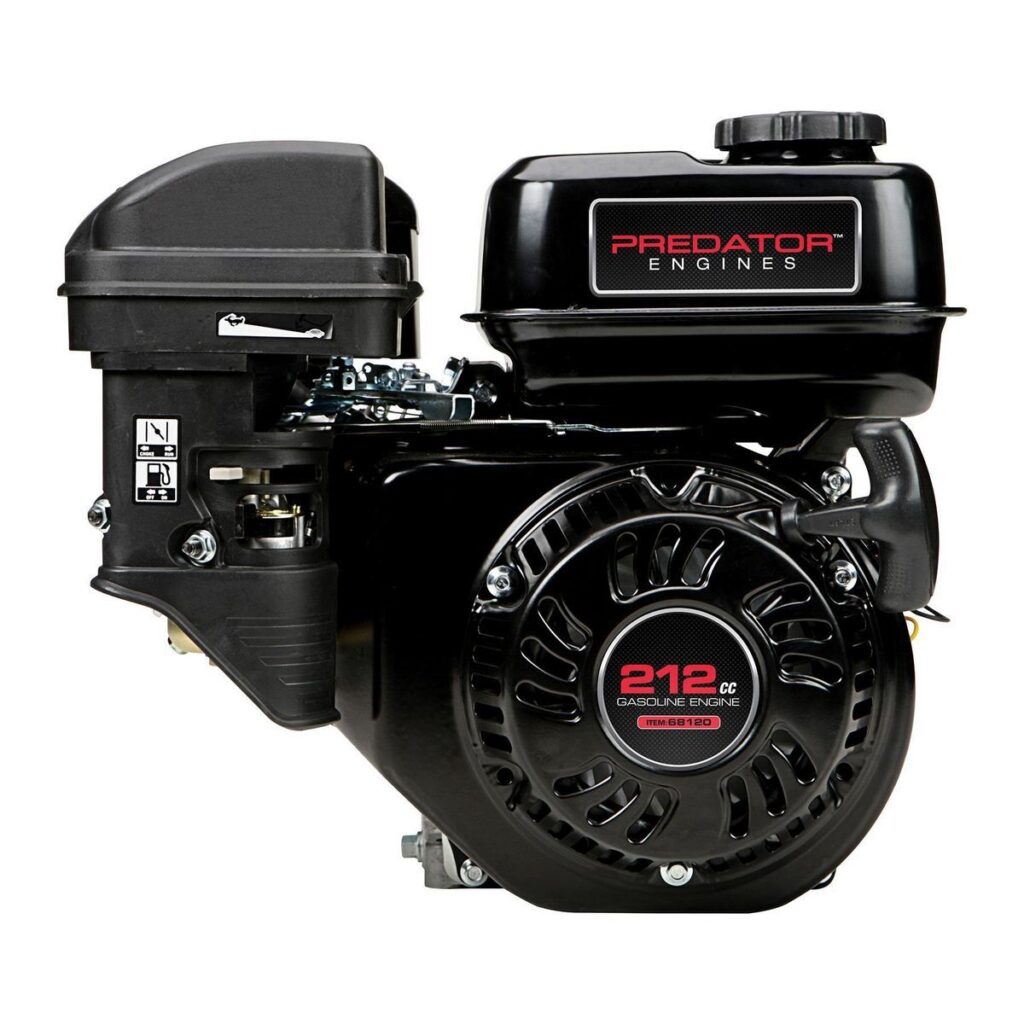 A powerful gasoline engine with a durable cast iron cylinder makes it an ideal engine replacement for lawnmowers, wood splitters, and dozens of other machines.
Motor characteristics Predator Hemi:
Engine displacement (cc): 212 cc
Power (hp): 6.5
Maximum speed (rpm): 3600 rpm
Maximum Torque (ft-lb): 8.1 ft-lb at 2500rpm
Mounting pattern: 162mm L x 75.5mm W – 80.5mm W (6.40″ L x 2.95″ W – 3.17″ W)
Shaft rotation direction: Counterclockwise
Noise level (dB): 104 dB
Start Type: Recoil
Product height: 14 inches
Item Length: 12-1/2 inches
Product Weight: 37.5 lbs. / 17 kg
Item Width: 14-1/2 inches
Shaft length (in): 2.43 in / 61.7 mm
Shipping Weight: 38.72 lb
Stroke length (in): 55 mm
Non-Hemi specifications:
Combustion chamber: Non-hemispherical
Output: 6.5 HP
Top speed: 25 – 35 mph
Cycle: 4-stroke
Displacement: 212 cc
Torque: 8.1 ft-lbs (at 2500 rpm)
Mounting layout: (LxW) 6.40″ x 2.95″ to 3.17 (from 162mm x 75.5mm to 80.5mm)
Sound rating: 104 dB
Dimensions: (LxWxH) 15.4″ x 12.6″ x 13.6″
Weight: 37.5 lbs (17 kg)
Shaft diameter: 3/4″ (19.05 mm)
Shaft length: 2.43 in (61.7 mm)
Stroke 55 mm: (2.12 in.)
Borehole 70 mm: (2.76 in)
Similarities and Differences Between Predator 212 Hemi vs. Non-Hemi
In this section, we will look at some of the similarities and differences between the Predator 212 Hemi vs. Predator 212 Non-Hemi engines. Specifically, we will discuss their comparison in terms of looks, camera design, specs, performance, top speed, size, weight, availability, mods, and price.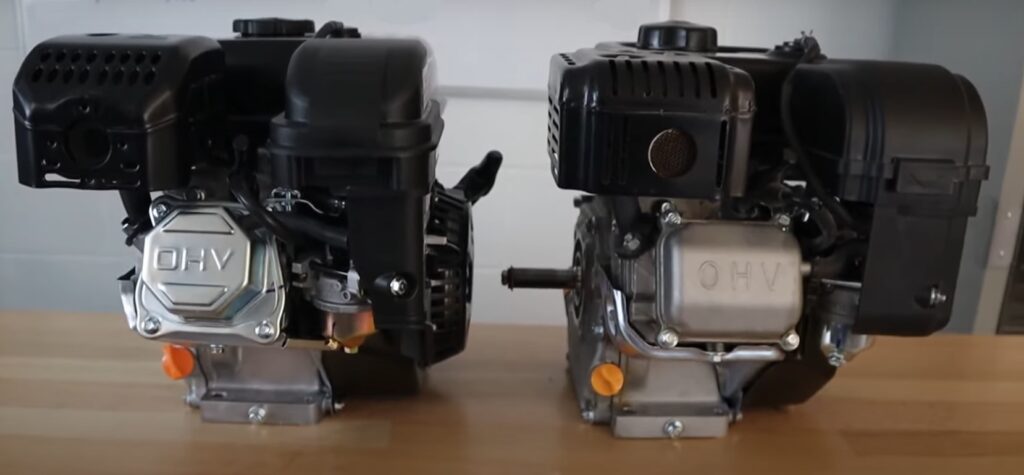 Model number
The first notable difference is the engine model number, which is listed on the front of the recoil starter as an 'Item' under the '212cc' plaque. Here is a list of the different model numbers.
Predator 212 Hemi number: 60363
Predator 212 Non-Hemi number: 69730
Predator 212 Non-Hemi EPA Number: 69727 (for use in California)
There is also a model with part number 6972, an EPA version suitable for use in the state of California.
Power and speed
By default, both engines run at 3600 rpm, but the Hemi engine has slightly more power and torque compared to the Non-Hemi engine. However, with the ESC removed, you can expect the same performance from both motors.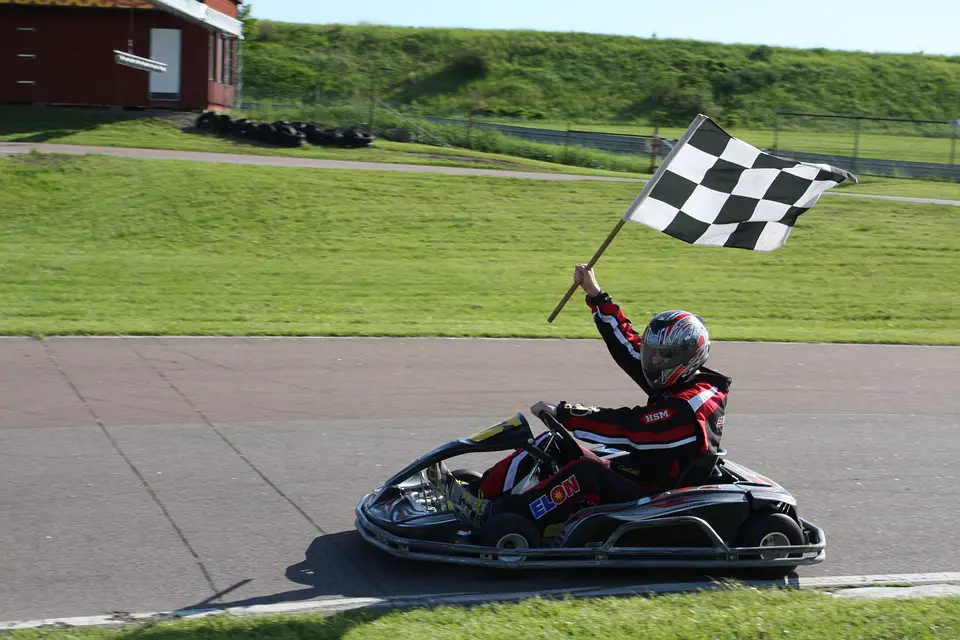 When you start walking further down the productivity path, that's when the non-twins are the clear winner.
In Non-Hemi you can use +0.40″ rods, longer duration cams with more lift, heavier valve springs, etc. Simply put, you can get more horsepower and RPM from Non-Hemi by changing one part of the part.
Cylinder head
When we talk about differences in detail, the biggest difference between Hemi and Non-Hemi is the cylinder head.

Hemi is called "Hemi" because it has a hemispherical combustion chamber, while Non-Hemi has a flat combustion chamber. The picture below shows the Hemi engine.
First, I'll give some context on what these parts do during the 4 bars. How this whole system works is a big subject in itself and requires an understanding of the other parts and how they work.
But in short, when the engine starts, the intake valve moves toward the engine's combustion chamber, which allows the air-fuel mixture to enter the chamber through the intake port.
This is followed by a compression and expansion stroke in which the mixture is compressed and burned by the spark from the spark plug, then the exhaust valve opens allowing the burned gases to escape through the exhaust port.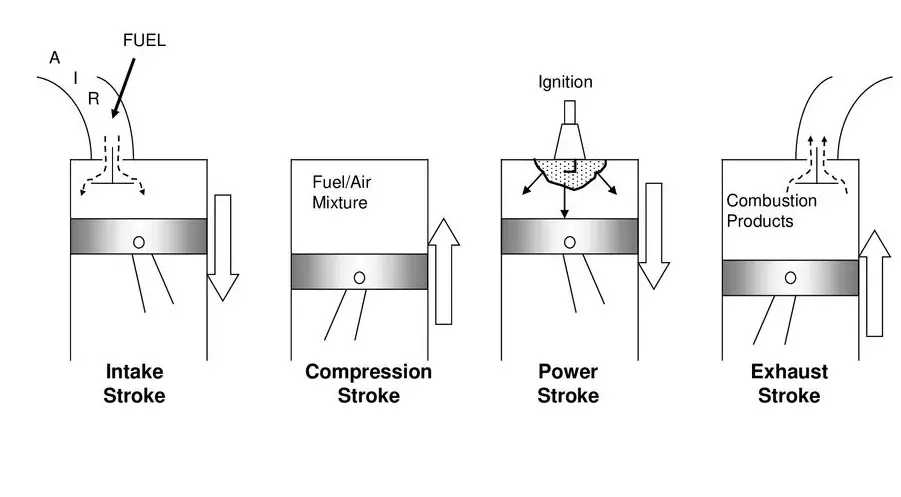 On a Hemi engine, the valves enter at an angle to the piston when opening, while on a Non-Hemi engine, they enter perpendicular to the piston. (The Hemi engine can be seen in the animation above)
Now that you are aware of how they work differently, let's look at the implications of these differences.
During this whole process, the valve must never touch the piston! This will lead to engine damage.
There must always be play between the valve and piston. These small engines require at least a 0.030-inch clearance between the piston and a valve head.
Because the valves in a Hemi engine move at an angle to the piston, increasing the lift or duration of the cam, or making changes that push the valves further down for a longer duration will decrease clearance in the engine much faster than Hemi vs. Non-Hemi Predator.
That's why it's best not to choose gems if you want to make extensive changes.
You can still do some mechanical work on the piston head to keep clearance on half the engine, but then you add cost and time. Better to select non-gems and port something instead.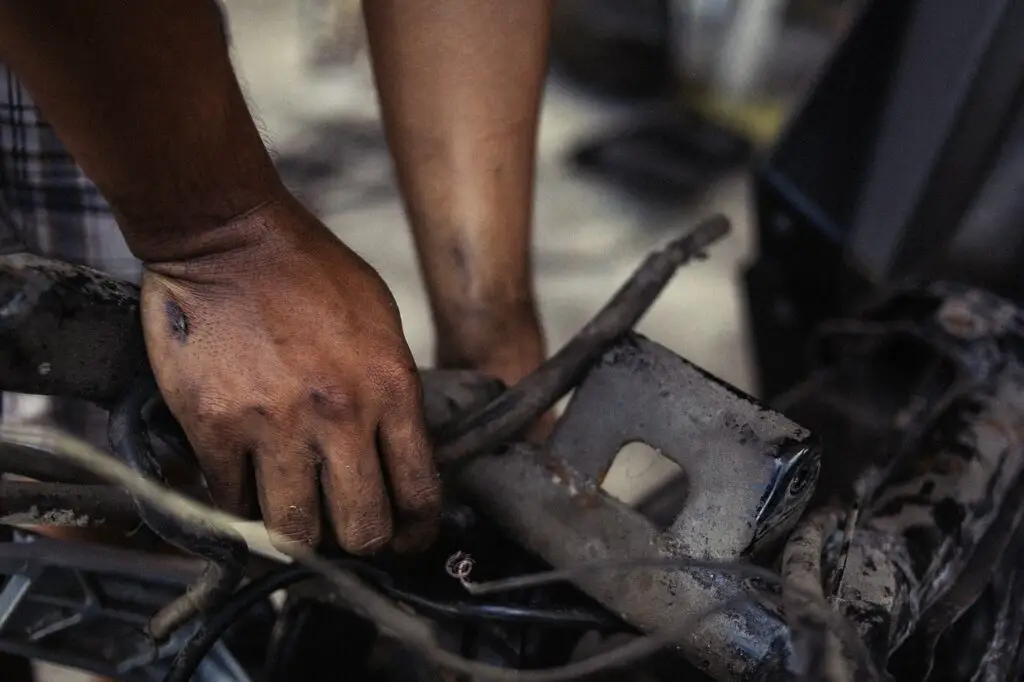 So, why is Hemi better suited for ready-to-use products?
Ports in Hemi engines provide smoother air/fuel mixture intake and exhaust compared to Non-Hemi engines. This helps the Hemi engine develop a little more power and torque straight away.
Air filter housing
Another visible difference is the air filter housing. Below is a shot of both engines.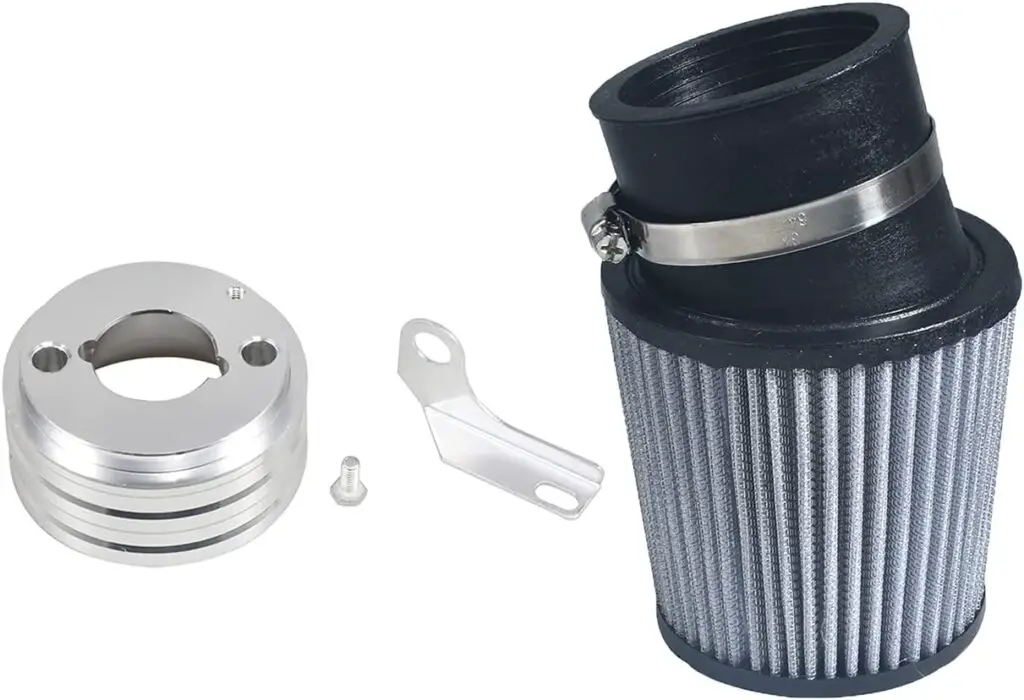 As you can see, the Non-Hemi Predator 212's air filter housing is curved at the back and slightly taller. On the other hand, the Hemi version features a squarer air cleaner housing with less curvature at the rear.
Camera design
On the left is the Predator 212 engine without half cylinder, showing the flat head piston design and flat chamber. On the right side of the picture, you can see the Predator 212 Hemi.
What immediately catches the eye is the difference between the chamber and piston of both engines. Hence, the name of the Hemi model – it has a hemispherical chamber in which the piston is at an angle, and not flat.
The round Hemi head design allows for less heat and energy loss during the combustion cycle, ultimately giving it slightly more power and performance.
Other parts
The cylinder head is the most significant difference between the two engines, but if you compare other parts of a stock Hemi standard half-cylinder to a standard non-half-cylinder, the non-half-cylinder has a convex piston while the half-cylinder has a flat piston.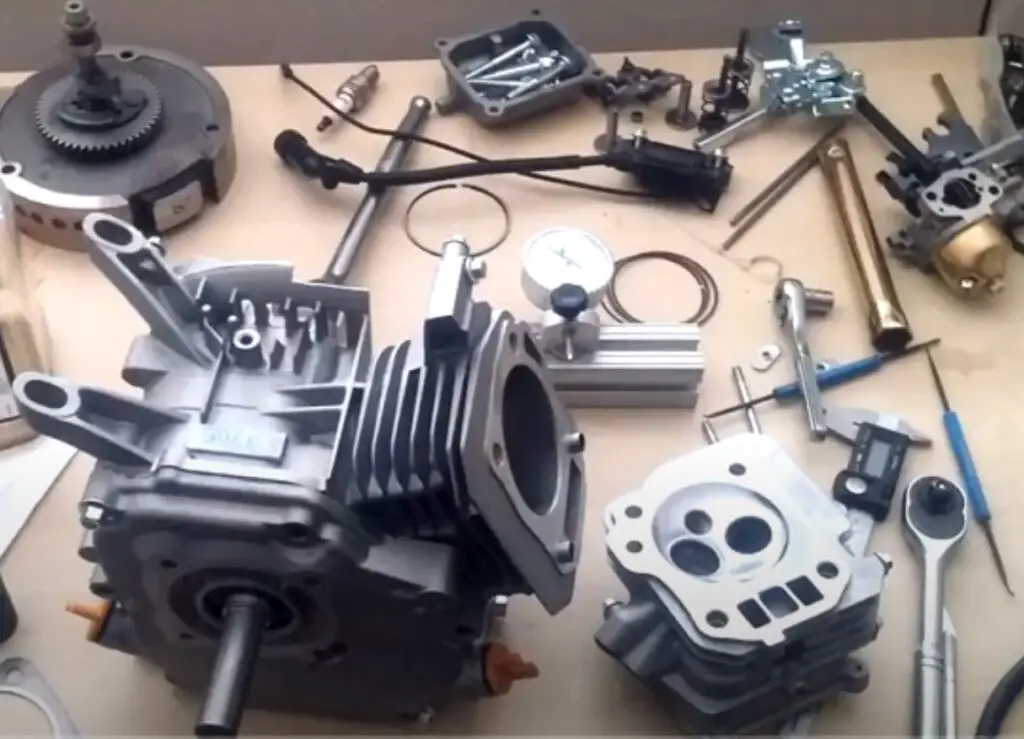 Compression height is shorter in the hemisphere, valve stems are thinner in the non-hemisphere, and tappets are smaller in the hemispheres. But none of these differences are as important to their performance as the cylinder head.
In terms of looks, you'll notice a difference in the air filter housing, but again, it doesn't make a significant difference in performance.
Performance components and availability
Heavy-duty parts are widely available for the Predator 212, largely because of their popularity. It is profitable for manufacturers to make non-genuine parts for people who need more power and speed.
For moderate modifications like air filter upgrades, exhaust system upgrades, etc., Hemi and Non-Hemi Predator parts are readily available, but there is a difference in parts availability between Predator 212 Hemi vs. Non-Hemi Predator if you want to do wild modifications. Here are some differences:
| | | |
| --- | --- | --- |
| Valve springs | Featherweight Hemi | Non-Chemistry |
| 18 Lb | Available (but unlike GX200 or Non-Hemi) | Available |
| 22 Lb | Available | Available |
| 26 Lb | Available | Available |
| 36 Lb | N/A | Available |
And that's your second big problem with Hemi engine mods, you can't raise a valve spring past 26 pounds without machining.
The holes the springs go in are too small for the Hemi engines to hold 32 Lb.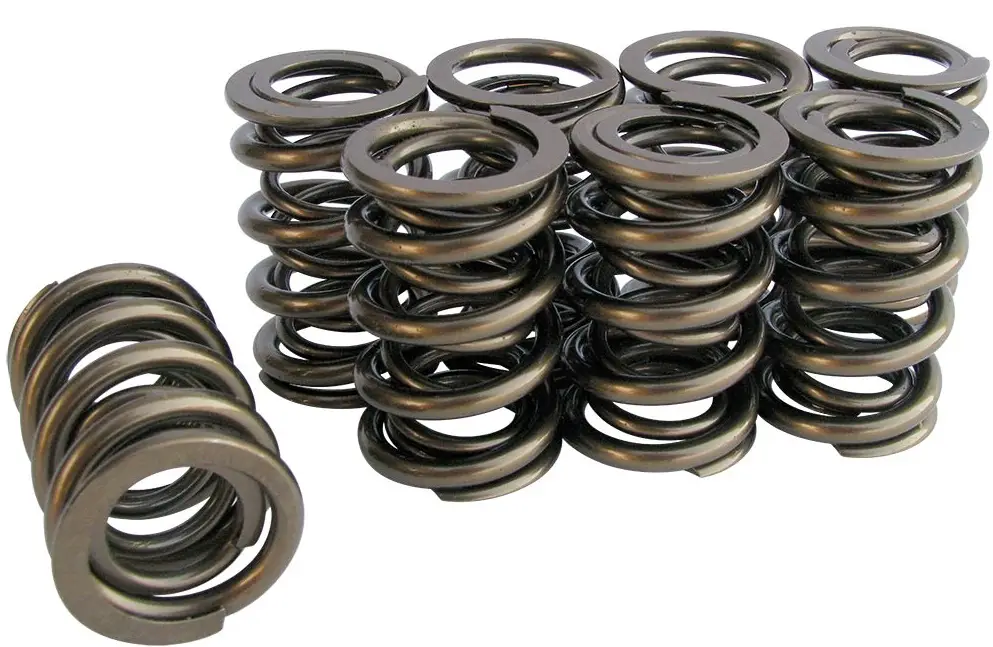 Also, the 18 Lb springs are made specifically for the Hemi engines, the longer 18 Lb springs made for the GX200 will seize up very quickly when fitted to the Hemi 212 engine.
For Non-Hemi, you might even have more featherweight than 36 Lb, but you might need to replace the rockers after 22 Lb.
Performance
As previously mentioned, a hemispherical chamber design with angled pistons generally results in less heat dissipation within the combustion chamber, resulting in a more efficient combustion cycle.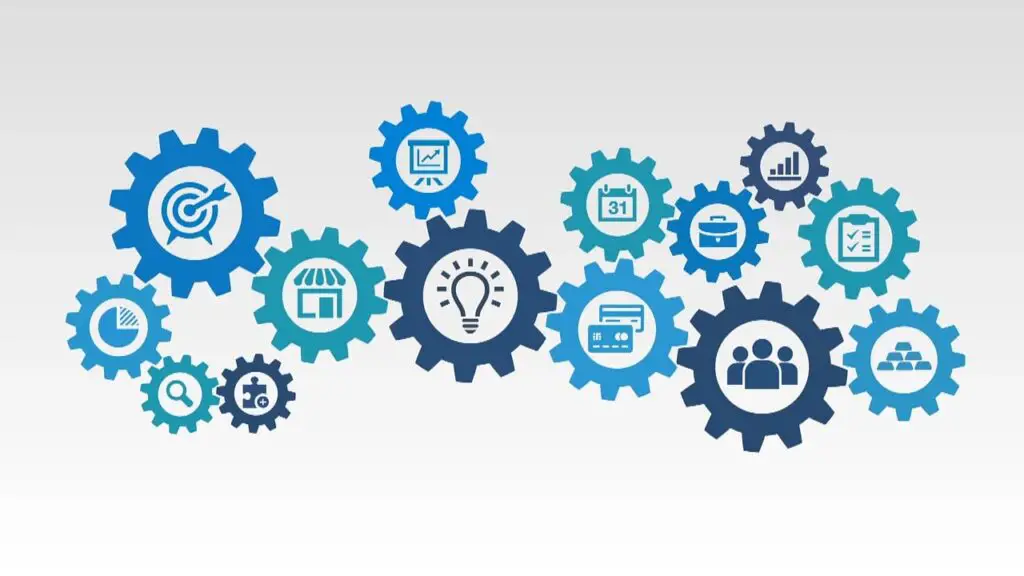 However, it has to be said that the performance gains of the Predator 212 Hemi out of the box are limited. After testing these two engines, the Hemi version showed a slightly increased power of about 0.3 hp. compared to the version without Hemi.
Top speed
Since the increased power of the Predator 212 Hemi is slightly higher than the Non-Hemi, this also gives it a slight edge when it comes to top speed. After installing both types of engines in a kart, I got the following results, Hemi vs. Non: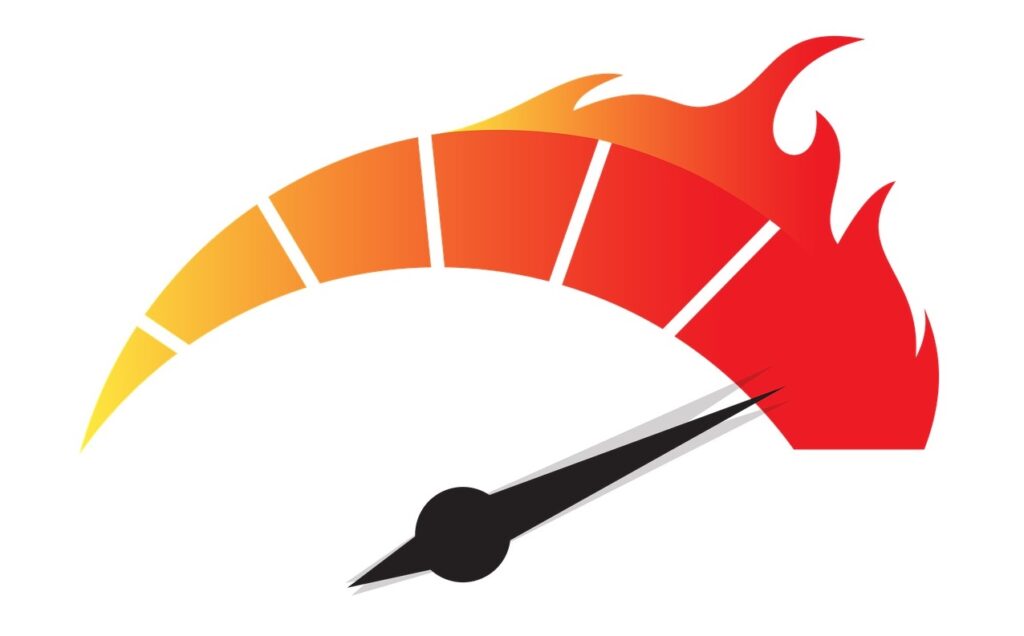 Predator 212 Non-Hemi Top Speed: 25-35 mph
Predator 212 Hemi Top Speed: 40-60 mph
It turns out that the Hemi version can have an almost negligible increase in top speed, which is about 1-2 mph more than the Non-Hemi version. Please note that actual top speed depends on a variety of other factors such as kart weight, tire size, gear ratio, aerodynamics, and more.
Camshaft
Out of the box, both cams are very similar in terms of lift and duration, but the half cams are better designed for higher RPM and higher spring pressure (for standard cams).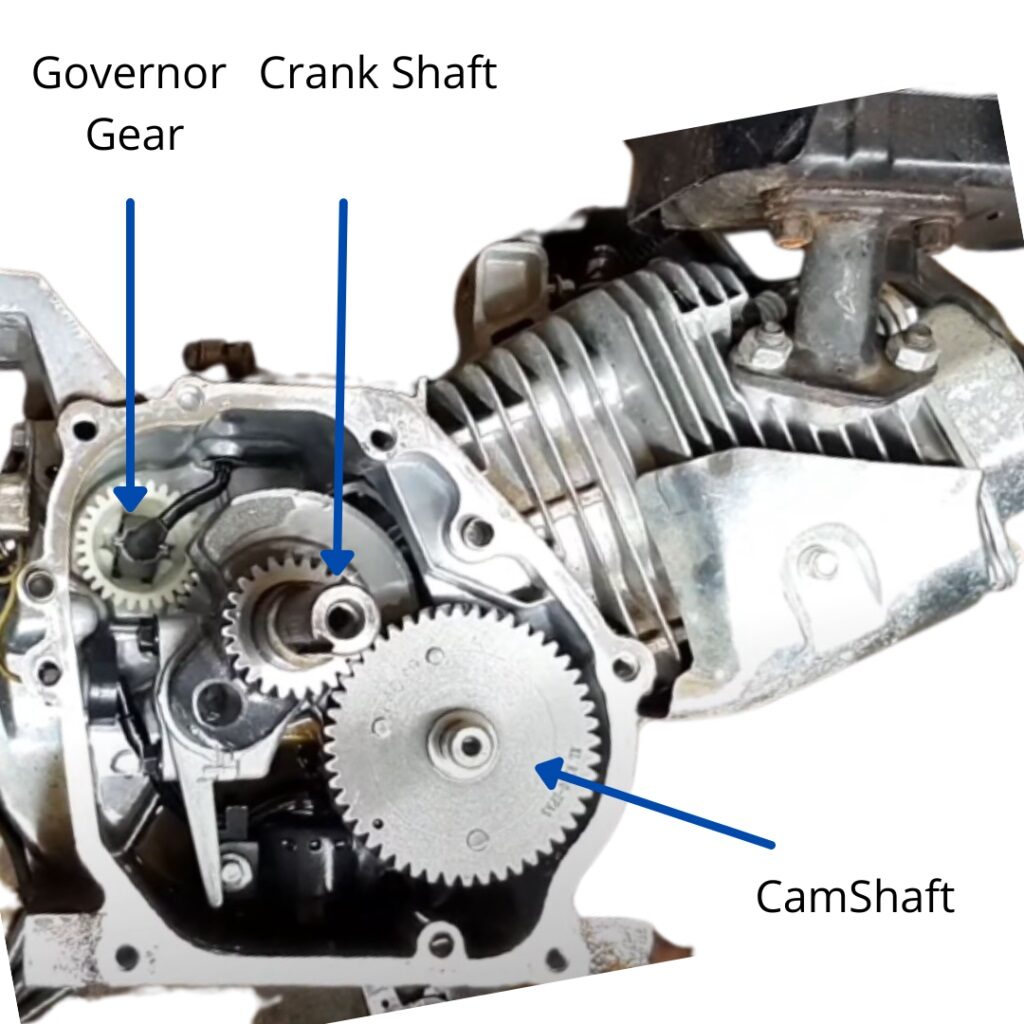 Working parts for both engines can be found on the Dynocam website, but higher lift cams require larger springs and therefore require mechanical work, larger valves, etc. for the half cylinders.
You have to be very careful with the hem clearance. It is best to call your supplier and explain the exact situation before ordering larger cameras. However, you can easily use Mod2 cameras (the most popular camera upgrade) on Hemi.
Connecting rod
ARC produces rods at +0.040″ for non-semicircular and +0.20″ for both semicircular and non-semicircular rods.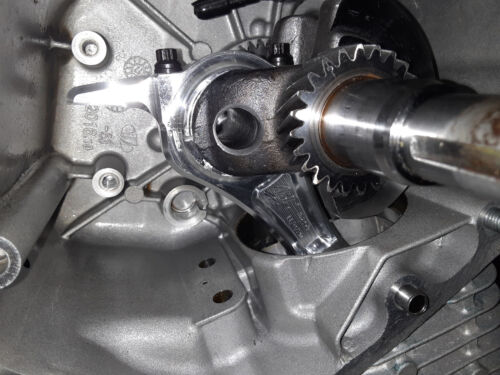 You may need to make some adjustments to the head gasket and piston size to keep it from falling out of the deck.
+0.040″ stems on a hemisphere cause gap issues, therefore not available.
Size and weight
Although both types of Predator 212 engines may differ in appearance and performance (albeit minimally), they are identical in size and weight.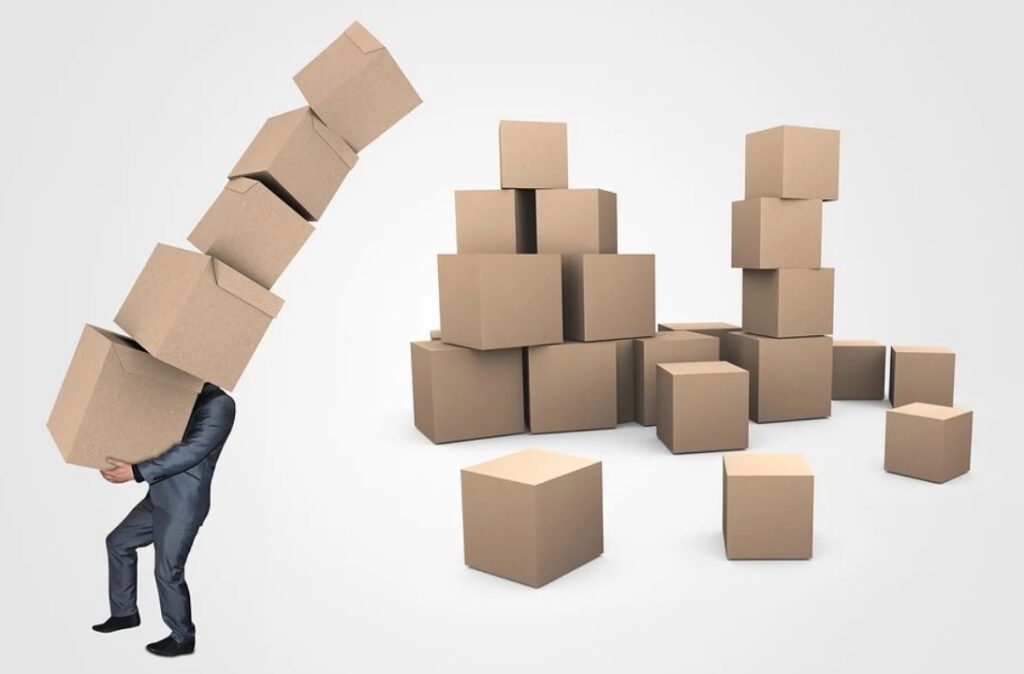 Both motors share the same schematic dimensions of 6.40″ x 2.95″ to 3.17″ (162mm x 75.5mm to 80.5mm) and overall motor dimensions of 15.4″ x 12.6″ x 13, 6″. They also weigh the same: 37.5 pounds (17 kg).
Availability
Although all variants of the Predator 212 engine are available for purchase, the most common model seems to be the Non-Hemi version. They seem to be a lot easier to find, so it's no surprise that they also seem to be more popular.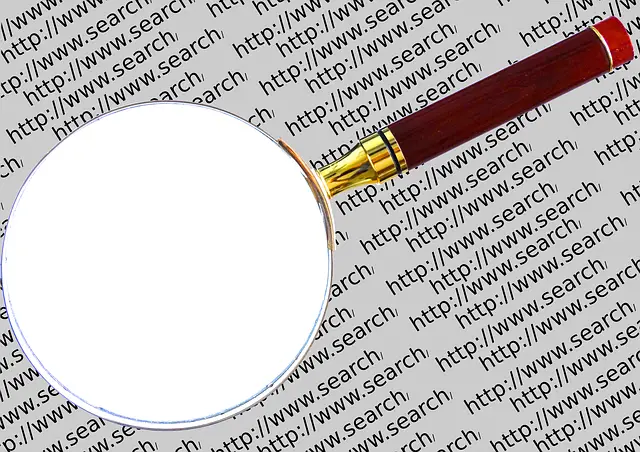 Also note that if you are planning to purchase a Predator 212 engine, and you are in the state of California, you must ensure that it is a Non-EPA-certified model (P/N: 69727).
Modifications
When it comes to engine mods, the Non-Hemi Predator 212 model is the clear winner, as there are many more mods and upgrades available for it. Although there are also several mod kits and upgrades for the Hemi engine, they are a little harder to find.
Another important aspect is the types of modifications. For example, Predator Hemi engines have the following valve spring modifications: 18 lb, 22 lb, and 26 lb. The non-twin has everything, including a 36-pound valve spring
This also applies to certain other types of internal and external components and modifications. With that in mind, the modification potential for a Non-Hemi Predator engine is much better.
Mods for other parts
Billet flywheels are different, hemispherical rocker arms are limited to a 1.2 ratio while you can get a 1.3 ratio for Non-Hemi Predator.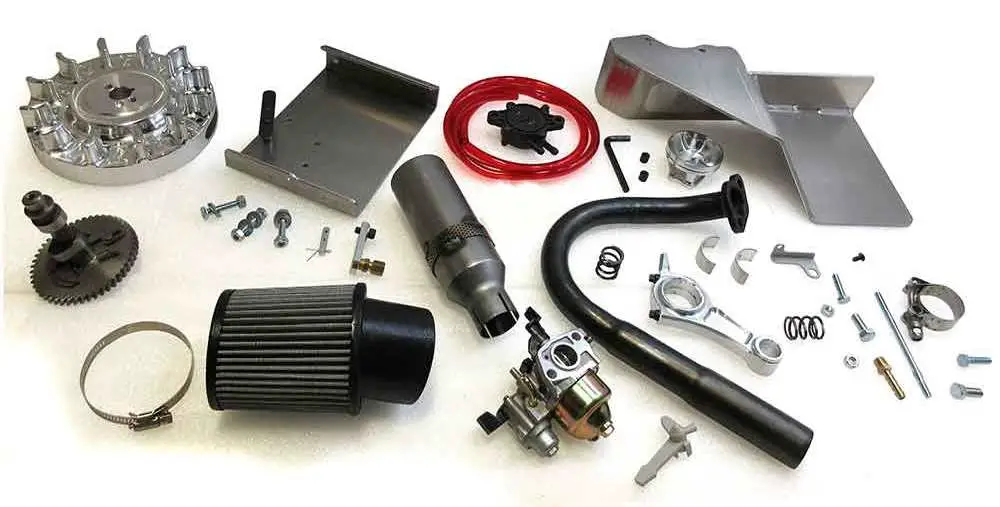 In general, modifications that could cause valves and pistons to collide are not available for Hemi engines.
Price
The Predator Hemi and Non-Hemi Predator models are priced about the same, as the differences are primarily in the chamber and piston head construction, as well as other small component differences (air filters).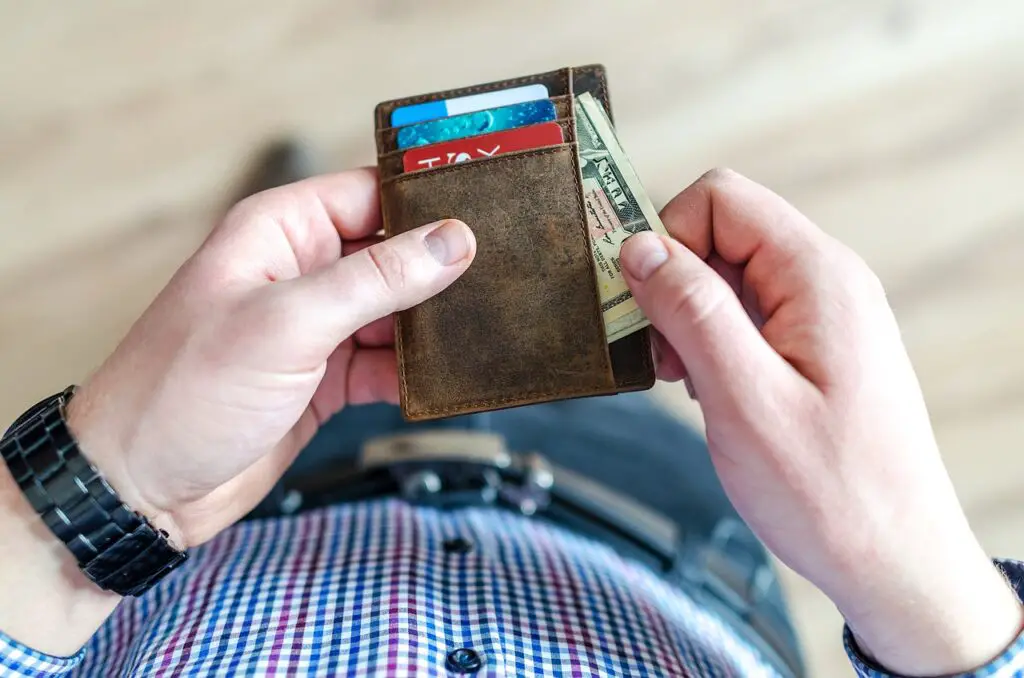 Durable cast iron cylinder resists wear and abuse
Convenient controls for easy start-up and operation
Beginning of recoil
Fuel cut-off for safe transport
Support shaft on ball bearings for long service life
Predator 212 Hemi vs. Non-Hemi pros and cons
Predator 212 Hemi engines
Pros
Cons
👍 Installation is pretty easy
👍It has several places to insert the throttle cable
👍The fuel tank capacity is large enough
👎Plastic tends to become brittle over time
👎Stamped metal is very cheap
Non-Hemi Predator
| | |
| --- | --- |
| Pros | Cons |
| 👍Non-Hemi engines even in cold weather start on the first or second pull | 👎Installation is tricky if you don't have an assortment of hand and shop tools, it can be tricky |
FAQ Predator 212 Hemi vs. Non-Hemi
Is a Hemi better than a regular engine?
A Hemi engine usually (but not always) has dome-head cylinders (instead of the traditional flat head) and a hemispherical combustion chamber. This setup can provide more engine power than a conventional engine due to the higher compression ratio that increases the combustion process.
Is the Hemi 212 better?
The main difference between the Predator 212 Hemi vs. Non-Hemi is that the Hemi version features a hemispherical chamber and Hemi-flat-top pistons design, slightly increasing engine power and top speed by about 2–3%. However, the Non-Hemi model offers better parts compatibility and modification options.
Is Predator 212 a good engine?
I bought a Predator 212 for my Doodlebug mini bike project, and it has a lot of power and torque, the bike with this engine is very fast. Definitely recommend this engine to anyone building a kart or mini bike.
Is the 212 Ghost a Hemi?
The Predator Ghost 212 has a Hemi head, it's a half-round flywheel, and the Ghost 212 does not have a half-round crank.
Can you put 10W-40 in a Predator 212?
Using the wrong engine oil in a Predator 212 engine can result in poor internal lubrication and potential overheating. Therefore, it is best to stick with the recommended 10W-30 oil for temperatures above 32 °F (0 °C) and 5W-30 for any outside temperature below 32 °F (0 °C).
Does Predator 212 have a governor?
The governor on the Predator 212cc engine limits the speed of your kart by adjusting the fuel delivery when the engine reaches 3600 rpm. This is not an electronic regulator, but a mechanical component. Therefore, you can remove it by accessing the internals of your Predator engine.
How much horsepower can you get out of a Predator 212?
This Predator engine has a displacement of 212 ccs. cm and a power of 6.5 hp, which allows it to work on almost any kart. At 2500 rpm, this engine delivers 8.1 lb-ft of torque. This engine is available in Hemi vs. Non-Hemi configurations and has a traditional manual starter.
Conclusion Predator 212 Hemi vs. Non-Hemi
So, everything depends on this question. In the battle between the Predator 212 Hemi vs. Non-Hemi engine, which is better? Well, it depends on what you are looking for. Therefore!
Comparing it with a partial update really makes it clear that Non-Hemi is a much better option if you want to make a lot of changes.
Choose Non-Hemi, especially if you can port to them. If you wish to run it out of the box with no modifications, select the Hemi motor.