List of 9 best go-kart tires: In-depth review
ROADGUIDER ATV 145 70-6 Go-Kart Tire
Wanda 145/70-6 Go-kart ATV Tire
HORSESHOE 4.80/4.00-8 Flat-Free Wheelbarrow Cart Tire
Carlisle 4.10-6 Stud Kart Tire
SunF 10×4.5.00-5 Go-Kart & Kart-Racer Slick Tire
SunF Go-Kart & Kart-Racer Slick Tire
13×5.00-6 Tire & Inner Tube Set for Razor Dirt Quad and Go Kart
SunF A004 ATV Go-Karts 145/70-6 AT off-road Tires
Your go-kart needs a reliable set of tires, and what can be more reliable than the ROOADGUIDER'S ATV 145 70-6 tires? Everything from the 6-ply construction to the nicely treaded surface, these tires are meant to be one of the best go-kart tires on the market.
If you are looking for a tire set with rims, you might consider the HORSESHOE 4.80/4.00-8 flat-free wheelbarrow cart tire. The steel rim and high-quality bearing help the tire roll smoothly and carry as much as 500 lbs. easily.
Considering how users drive karts, whether, on race tracks or off-road, tires can wear out within a few days to months. Unfortunately, if you want to keep your go-kart's performance, reliability and power intact, there is no alternative of changing the go-kart tires and redeeming the lost traction.
Below, I have gathered a list of the 9 best go-kart tires to help you get the best performance for your go-kart. So, without further ado, let's have a look.
1. ROADGUIDER ATV 145 70-6 Go-Kart Tire
The first option on my list is from ROADGUIDER. I came across this hidden gem while researching about best off-road go-kart tires; this set of tires impressed me with its high quality and performance. But, first, I would like to talk about the size of these tires. These tires have a size of 145/70-6. This means you can easily use and interchange these tires from your ATVs to go-karts.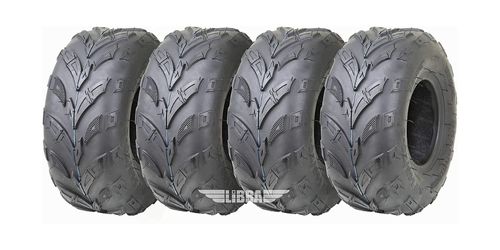 The grip is essential for any tire, especially for go-karting, where intense turns and corners are involved. ROADGUIDER kept that thought in mind and applied tread patterns on the tires to provide maximum grip on road trails and race tracks. So no matter whether sand, mud or snow, you'll love the grippy driving experience these tires offer.
As far as the price goes, these tires are not a budget-centric set. However, if you invest in these tires, the 6-ply construction will serve you a long time without any punctures or abrasions.
Features
·         Strong threaded pattern for grip
·         Compatible with different types of surfaces
·         6-ply construction to ensure maximum durability
·         Usable with other vehicles too
Pros
·         Easy to install tires
·         Decent tread depth
·         Wide rim for steady cornering control
Cons
·         The higher price can be a drawback for some
·         Sizing issues can affect the fitting for some units
2. Wanda 145/70-6 Go-kart ATV Tire
This set from Wand is another excellent set of go-kart tires I stumbled across while filtering out the best go-kart racing tires. Having seen and used these tires first-hand, I am confident to say these tires have all the right qualities to win you races on any track.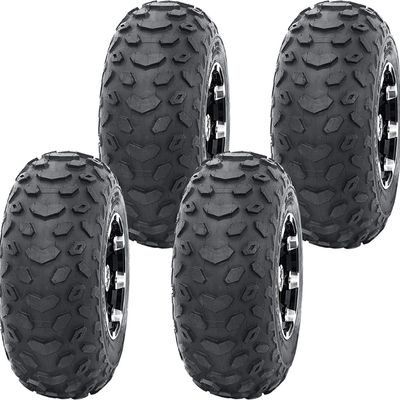 Before sharing my experience, I would like to discuss the price. With a price tag of over a hundred dollars, this set of tires is the most expensive option on the list. However, if you are willing to spend this amount, you won't be disappointed by the durable and long 6-ply construction.
After the price and longevity, lest talk about the grip. These tires have the same tread pattern as the last ROADGUIDER set. However, if you look closely, the pattern differs from any conventional tire you see on today's market. As a result, you get a steady and balanced experience while driving with these tires.
This set of Wanda tires also has an F speed rating, which means you safely go up to 50 mph with these tires. As for the load, these tires have a load index rating of 18, meaning each tire can easily withstand up to 165 lbs.
Features
·         F speed rating to go 50 mph safely
·         The load index number of 18 to carry 165 lbs. of load
·         Unconventional tread pattern for excellent grip
·         Durable 6-ply build
Pros
·         Extraordinary traction in all riding conditions
·         Wide rim for stable turns
·         Usable with both ATVs and go-karts
Cons
·         The higher price can be a deal breaker for some buyers
3. HORSESHOE 4.80/4.00-8 Flat-Free Wheelbarrow Cart Tir
Unlike the first two options on the list, HORSESHOE is a pretty established name in the car business. On top of that, the wheels are widely compatible with various vehicles, excellent durability and strength.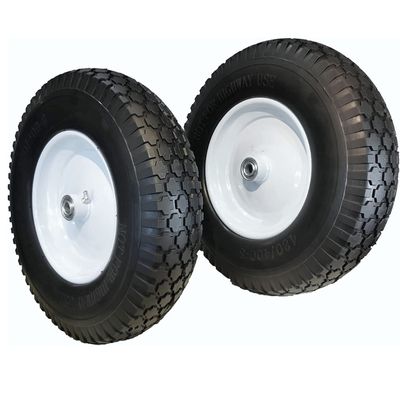 Unlike your regular go-kart tire, this tire has bigger size of 16" with a steel rim assembly in the middle. This tire is the first option on this list with any rim installed. Alongside the polyurethane build and steel skeleton in the middle, this tire can easily withstand a weight of 500 lbs. easily.
The contractor-grade tread patterns on the tires will always back you up no matter which field you use these tires in. If you have plans to use the tires in other sectors like farming or lawn mowers and tractors, you can use them too.
The price tag is definitely on the higher spectrum, but the steel rim and bearings installed in the tires make up for the price. But, of course, once you get these tires, you must install them and hit the road instantly.
Features
·         It can be used for farming and lawn maintenance
·         It can withstand a load of up to 500 lbs.
·         Steel rim setup inside the tires
·         It comes preinstalled with a 3/4″ bearing
Pros
·         Excellent grip for outdoor activities
·         Easy to install and use
·         Lightweight tires, thanks to the polyurethane
·         Puncture resistant
Cons
·         The bearings need improvement
4. Carlisle 4.10-6 Stud Kart Tire
If you are looking for the feature set of the previous HORSESHOE tires but under a reduced price tag, you have come to the right place. Carlisle 4.10-6 stud kart tire can be your one-stop solution for different tire needs.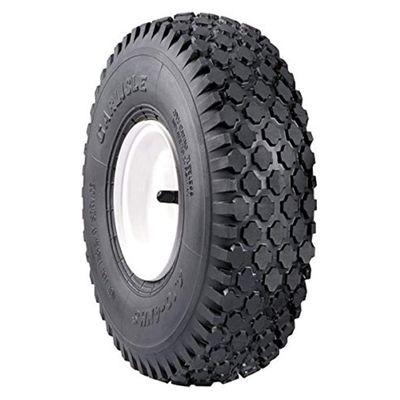 Let's start with the material first. Carlisle has done an excellent job using polyurethane for the tires instead of the traditional rubber casters. Because of polyurethane, the tires are more affordable, durable, and resistant to rough surface wear and tear. So if you are planning on going off-road karting and looking for the best auto go-kart tires and rims, Carlisle stud tires can be a worthy investment.
One of the hidden features of these tires is the tread pattern. They might look like random treads from the outside, but they set the bond correct between your go-kart and the surface. As a result, you get the best traction and extended braking time.
Like the previous HORSESHOE kart tires, this one also has a steel rim inside. Though there is no official load capacity, these tires should easily carry up to 300 lbs. without breaking a sweat. These tires need tubes to run, but they are straightforward to install, thanks to the split rim.
Features
·         Durable polyurethane build
·         Great for multipurpose use
·         Load capacity up to 300 lbs.
·         Easy to install the tubes
Pros
·         Provides grip and extended braking period
·         Steel rim for durability
·         Great value for money
·         An ideal choice for off-roading
Cons
·         Tubes are not included
·         The tires don't have bearings
5. SunF 10×4.5.00-5 Go-Kart & Kart-Racer Slick Tire
Finally, we have a set of tires originally meant for go-karting. SunF go-kart tires are for the most sophisticated drivers looking for the best performance on the race track. In the future, I'll discuss why these tires are specifically made for tracks and how well they perform.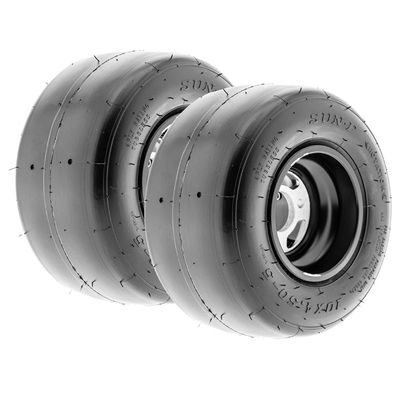 SunF go-kart tires have a 4-ply construction, which is impressive for a go-kart tire. Typically, more plies mean a more robust tire, and these SunF's are no different. As a result, you can easily rely on them to carry the official load capacity of 330 lbs.
Next, let's move on to the unique feature of these SunF tires, the smooth tread design. Again, this design might look odd considering the lack of grip, but it gives you great benefits on indoor or dry tracks.
If the surface is dry, smooth treads offer better traction than a treaded tire. In addition, since most of the indoor and official race tracks are dry, these tires will provide you with maximum directional stability and minimum resistance on the surface. All in all, these are one of the best go-kart tires for asphalt.
Features
·         Better stability and reduced resistance
·         Durable 4-ply construction
·         The maximum load capacity of 330 lbs.
·         Maximum grip with the full contact patch
Pros
·         Low profile design
·         Great for asphalt race tracks
·         Resistant to puncture and abrasion
·         Available in two sizes
Cons
·         The rims
6. SunF Go-Kart & Kart-Racer Slick Tire 11×7.10-5, 4-Ply, Smooth Tread, Tubeless 
Particularly noteworthy are tires that have been specially designed for installation on karts. The model in question will be the best option for those who have experience in karting and notice even minor disadvantages. You can choose these tires if you are looking for the best racing tires.
The design is made in 4 layers. This will provide additional strength. Therefore, you can definitely be sure that the tire will not burst from being overweight, or it will not break through from ordinary stone or glass. The manufacturer claims that the tires are capable of carrying loads up to 330 pounds.
The main feature of the tires in question is the original tread pattern. To many, this design seems strange, because there is no grip on the road surface. However, this was done to improve the quality of movement on closed and dry tracks. If the road surface is dry, the grip will be much better even if the tread is smooth.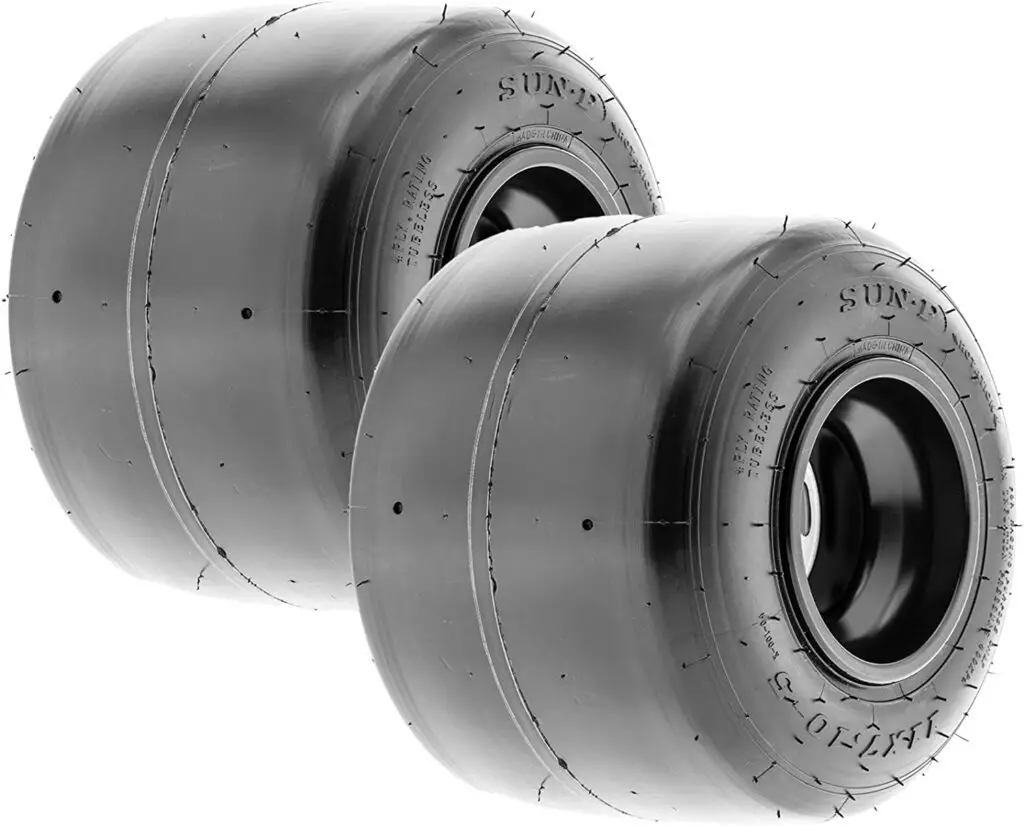 Therefore, you can definitely be sure of your safety. Almost always people ride on dry tracks. Therefore, the tire model under consideration will provide better stability during cruising. In this case, the resistance to the surface will be minimal. These tires will be the best option if you plan to ride on asphalt.
The kit includes 2 tires. Their size is 11×7.10-5. The rim measures 5×6.5 inches. The tire diameter is 11 inches. No tread depth. Each tire weighs about 4 pounds. It should be mentioned that tires are resistant to abrasion as well as punctures. Therefore, you can definitely be sure that emergency situations on the road will be excluded.
It's also a good option if you're looking for inexpensive go-kart tires. At the same time, for a small cost, you get a high-quality product that will last for many years.
Features
Material: 4-layer rubber
Size: 11×7.10-5
Section Width: 3 inches
Rim parameters: 5 inches
Weight: 2×4 pounds
Presence of protector: no
Maximum load: 330 pounds
Pros
low profile design;
suitable for racing on the track;
does not give in to punctures and attritions;
there are several sizes.
Cons
Unusual design that scares some buyers
7. 13×5.00-6 Tire & Inner Tube Set for Razor Dirt Quad and Go Kart, Dirt Bike, ATV, Yard Tractors, Lawn Mower, Wagons, Hand Trucks, Premium Replacement Tire Inner Tube with Bent Metal Valve Stem, 1 Set 
This is an equally popular tire model, which is ideal for karting. However, in addition, it can be installed on small vans, tractors, ATVs, lawnmowers, wheelbarrows, and trailers. This is the best option as an alternative to tires that are 13 x 5.00-6 inches.
The outside diameter is 13 inches. The inner chamber will be appropriate for Razor Dirt Quad, namely versions 1 to 18. The inner part is made of isobutylene-isoprene rubber. This provides better breathability. The coating will not wear out, even if you actively use the vehicle.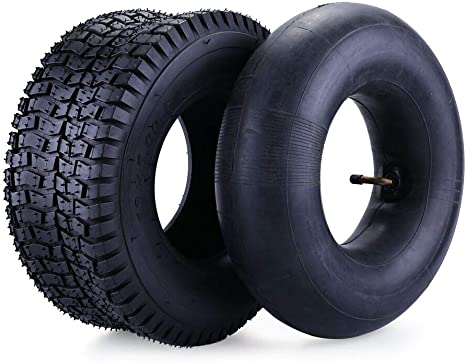 The inner tube has a curved valve stem. Therefore, it is able to withstand even harsh operating conditions. The cost of tires is small, only about $ 30 per piece. However, even this may seem expensive to many. Only for this amount do you get a quality product that will serve for decades.
Thanks to the original tread pattern, the tires will provide better traction for greater safety. If you buy this set of tires, you can achieve a stable and balanced driving experience. Even at high speeds, you will be safe.
Not to mention the A1 speed rating. This suggests that you can only accelerate to 5 km per hour. This is the best option if it is expected that a child will drive a vehicle with such tires. Indeed, due to the low speed, the likelihood of an emergency is reduced.
The load index is 1. This indicates that the maximum load on each tire should be no more than 11 pounds.
Features
Unique tread design for turns and braking
Usable with and without tube
4-ply durable construction
Pros
good breathability
smooth resistance-free rotation
Cons
8. SunF A004 ATV Go-Karts 145/70-6 AT off-road Tires
Finishing the list with another SunF tire set with all the potential to fulfil your go-karting needs. The previous SunF tires had smooth treads to use on a dry surface. However, if you are looking for a well-treaded new set, the SunF A004 tire is an excellent option.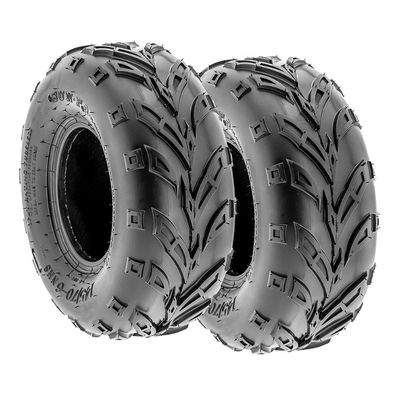 First, let's talk about the build quality of the tires. These tires have a 6-ply construction. 6-ply is rare for go-kart tires and helps control the speed without compromising the speed. The higher ply count also helps with stabilization on the ground. Despite the 6-ply construction, their tires are impressively lightweight at 4 lbs. Each tire can easily carry a weight of up to 165 lbs.
SunF has done a very innovative job of adding "V" shaped angle treads on the tires to get a maximum grip, ultimately leading to proper traction. These treads also help your kart get the best fuel economy. After the treads, SunF tires also used the side of the tires to add unique shoulder knobs for rim protection and traction.
The rims are not included in the package. However, you'll find several versions of this tire with different rim sizes. So if you want the best traction and control on curves, getting a bigger rim will help you.
Features
·         6-ply puncture-resistant construction
·         Directional V-shaped tread for maximum traction
·         Available for deafen rim sizes
·         Shoulder knobs for rim protection
Pros
·         Great balance
·         Comfortable on gavel
·         Balanced performance of various surfaces
·         Good bang for the buck
Cons
·         Installation is a bit tricky
·         The side wall is thin
FAQs
Can you put car tires on a go-kart?
No, it's not possible to use car tires on a go-kart. There are several reasons behind it. For starters, there is a difference in size and weight. Car tires are significantly bigger and heavier than conventional go-kart tires, so you can't install them on a go-kart. Then the mounting process is entirely different too, and a god kart doesn't have the mechanisms to mount car tires.
How long do kart tires last?
The answer to this question depends on what type of kart tires you use and how extensive you use them. For example, a high-quality tire with a thicker outer shell will naturally wear out slower. Moreover, your tire's longevity can vary depending on your driving intensity.
If you are driving just as a hobbyist, a set of ties can easily last for months. But, on the other hand, if you are a competitive driver who practices a lot every day, your kart tires may need replacement every day.
What size tires go on a go-kart?
There is no fixed tire size for go-karts like we have for conventional vehicles. However, the fun part about go-karting is that every kart is different, and so is its tire size. Even most go-karts have different sizes for front and rear tires. Typically, the tires tend to be smaller because it allows the kart a lower centre of gravity, swift control and low-end torque.
Final Words
That's a warp for today. I hope my article on the best go-kart tires will help you understand the essential qualities of a good go-kart tire and decide on the best tires for your go-kart. As I said earlier, each kart is different, as does its tire requirement.
So, before you purchase go-kart tires, ensure they are compatible with your go-kart. Also, tire requirements may vary depending on whether the surface will be wet or dry. So, consider all the aspects carefully, and you should find a suitable match from the list according to your budget