Buffalo has lots of go-kart tracks. But the thing is that it's not easy to choose the best one. Every kart track has its specifics, and you should be aware of whether it fits you or not.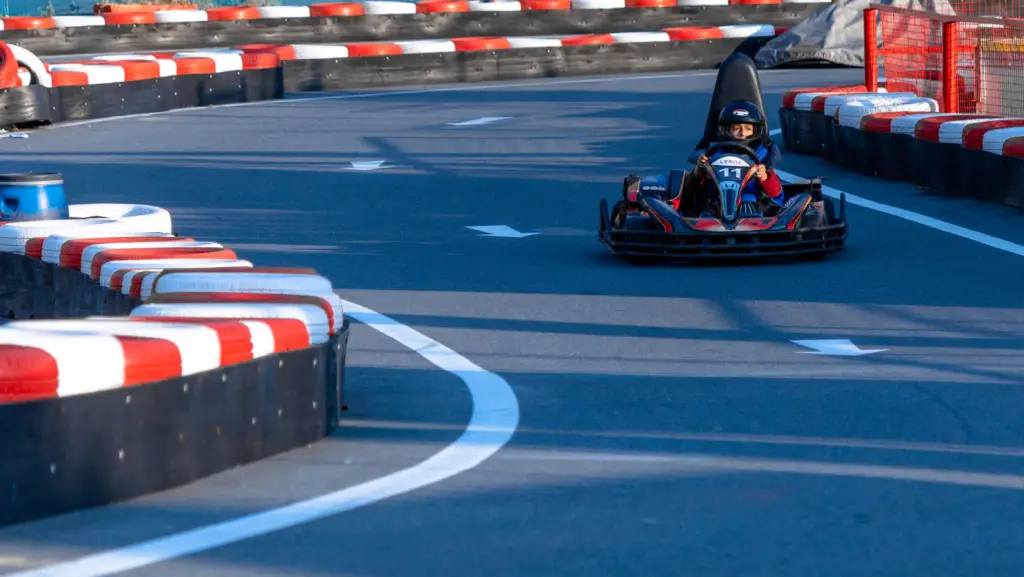 By reading the article, you will find out all the advantages and disadvantages of every popular kart racing center in Buffalo and its surroundings. So, you will definitely be able to make the right decision and have a lot of fun.
Not only does Buffalo mean Niagara Falls, but the city also attracts many people who are keen on speed itch scratched. If you are one of them, let's get started!
Grand Island Fun Center
This place is the best choice if you are not a professional racer and you are going to get some rest with your family or friends. Grand Island Fun Center is located in the center of Buffalo. That is why it is so easy to get there.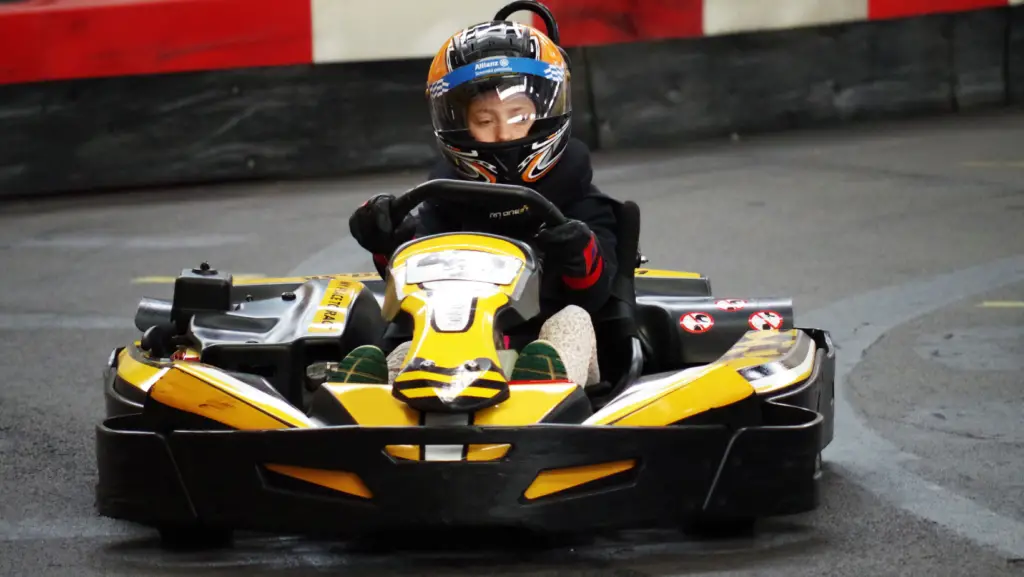 Facilities
Despite the racing trail of Grand Island, you will find plenty of attractions, stores, and restaurants.
For instance, you can play laser tag, mini-golf, or baseball (batting cages are provided) while your kids enjoy the attractions.
And all these things are in one place! It is good enough to arrange even birthday parties!
Type of track
But what about the kart racing on Grand Island?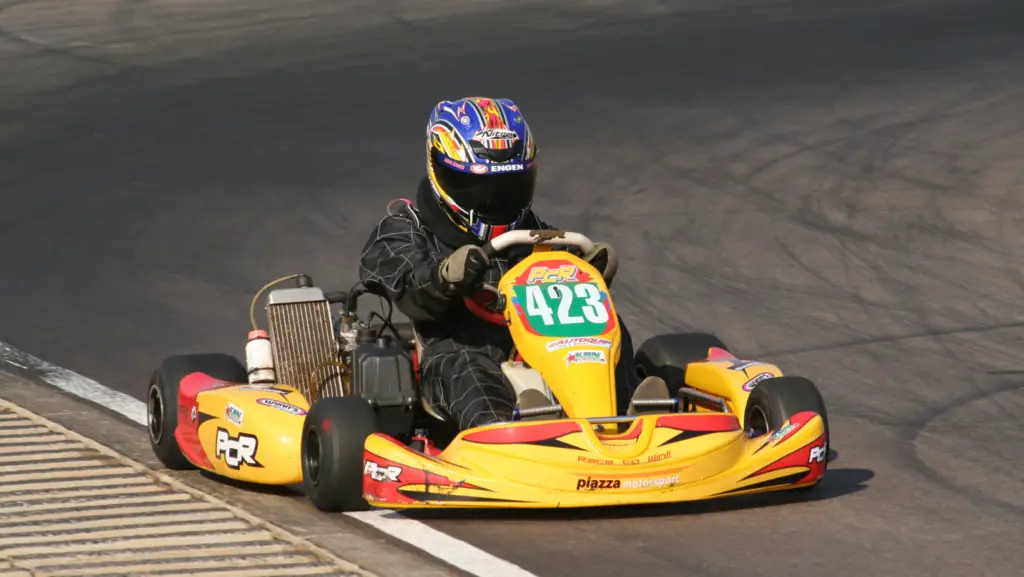 Of course, this kart track is designed for beginners. If you are a professional racer, you better choose another place. But it is an excellent opportunity to have fun or show your kids what auto sports are.
Maybe, they will like it. And there will be the first day of their successful racing career!
By the way, the go-karts are gas-powered. Enjoy the groan of a real engine! There are both one-place and two-place vehicles. Take part in a competitive race as a single player or a team player.
Genesee Valley Kart Club
This is about advanced sportsmen or people who want to discover what it means to be professional racers or dedicated racers.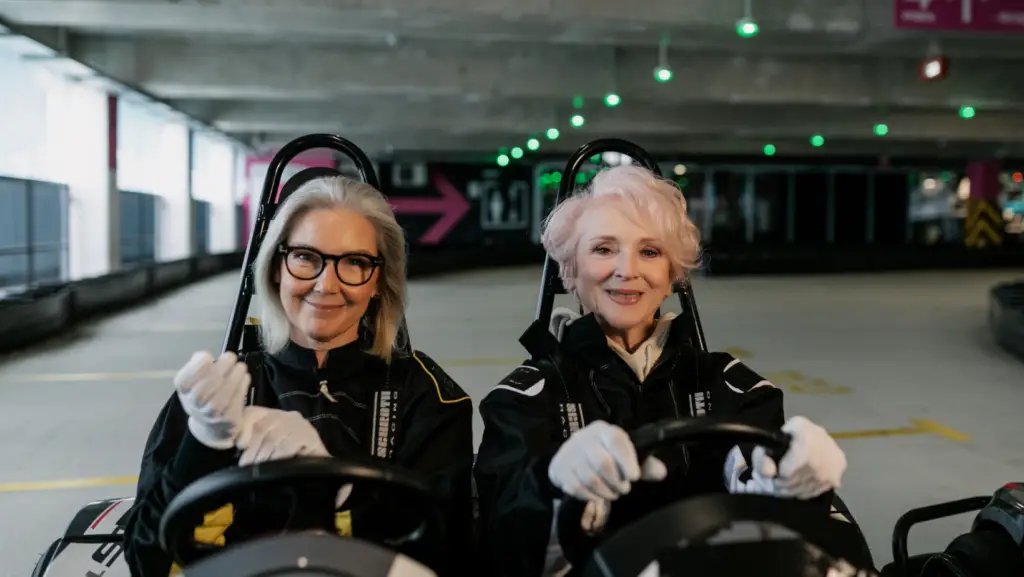 There are two remarkable things about this place you should be aware of at the very beginning:
The go-kart track was founded in 1959. So, it is one of the oldest kart-racing centers in the United States! Yes, the Genesee Valley Kart Club has got a rich history.
There are no go-karts for rent.
The main idea
Genesee Valley Kart Club is a community of people who love high speeds and competitions. The kart track layout is quite difficult. Mainly, there are no people in there who have come there occasionally. But if you are already into this kind of sport or you are going to enter, this place is perfect for you.
Epic Fun Center
If the previous option is too much for you, consider something like Grand Island Fun Center. Do you not fond of a gas go-kart and its exhaust? Then the Epic Fun Center is exactly what you want. They provide eco-friendly go-karts with electric engines.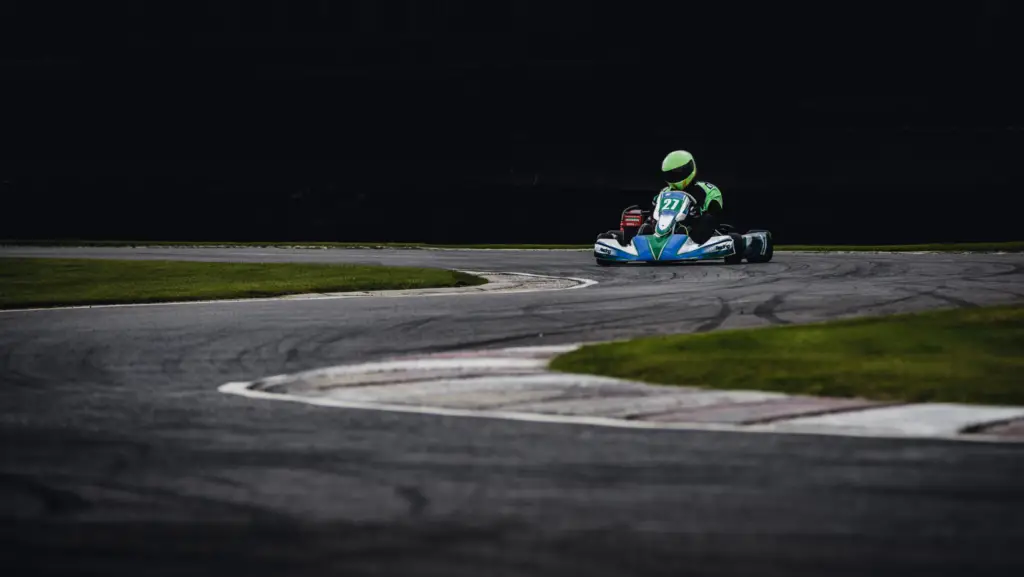 About the trail
The go-kart track has got concrete surface for excellent grip. The road is wide enough for overtaking your competitors on sharp turns. There are also long straight sectors that allow achieving a really high speed.
How to pay
There is one thing you have to know before going there. You can only rent the whole go-kart racing track. There are 30-minute and one-hour time slots available.
You can't just go there and rent a kart to compete with other occasional visitors.
Facilities
As you remember, it is a fun center. This means you can do nearly everything you want if you get tired of high-speed adrenaline. In the center, you will find mini golf, football, volleyball, and baseball fields.
What about food? There are numerous food courts.
Bayview Raceway & Golf
This go-kart track is a great place to take a rest with your family or your friends. There are lots of advantages.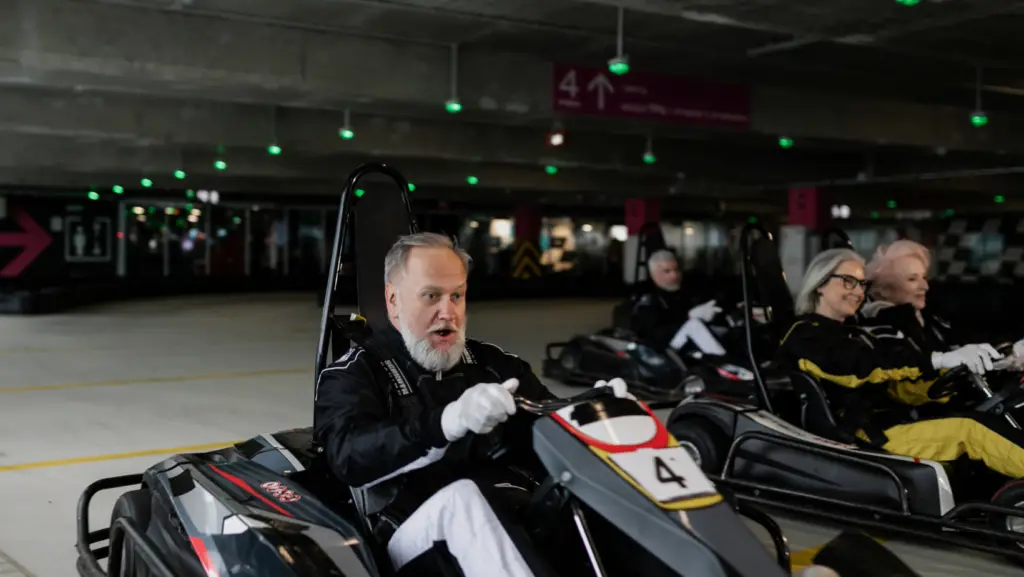 Beautiful landscape
The go-kart racing track is located near a lake. So, there is a perfect opportunity to calm down after an exciting race.
Flexible terms
You can choose whatever you want. Are you going to rent a go-kart only? Ok, no problem. Would you like to get the whole track to arrange a party? Welcome! It is a perfect place for birthday parties or other group events, by the way.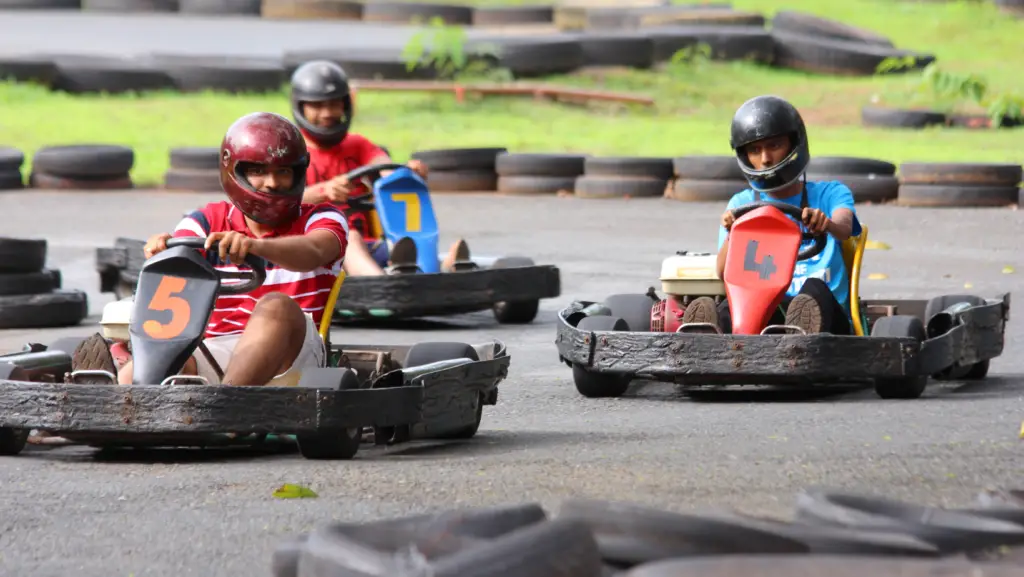 Acceptable for children and novices
The Bayview Raceway & Golf offers quite an easy trail to go through. So, it is not dangerous for kids. There are even no barriers at the sides of the road because there is no need for them.
You won't be hungry or thirsty there
Even though Bayview Raceway & Golf doesn't offer any food or drinks itself, you will definitely be satisfied because there is a good cafe nearby.
You can also take the food with you but keep it away from the track and the go-karts. This is a rule of the company.
The price is not high
It is one of the cheapest places. Meanwhile, it doesn't mean that something is wrong with it.
Seneca Hawk Family Fun Center
It isn't located right in Buffalo, but Irving is close enough. It takes about 30 minutes to get there by car from Buffalo, NY.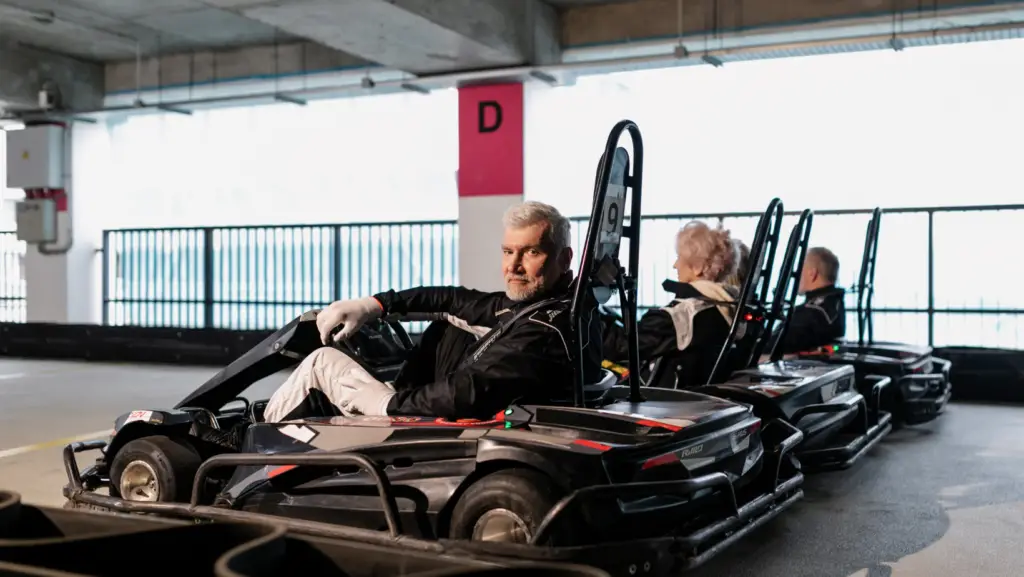 Why should you leave Buffalo to drive a go-kart if it has its own hub? What's the difference? So, here are the key points.
The key advantages
There is the Sunset Beach Club nearby. That means you can cool down and relax after driving go-karts.
There are lots of shops and amusements. For example, if you want to play mini-golf, you will find it there.
One more reason to go there
It is a perfect location to stop for a while if you are going to Niagara Falls for an all-American weekend outing. Get some rest at the restaurant, take away something from a store, fill up the car with gas (there is a gas station there), etc.
The track is not difficult. So, that is a great place for amusement.
Go-karts in Buffalo, NY: general table
Ok, you have already been aware of five go-kart tracks in Buffalo and its surroundings. There is a lot of information that is hard to remember. That's why this table will be really useful. Just take a look and choose the best option for you.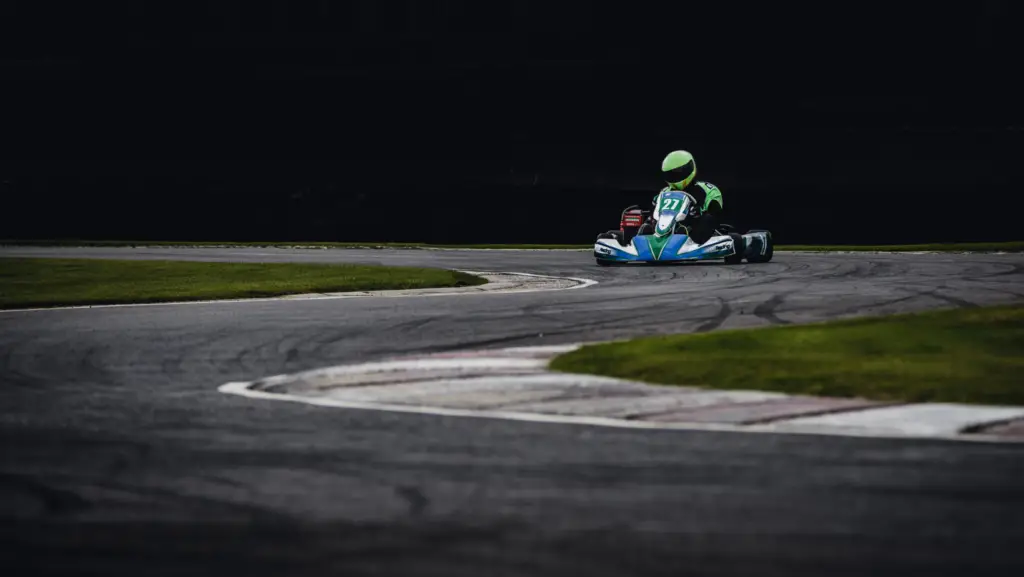 Table: Go-kart tracks, location, trail layout difficulty, type of the racing track, surface, types of go-kart, how to pay, safety features, facilities
Go-kart tracks
location
trail layout difficulty
trail layout difficulty
surface
types of go-kart
how to pay
safety features
facilities
Grand Island Fun Center
The center of Buffalo, NY
Appropriate for kids
Outdoor track
Concrete
Gasoline-engine go-karts, single-seater go-karts, or two-seater
Payment for one race or a fun pack
Golf, attractions, food courts
Genesee Valley Kart Club
Avon, NY
Racing club for auto enthusiasts
Outdoor track. Oval track or other configurations
Asphalt
Gasoline-engine go-karts, two- and four-stroke
There are no go-karts for rent. So, you don't pay for that.
Food courts, bathrooms
Epic Fun Center
Williamsville, NY
Appropriate for children and novices
Indoor track
Concrete
Electric go-karts
You have to take the whole track for 30 min or an hour
Football, volleyball, baseball with batting cages, laser tag, etc
Bayview Raceway & Golf
Buffalo, NY
Appropriate for children and novices
Outdoor track
Asphalt
Gas-powered go-karts
Arrive-and-drive method
Golf, food courts
Seneca Hawk Family Fun Center
Irving, NY
Appropriate for children and novices
Outdoor track
Concrete
Gas-powered go-karts
Arrive-and-drive method
Golf, food, drinks, gas station
Frequently asked questions
Should I go to a go-kart track if I don't have any experience?
All is fine. But it would be better to choose a trail for beginners. Just one example: there is a clone class of racing competitions designed by the New York karting association. You can take part in there in MXK racing center.
What should I do if I don't own a go-kart?
There is no need to go to a kart shop. You can take go-karts for rent.
Is it safe to participate in a race?
If you choose a go-kart racing trail that fits your skills, it is ok. An oval track is good for beginners.
Summary
In Buffalo and its surroundings, you can find lots of excellent track centers.
If you just want amusement, Epic or Grand Iceland Fun Center will be the best choice.
Do you want to be a racer? Pay attention to Genesee Valley Kart Club.
Are you going to Niagara Falls? Visit Seneca Hawk Family Fun Center by the way. There are go-karts, mini golf, restaurants, and so on there. This is a fun place to get some rest.
If you need to read about the Best go-kart tracks, please read our article.