A go-kart enthusiast may wonder about racing locations from time to time. You may not be familiar with K1 Speed if you're planning on going there for the first time. 
That's why you may be wondering Is K1 speed worth it? 
K1 Speed is definitely worth the money because it's a place of incredible fun with a friendly environment. In every K1 Speed location, you'll find lightning-fast electric go-karts, professionally designed tracks, top-of-the-line safety barriers, and private meeting rooms. For racers, there are multiple racing packages, and for visitors, it's a perfect entertainment destination.  
Maybe this answer isnt sufficient for you and you need more info. So hang tight as we discuss why the factors which make this place worthwhile. You'll get an intensive comparison between K1 speed and PKRA as well.
What is K1 Speed? 
K1 Speed is an indoor go-kart racing company that manages multiple indoor go-kart racing locations in the United States and around the world. In 2003, American racing drivers Boris Said and Susan Danglard, who had a background in the fashion industry, co-founded K1 Speed. 
On professionally designed tracks, they offer electric go-kart racing for both casual and competitive racers. Electric go-karts from K1 Speed reach speeds of 45 miles per hour on average. Also, they offer a variety of racing packages for individuals, groups, and corporate events. 
K1 Speed also provides helmets and racing suits for participants and uses a state-of-the-art timing system to keep track of the lap times and race results.
Is K1 Speed Worth It 
Your personal interests and budget will ultimately determine whether K1 Speed is worth it for you. Various race formats and leagues are available for different skill levels at K1 Speed, which is a fun and accessible indoor kart racing experience.
K1 speed is worth it because it provides an enjoyable and thrilling activity within the city.  Also, it creates lasting memories for groups of friends, families, and corporate teams.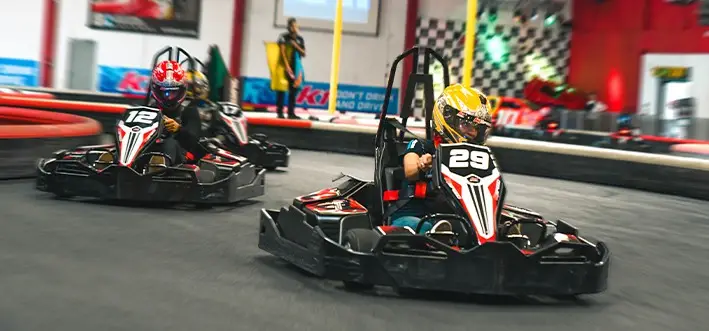 You'll find lightning-fast electric go-karts, professionally-designed tracks, top-of-the-line safety barriers, and private meeting rooms, at every K1 speed location. Also, you'll get an arcade, and an onsite café serving delicious food and drinks. 
With all these amenities, K1 Speed stands out as the premier entertainment destination in the area, perfect for a variety of occasions such as a fun date night, family outing, social event, team building exercise, corporate function, company party, birthday celebration, or bachelor/bachelorette party.
However, there are some contrary facts about K1 speed as well. It is quite expensive. And the waiting time is really long which is not a good sign. It's sometimes really irritating.  
Whatever, mostly it's a good place and totally worth it. Let's shed light on some outstanding factors that make the place worth it. 
5 Reasons Why K1 Speed Is Worth It
In this article, we'll take a look at five reasons why K1 speed is a worthwhile choice. Continue reading to learn about them one by one. 
Reason 1: Lightening Fast Electric Go Karts
Each of the locations of K1 speed is full of lightening fast electric go-karts. Since electric go-karts produce no emissions, they are environmentally friendly. To contribute to a more sustainable future, K1 Speed reduces their carbon footprint by using electric go-karts.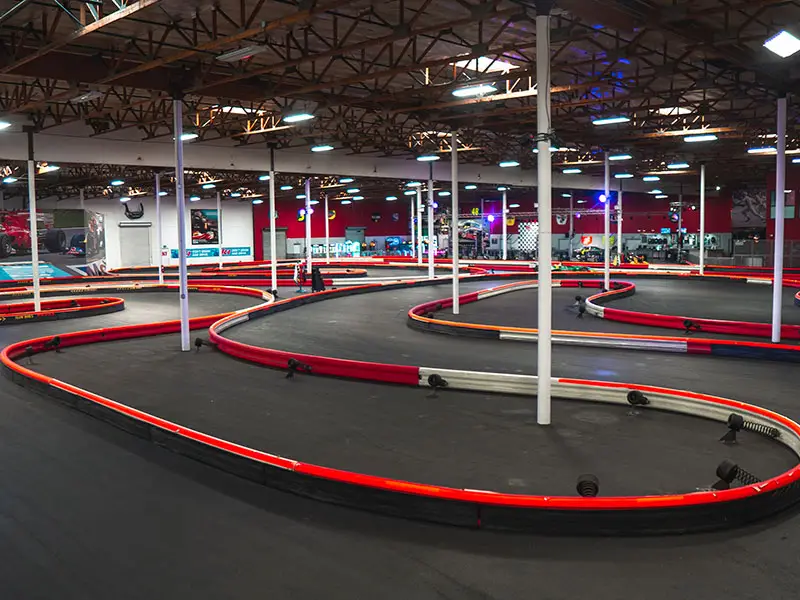 Furthermore, electric go-karts are quicker and more powerful than traditional gas-powered karts. And they offer a smoother and more consistent acceleration, giving customers a more thrilling experience.
Moreover, electric go-karts are safer than gas-powered ones. Accident risk is reduced because they have a lower center of gravity and a more stable base.
Reason 2: Maintains Proper Safety Measures
K1 Speed is known for providing high-quality safety barriers that are designed to protect drivers and enhance the overall safety of the racing experience. K1 Speed's safety barriers are designed to mitigate the force of impact in the event of a collision. 
This is achieved through a combination of factors, such as the design of the barrier and the materials used. Moreover, K1 Speed is committed to providing top-of-the-line safety barriers that are designed to protect drivers and enhance their racing experience.
To educate new riders on indoor karting safety measures and regulations, K1 Speed mandates a briefing session. It is recommended that racers wear closed-toe shoes and tie their long hair back into a ponytail for safety reasons. You will be provided with all the necessary racing gear by K1 Speed. These are some of the reasons go-kart is safer in K1 Speed.
Reason 3: Racing Leagues And Events
All K1 locations have a great feature that is they provide racing experiences for individuals of all skill levels. 
For those who are new to racing, they offer arrive-and-drive packages that typically last 10 to 12 minutes per race. K1 Speed hosts racing leagues and events for experienced racers to participate in.
Reason 4: Zero Exhaust Fumes
The location of K1 speed exhaust zero fumes is another significant advantage for parents with small children. There is no combustion engine to emit exhaust fumes during the races. Rechargeable batteries power the electric go-karts, which are not only environmentally friendly but also provide consistent acceleration and speed throughout the race.
Also, the absence of exhaust fumes creates a safer and healthier environment for both racers and spectators.
Reason 5: Fun And Friendly Environment 
K1 Speed is a great place of having fun. If you want to chill with your friends on your weekend night, this place is fantastic for it. In fact, on weekdays, this place offers fantastic deals, and they frequently provide Groupons and other special discounts.
Then, for racers, this place is an absolute blast with its high-speed, adrenaline-inducing races that offer the chance to win medals, trophies, and bragging rights.
Again, they supply head socks and helmets for customers to use, and they even encourage the use of personal GoPro cameras. They have helmets that are equipped with GoPro camera adapters and allow individuals to attach their cameras to the go-karts themselves. Moreover, the staffs and management people are courteous there. 
K1 Speed Vs PKRA
Both PKRA and K1 Speed are popular kart racing circuits with different rules, formats, and equipment requirements. If you're in the indecisive mode about which one to join, this section is going to help you in this regard. 
| | | |
| --- | --- | --- |
| Comparison  | K1 speed  | PKRA  |
| Affordability  | Cheaper  | Expensive  |
| Type of Karts | Electric karts  | High performative powerful engine gas kart  |
| Safety  | Excellent  | Excellent  |
| Skill level  | For beginners and casual racers  | For advance racers  |
The next step is to discuss them in more detail so that you can decide which one is right for you.
Comparison 1: Affordability 
K1 speed is a cheaper option than PKPA regarding every expense. In comparison with K1 Speed's indoor tracks, PKRA Racing's outdoor tracks are typically larger and more complex. Both of them provide some of the best go-kart tracks currently available throughout the United States. 
So the cost of renting and maintaining these facilities can be higher. Racers are often charged higher entry fees to cover these costs.
Furthermore, PKRA Racing uses gas-powered karts that require more maintenance than K1 Speed's electric karts.  So, it can be more expensive to race on these karts due to the high cost of fuel and replacement parts.
Comparison 2: Karts
K1 Speed and PKRA Racing use different types of karts when it comes to karting. The PKRA Racing team drives gas-powered karts, while K1 Speed uses electric karts.
Usually, electric karts tend to be faster and more powerful than gas-powered karts, which can provide a more thrilling and exciting racing experience. Moreover, electric karts are quieter and smoother, which can provide a more enjoyable driving experience.
Then,  PKRA's gas-powered karts need more maintenance and upkeep than electric karts, as they need regular oil changes, tune-ups, and other repairs. 
Comparison 3: Safety 
For both racers and spectators, safety is one of the most important factors when it comes to racing. Here we love to tell you that safety is a top priority in both K1 Speed and PKRA racing. 
Both of them use high-quality safety gear, such as helmets, gloves, and protective suits, to minimize the risk of injury in case of a crash. 
However, you might want to consider that K1 Speed has indoor tracks with tighter turns and shorter straightaways, which can reduce collisions at high speeds. On the other hand, PKRA races are held on larger, outdoor tracks with longer straightaways and higher speeds, which can increase accidents.
Comparison 4: Skill Level 
K1 Speed's indoor tracks have simple layouts and lower speeds that make them ideal for beginners and casual racers of all skill levels. On the other hand, PKRA is geared towards more experienced racers who are looking for a more challenging and competitive racing experience. 
If you are looking for a fun and accessible way to enjoy karting go for K1 Speed. Conversely, PKRA racing is better suited to experienced racers seeking a more competitive and challenging environment. Unfortunately, tweaks like tire doping are illegal in both facilities.
Frequently Asked Questions (FAQs):
How Many Locations Of K1 Speed There Are?
There is a total of 61 K1 Speed locations in the United States and around the world. The majority of locations are located in the United States. Therefore, you can easily reach any nearby location in your city.  
There Is Any Lounge In K1 Speed?
Every K1 Speed location has a lounge.  The lounge provides excellent options for rest and relaxation, including great food and beverage choices. Additionally, the Lounge's location offers fantastic views of the race track, making it an ideal spot to watch the action unfold while enjoying some refreshments.
Is K1 Speed Good For A Date?
Of course, it's a great place for a date night. In fact, K1 Speed's versatile offerings as an entertainment and event venue make it stand out as the best option in the area. It is also great for family outings, and corporate gatherings as well. 
Conclusion 
I hope you've got to know whether Is K1 Speed worth it or not. 
Those who race and those who visit K1 speed will have a great time. You can go to any of the locations without any doubt if you're planning to go. This article will be your holy grail if you can't decide. 
Best wishes for your venture!