Xtreme Racing Center
Music City Indoor Karting
Autobahn Indoor Speedway
SpeedZone Fun Park
Black Jones Racing Center
Choosing the right Go-Kart Track may be confusing for few people. That's why today I have come with the 5 best Go-Kart Tracks in Tennessee. Read through the full article to know detail about them
Go-karting has had an immense rise in popularity in the US in the last decade. Whether it's competitive racing or just having a fun time with friends and family, go-karting is the perfect activity for all sorts of age groups.
In the US, Tennessee can be easily considered a go-karting hotspot with some of the best go-kart tracks in the country.
Among these tracks, we have picked the Five best go-kart tracks in Tennessee. We considered every factor starting from the track, go-karts, and other facilities so that you can have a satisfying experience in these tracks. So, let's jump right in and see what these go-kart tracks have to offer.
1. Xtreme Racing Center
Details
City: Pigeon Forge
Type: Outdoor
Track: 2 tracks, 3500 and 1500 feet
Type of Karts: 2, Pro Karts and Extreme Karts
Age and Height Requirements: 11 years old, 56″ tall
Track Facilities
First up on our list is the Xtreme Racing center located in Pigeon Forge, Tennessee. It's an outdoor go-karting facility built for an enjoyable experience both for casual fun and serious racing. The facility runs on a first-come, first-serve basis, allowing you to enjoy go-karting right after you reach there.
One thing we appreciate is the 10% military discount. This place also offers family or work gatherings, but you'll have to call them to check the time and pricing. For the riders, Xtreme racing also provides ample parking space in the back and front of the building.
If you bring little kids with you, they can also have fun at the arcade section. All the staff is very helpful here, giving you the friendliest vibe possible.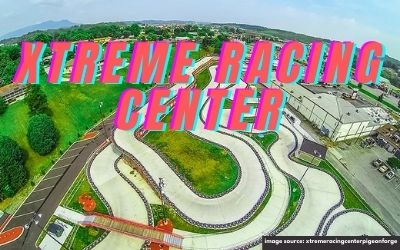 Track Breakdown
Three different types of tracks are another highlight feature of this facility. Xtreme track is the most basic one with a length of 3500 feet. Its tight turns and narrow straightway will surely fulfill your expectation. Then comes the reverse track, which is just a reverse lap of the basic one. However, the change in turns and corners dramatically increases the fun of this particular track.
The last track of Xtreme racing center is their elevated track. This one is the shorter yet the most fun one, according to the riders. This smoothly paved elevated roadway will give you the feeling of riding a heel with your go-kart.
Additionally, the elevated tracks I open for both single and double-seated karts. So you can go for the double seater to ride with your little kid who is not eligible for single karts.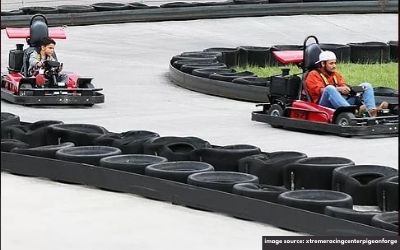 Go-Karts
Having different types of go-karts is one of the most attractive features of any go-kart facility. In that regard, Xtreme racing center is offering two different types of go arts for their customer. One is the pro karts; the other one is their high-end Xtreme karts.
Though both of these karts share the same engine, the Xtreme ones will require more driving expertise because of higher speed. To drive the Xtreme karts, you must pass a qualifier round with the pro karts.
Hours
Monday -Thursday – 10 AM – 11 PM​
Friday – 10 AM – 12 AM
Saturday – 9 AM- 12 AM
Sunday – 9 AM – 11 PM
​Contact
Packages
Grand Prix Special – $29.99
All Re-Rides – $12.99 each
Elevated Track
Single Kart – $10.99
Double Kart – $12.99
2. Music City Indoor Karting
Details
City: Nashville
Type: Indoor
Track: Single Track, ¼ mile, 77,000 sq. ft. facility
Type of Karts: Sodi RTX Electric karts
Age and Height Requirements: Check Here
Track Facilities
Music City Indoor Karting is dedicated to providing a safe, fun, and competitive racing experience to the people of Tennessee. Facility-wise, this is one of the complete go-kart tracks on this list. Whether adults or kids, Music City has something to offer for everyone.
Besides go-karting, this massive 77,000 sq. ft. facility features a 14-hole mini-golf course. You can arrange them here in dedicated parties and meeting spaces from birthday parties to corporate events. In addition, it's a walk-in facility, meaning you can arrive anytime during the operating hour and drive without reservation.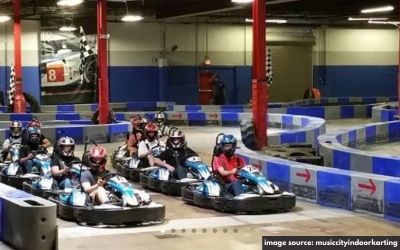 Track Breakdown
This facility has a single ¼ mile track. This track is built to provide you with a flawless karting experience. For now, this track has 13 turns. For a track, this small, driving through this many turns will surely test your karting skill. The layout of the track changes often to offer new experiences for the drivers. You have to check the website for any future changes.
Music City prioritized the safety of the drivers by outlining the track with CIK-FIA-approved TECPRO barriers. So in terms of any collision or impact, it'll give you maximum protection.
Go-Karts
All the go-karts available at the Music City indoor karting are manufactured by Sodi. If you haven't heard the name before, Sodi is considered one of the key players in the karting scene worldwide. These karts are electric which means you'll be getting noise and fume-free karting experience. 
There are no separate karts for kids and adults, but these Sodi karts offer adjustability and speed control mode to fit drivers of any age. For adults, the top speed can go up to an impressive 40 mph.
Hours of Operation
Sunday – Thursday – 12 PM – 9 PM
Friday – 12PM – 10PM
Saturday – 11AM – 10PM
Contact
Tel: 615-242-3275
Email: sales@musiccityindoorkarting.com
Pricing
Check pricing details here
3. Autobahn Indoor Speedway
City: Memphis
Type: Outdoor
Track: Singletrack, ¼ Mile, Customizable
Type of Karts: Junior Karts and Pro Karts, Electric
Age and Height Requirements: 8 years old, 48″ Tall
Tracks Facilities
Autobahn is one of the best dirt go-kart tracks in Tennessee dedicated to offering the best experience for the riders. Additionally, you can spend the extra time enjoying axe throwing. Booking is not mandatory but highly recommended because of the high demand for this facility.
You can come here barehanded to drive here as Autobahn will provide you DOT-approved safety helmet. For private meetings or corporate events, you can rent their conference room that has high-tech accommodation features.
If you book for an event, meeting, or party, you can choose different caterers to serve your desired food. Apart from that, you can buy regular snacks and beverages inside the facility.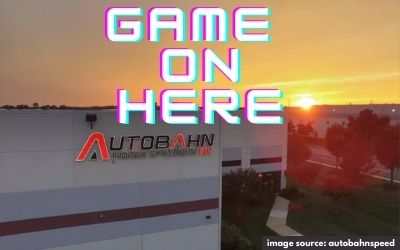 Track Breakdown
Autobahn is an indoor facility with a track that follows Grand Prix-style tracks. The track is a quarter-mile long and full of sharp corners and turns to give you the thrill and challenge. Additionally, the track is equipped with an advanced racing barriers system to protect you if you crash your vehicle. For the most accurate racing results, this facility offers a computerized timing system. With each race, this track can accommodate up to 10 pro-karts at a time.
Go-Karts
Autobahn karting facility features some top-of-the-line go-karts engineered and manufactured in Italy. These karts come with safety features like disk brakes and seat belts to keep you and your kids safe on the racetracks. In addition, all these go-karts are electronics, so you don't have to worry about environmental pollution as much.
Without any fume or noise pollution, you'll have a clean and peaceful karting experience here. Despite being a recreational facility, Autobahn's pro-go-karts can easily go up to a top speed of 50 mph, which is impressive. The junior karts have a limited top speed of 25 mph. Considering the minimum age requirement, that's a good number too.
Hours of Operation
Monday – Thursday – 11:00 AM – 10:00 PM
Friday – 11:00 AM – Midnight
Saturday – 10:00 AM – Midnight
Sunday – 10:00 AM – 10:00 PM
​Contact
Pricing
Single Race Pack – $19.99
2 Race Pack – $39.99
5 Race Pack – $74.99
8 Race Pack – $99.99
Check pricing details here.
4. SpeedZone Fun Park
Details
City: Pigeon Forge
Type: Outdoor
Track: 4 tracks, Slick, Coaster, Kids, and Twister
Type of Karts: Single and double seater, Electric
Age and Height Requirements: Check here
Track Facilities
Another great go-kart facility is located in Pigeon Forge. If you don't like the track selection at Xtreme racing center, you might want to give SpeedZone fun park a try. This is an excellent place for a family-friendly go-karting experience.
The staff and instructors are accommodating and ready to answer all your questions.  There is no dedicated party or event rental facility here, which is a minor drawback. However, you can enjoy snacks and beverages at the café located in the compound. The facility itself is located in a great area as there are many other attractions to visit nearby.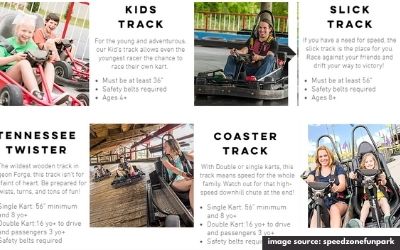 Track Breakdown
SpeedZone fun park is currently offering four tracks for their customer. Each of them is equally fun and challenging with different characteristics. The first one is the slick track, which is specifically built for racers and drift lovers. Next is the Tennessee twister, a unique wooden track with lots of turns and twists.
If you want to put your karting skill to the test, this one is for you. Finally, there is a dedicated kid track where young drivers can have their fun. If you want to enjoy karting with your kid, the coaster track will allow you that with a double-seater go-kart.
Go-Karts
SpeedZone offers the highest quality electric go-karts for the riders. Children and adults have separate karts modified according to their skillset. Additionally, the seats are padded, and there is a safety harness with each Kart to maximize the safety and comfortability of these karts.
Hours of Operation
​Monday – Thursday – 10am – 11pm
Friday – 10 am – 12am
Saturday – 9am – 12am
Sunday – 9 AM – 11 PM
Contact
Pricing
1 Track – $10
​3 Tracks – $20
5. Black Jones Racing Center
Details
City: Pigeon Forge
Type: Indoor
Track: 2 tracks, Slick and Indoor
Type of Karts:
Age and Height Requirements: 10 years old, 56″ tall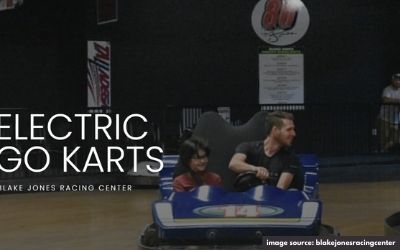 Track Facilities
You might have already noticed that Pigeon Forge is an entertainment hotspot in Tennessee. We are wrapping up the list with another entry from the Pigeon Forge. Black Jones racing center is a go-kart facility and offers much more for a complete family entertainment experience.
Alongside go-karts, this facility provides single and double-seater bumper cars for kids and adults. There is a small café within where you can have snacks and beverages. This place also offers rental services for birthday parties or large groups.
Track Breakdown
There are two different types of tracks in the Black Jones racing center. The first one is the Figure 8 slick track. This covered track is specially modified to give the riders a unique racing and drifting experience. You can drive both the single and double seaters on this track.
The second one is their regular indoor Kart for recreational driving. Inspired by dirt tracks, this oval track will surely fulfill your karting expectations at Black Jones racing center. This track, too, offers single and double-seater karts.
Go-Karts
Black Jones has a lineup of custom electric go-karts for its customers. They are well built with metal frames and a safety harness to deliver the best protection for the driver. As electric go-karts don't produce any fume or loud noise, they are just perfect for this indoor karting facility.
Additionally, the karts have both single and double seating arrangements. So whether you want solo fun or ride with a partner, you can do that in Black Jones racing center.
Hours of Operation
Contact
Pricing
Figure 8 Slick Track
Single car – $10per ride
Double car – $14 per rider
Electric Go-Karts
Single car – $10 per ride
Double car – $14 per rider
Bumper Cars
Single Ride – $10
Three Rides – $20
So…
That's a wrap for today. We have tried our best to add as much variety as possible to the list. We covered both indoor and outdoor tracks with all their key facilities and offerings so that there is something for everyone.
The options are narrowed down to 5 now, and all these are the best go-kart tracks in Tennessee that have solid feedback from their customers. So all you have to do is select the best match for yourself and have fun out there.