If you're planning to add an alternator to your predator engine the first step is to check the compatibility. Because a very selective few alternators can work with it.
So, what are the compatible Predator 212 alternator kits?
The AKSGKGQ Flywheel 10krpm and Flywheel 10krpm For Predator 212cc are well compatible with Predator 212 engines. The Power Products Flywheel W/Magneto and Jjing JJing Head Light Charging Coil Assembly also make it to the list.
That's the sneak peak. To learn more details join us in the complete discussion. Let's begin!
Available Predator 212 Alternator Kit
If you're planning to upgrade your Predator 212 engine then you'll need to know which parts would match. Here's a list of the available alternator kit components for Predator 212 Hemi and non-hemi engines–
Here are a few more details on the alternator kit components that you may find helpful.
AKSGKGQ Flywheel 10krpm For Predator 212: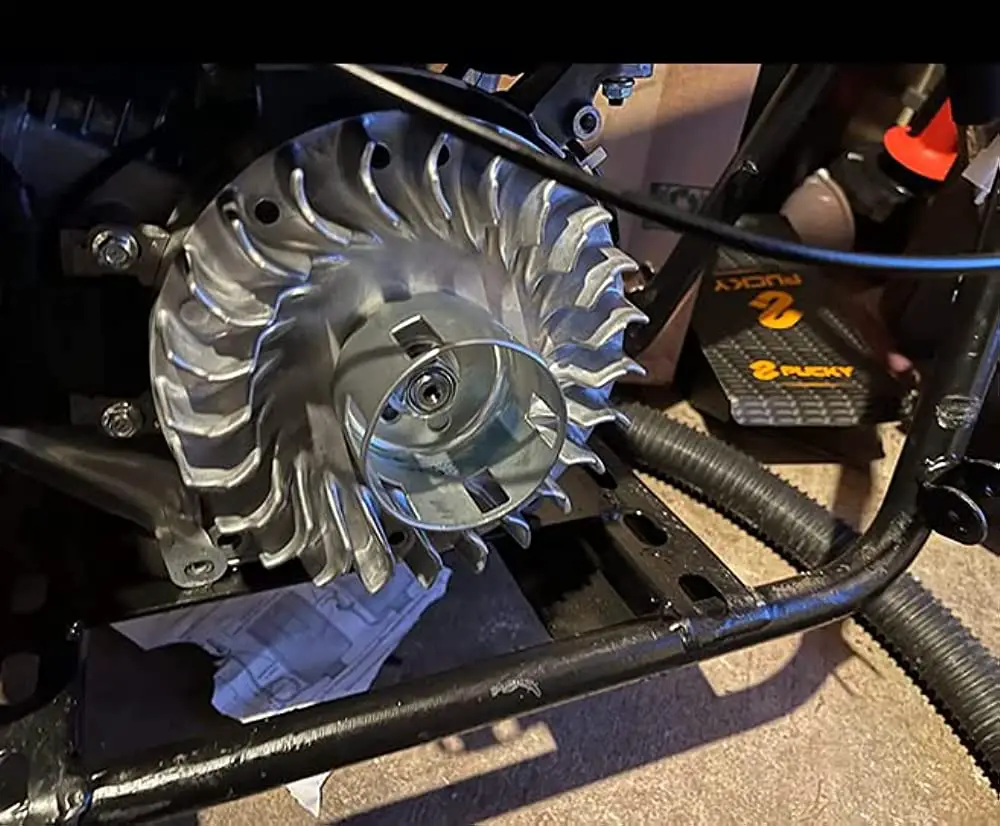 The AKSGKGQ flywheel cast aluminum is a flywheel ignition coil that is compatible with Predator 212cc and 224cc. It's an excellent choice for Predator 212 engine mods and upgrades.
Let's see the pros and cons of it.
Pros:
Compatible with Honda gx200, new ghost 212cc engine, clone 196cc BSP tilly, 
Also compatible with Predator 212cc non-hemi, and Predator non-hemi  224cc engine.
Matches with a Predator 224cc max power engine as well.
Rigid aluminum body
Price-$80 only
Cons:
Doesn't match with Hemi Predator engines.
Flywheel 10krpm For Predator 212cc:
This is another aluminum flywheel by the SJVLXHI brand that is compatible with Predator 212 series. These are the pros and cons of it.
Pros:
Fits with Predator 212cc and 224cc Non-Hemi engines and New Ghost 212cc engines.
Can replace clone 196cc BSP Tilly and Honda GX200
Rigid aluminum body
Price- $86.77
Cons:
Doesn't match with Hemi Predator engines.
POWER PRODUCTS Flywheel W/Magneto & Parallel Charging Coil:
This is one of the top-selling charging coils for Predator 212cc. The original Predator 212 doesn't have a charging coil included. So this will be a great addition for an update. 
Just like how putting a transmission on a Predator 212 does. Now, let's see the pros and cons of the mentioned product.
Pros:
Compatible with Predator 212cc R210III Non-Hemi gas engine
Different size shafts are available
Packaging includes  2x charging coil and 1x flywheel with magneto
Price: $60-$65
Cons:
Doesn't match with Hemi Predator engines.
Jjing JJing Head Light Charging Coil Assembly: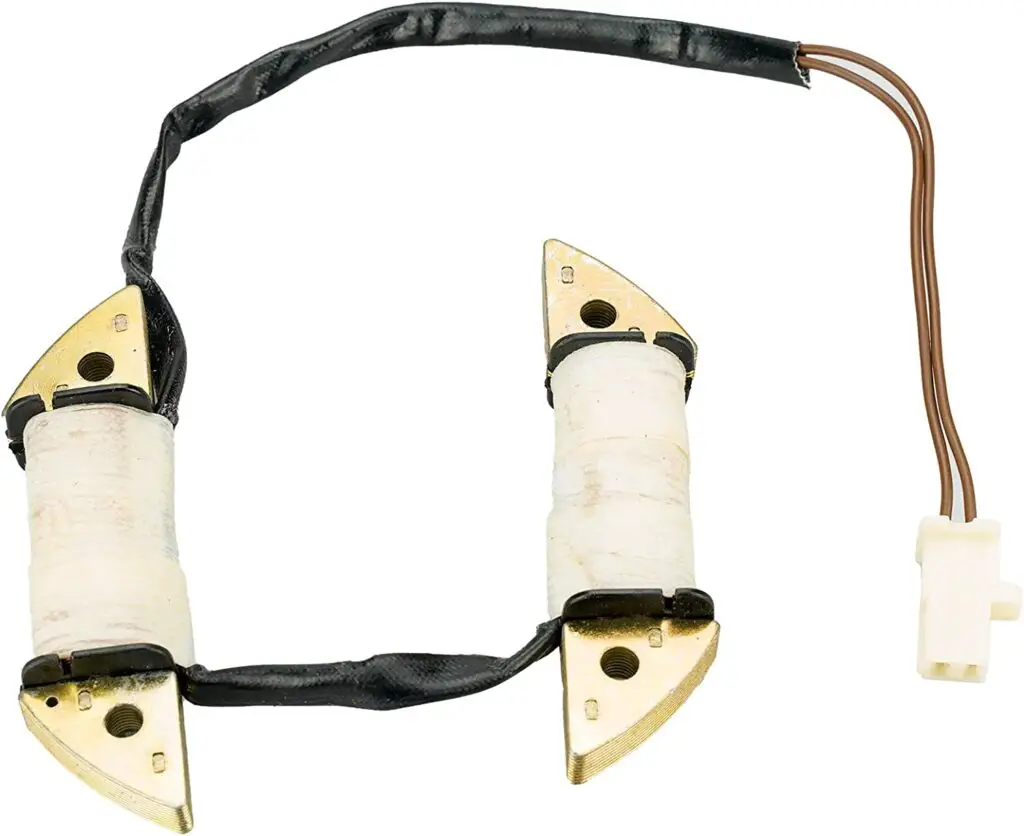 This is another excellent choice for high-output charging coils that goes well with the Predator 212 series. The pros and cons are given below.
 Pros:
Compatible with Predator 212xx 6.5Hp 7Hp engine, harbor freight 420cc 13 HP engine, 301cc 8Hp engine
Compatible with Honda GX160 and GX200 engines
Provides 12V 3ampere each
Price: $25
Cons:
May require a converter or adapter to use
What To Consider When Choosing An Alternator Kit For Predator 212?
When buying an alternator kit for your Predator 212, makes sure the following components are included within the kit.
Amperage:
When choosing the alternator kit make sure that it's capable of providing enough amperage to the electrical accessories. For example components like the headlights, a radio, a winch, etc.
The alternator kit compatible with Predator 212 usually provides 70-100 amps. It is enough to power the electrical accessories of your go-kart vehicle. 
Alternator kits that have a higher amperage rating are not necessary for Predator 212.
Voltage:
The voltage rating of the alternator kit must match the Predator 212 engine. Predator 212 usually has a 12-volt electrical system. Some alternator kits have higher voltage ratings like 14 volts.
However, they won't be compatible with Predator 212.
Mounting Hardware:
When buying an alternator kit, make sure all the hardware components are included in it. Especially the mounting hardware. Because if you have to buy them separately matching the sizing will be a huge hassle.
Price:
Alternator kits are available in a wide price range. The cost starts from a few hundred dollars to thousands. Make sure you're checking the pricing before deciding on an alternator kit to match your budget.
How To Install An Alternator Kit in Predator 212?
To install an alternator kit you'll be needing these tools below. Remember the tool sizing can vary depending on the component sizing of your alternator kit.
Tools Needed:
A Philip head screw 
Torque wrenches depending on the kit component sizing
A 3/4" socket
Screwdrivers
Rubber gloves
Safety glasses
Now follow these steps to install an alternator kit in your Predator 212-
Step-1: Remove The Old Flywheel 
Disconnect the battery of your engine. Now, remove the existing flying wheel with a Philip head screw. Remove the flywheel billet hub from the center and then remove the fan.
Also, remove the flooring millet with a ¾" socket. 
Step-2: Connect The Charging Coils
Take the new charging coils and attach them to the alternator housing on two ends. Use a torque wrench of the appropriate size to tighten the bolts.
Step-3: Connect The Flywheel
Now, place the new flooring millet in position and connect the bolts properly. Place the new flywheel in the appropriate orientation. Connect the billet hubs and tighten the screws with a torque wrench.
You can watch this video for visual support-
Step-3: Install The Billet Support
Mount the billet upper support with the extended head bolts. Use an appropriate torque wrench to tighten the bolts properly.
Similarly, install the billet lower support with the bolts provided with the part.
Step-4: Install The Alternator
Install the tensioner bracket onto the lower mount with a socket. Now position the pass-through hole of the alternator between the upper bracket and tensioner bracket.
Now connect the tension belt with the alternator and the pulley. You can use either a 669 or 725 belt. Tighten the upper and lower bolts on the alternator to make sure the belt is properly fit. 
Lastly, install the four gauze wires on the lower post of the alternator and the starter solenoid. For a better understanding of the procedure, you can follow this video-
Frequently Asked Questions (FAQs):
How fast will a Predator 212 go?
The fastest speed you can achieve with the Predator 212 engine is 20-30 mph. But the precise speed is determined by the gear ratio, drive wheel diameter, and engine's rpm. The rpm for the Predator 212 engine is 3600.
How much HP does a 224cc Predator have??
A 224cc predator engine's horsepower rating is 6.6 Hp. You can easily use it for both commercial and DIY purposes. It is designed for reliable and consistent performance in a variety of applications. Such as cement mixers, pressure washers, and generators.
How much HP does a Stage 5 Predator 212 have?
The horsepower of stage 5 Predator 212 varies depending on upgrades and modifications of the engine. It can generate 15-20 HP or more with major modifications like cylinder head work, performance camshafts, modern ignition system, etc.
Conclusion
That was all from us regarding the Predator 212 alternator kit. Hopefully, the discussion was informative enough for you. 
Predator alternator kit compatibility differs on hemi and non-hemi engines. So, if your predator has a Hemi engine make sure the kit you're buying is compatible.
Good luck!