Vintage go-karts are a classic whether you want them for your collection or for racing. Moreover,  you can earn up to $2500 by selling them in the exhibition held by Vintage Karting Association. Here are the 5 factors of vintage go-kart identification:
Brand and manufacturer
Date and Age
Components (engine, tire, & brake system)
Materials 
Design 
To learn about these vintage go-kart identification factors, stick with the article. You will get to know a lot more.
Key takeaways 
5 Factors of  Identifying Vintage Go-karts 
Go-karts have been a craze since the 1950s. To this day it is one of the most sought-after sports. There are also great indoor options like K1 speed.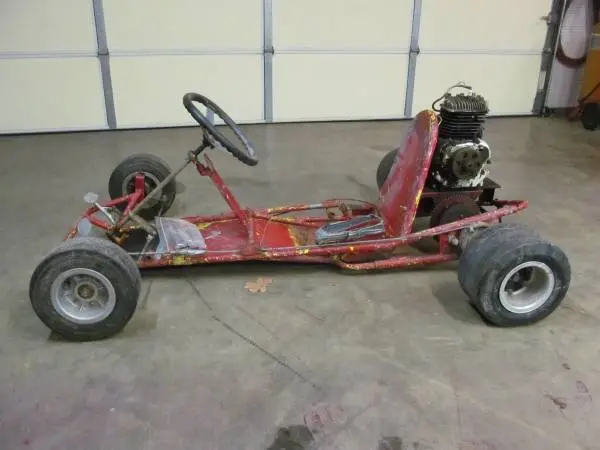 Here are 5 factors for vintage go-kart identification:
Date & Age
First, check the date and age to identify vintage go-karts. 
Go-karting has been going on since the 1960s when Duffy Livingston publicized the simple model of a lawnmower. Since then it has grown in popularity among generations. Models from the 1960s-1990s are quite different from each other. 
Now let's have a look at how models varied from decade to decade:
| | | | | |
| --- | --- | --- | --- | --- |
| Year  | Age  | Key features  | Power supply | Estimated Price  |
| 1960s | 63 years  | Wood or alloy bodies Plank seats Centrifugal clutches Drum brakes Rubber tires  | McCulloch Mc-10 Powered engines or 2-stroke gasoline engines   | $180-300 |
| 1980s | 43 years  | Advanced Machinery Disc brakes and clutchesUpholstered seats High-speed rubber tires  | Water-cooled engines  | Up to $1000 |
| 1990s | 33 years  | 60V batteriesUpholstered seatsRubber-coated steering Steel or metal walls Springs and torsion bars Soft rubber or tube tires for reducing friction. | Run on electricity  | Up to $400 |
These are the identifying factors of vintage go-kart models for 3 decades. Now some vintage go-kart serial numbers are more valuable than others depending on their age.  
| | | | |
| --- | --- | --- | --- |
| Year | Age | Serial Number | Value Estimation |
| 1982 | 41 years | Margay Karts- 90425, B90125, or 87542  | $150 – 300 |
| 1990s | 33 years | Hurricane Karts- US #105  | $500 – 2000 |
| 1990s | 33 years | Golf Karts- A94  | $300 – 1700 |
Vintage Go-Kart Brands 
Art Ingels created the first-ever go-kart in 1956 in LA. However, they didn't invest or publicize it much. Some vintage go-kart manufacturers are Go Kart Manufacturing Co, Rupp, Margay,  Bug Scorpion Go-Karts, Fox, McCulloh, Coyote,  and so on.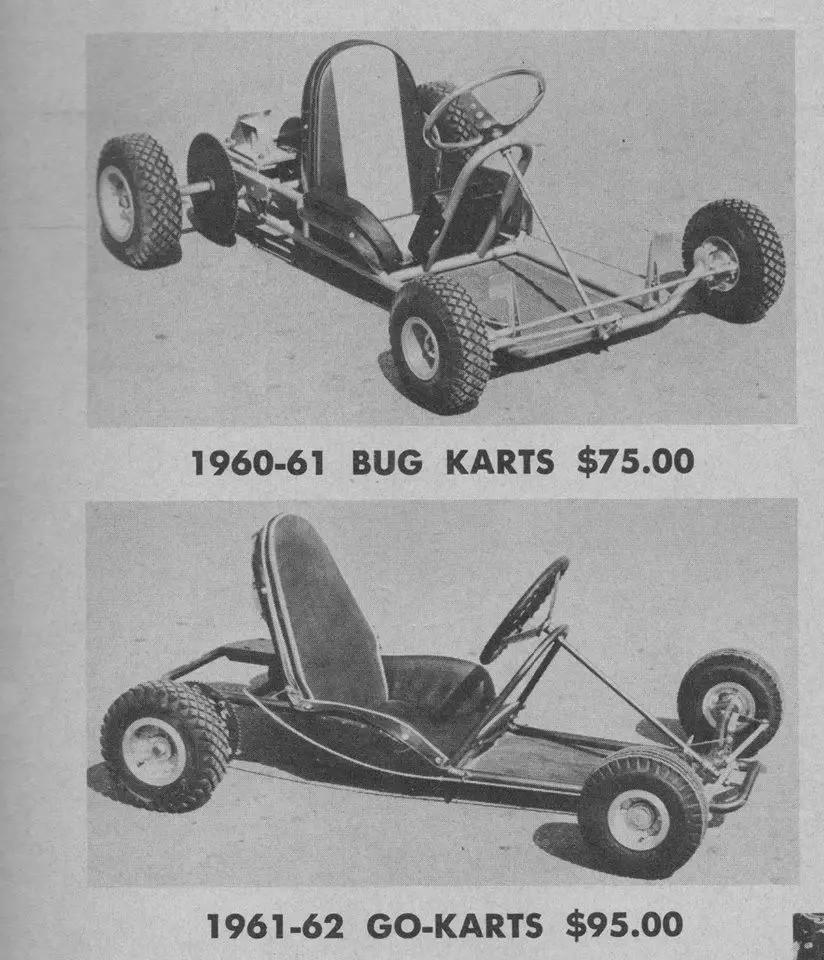 You can get valuable ideas on vintage go-karts' history and values by identifying their manufacturers. Here are key features of some vintage go-kart brands:
| | | | | |
| --- | --- | --- | --- | --- |
| Brands  | Year  | Key features  | Engines  | Cost |
| Go Kart Manufacturing Co.  | 1958 | First official go-kart brandFounded by Duffy Livingston and Roy Desbrow.Sturdy and durable built  | As the first go-kart brand, they used inexpensive engines from failed West Bend rotary lawnmower ventures.  | N/A |
| Rupp industries  | 1960s and 1970s  | Unique fiberglass bodies. Sporty and stylish appearance Eventually introduced 4-wheel karts. | Single or dual-engine models  | $2000- 5000 |
| Margay  | 1960s | Rear-mountedAdjustable castersFiberglass bodyFor racing  | 4-stroke engines  | $1000-3500 |
| Bug Scorpion Go-Karts | 1962 | Hydraulic disk brake Fiberglass bodyRecreational purposes  | 2 134cc (8.2 cubic inches) West Bend 820 2-stoke singles engine  | N/A |
| Fox Manufacturing & Co.  | 1950 | Go-Boy series High powerengines  | Double cycle engines  | $600- 400 |
| McCulloh | 1940s | Drum brakes Spoked wheels  | Mc-10 engines  | $300-1000 |
| Coyote  | 1960s  | High-qualityChassisRacing pedigree | High voltage motors  | $500-1500 |
Vintage go-kart brands are not only limited to these 4. For more options for vintage go-karts refer to Vintage Kart Registry.
Components 
Components include the type of engines, brakes, and tires a go-kart has. 
Go-karts from different eras used different engines. 1960s go-kart modes used a 2-stroke engine. The 1980s models mostly used water engines while the 1990s go-karts were electric go-karts. 
You can identify vintage go-karts by the type and brand of their tire. For an antique, ribbed tire go-kart, typical Carlisle or Goodyear tires were used. But, for racing and speed, Dunlop tires were used. Some key features of these tires are mentioned below:
| | | | |
| --- | --- | --- | --- |
| Tire brands  | Average Size | Key features  | Cost  |
| Carlisle tires | 11 X 3.5-5, 11 X 4.5 | Classic car tire, round profiles and ribbed threads | $30- 40 |
| Goodyear tires | 11 X 6 | Grooved threads, blue stripped sidewall and single sidewalls  | $40-50 |
| Dunlop tires | 11 X 5, 11 X 7.1 | Slick threads and ribs and black sidewalls | $45-50 |
Coming to the brake system, most of the old go-karts didn't have any brakes. In the oldest models, drum brakes were used however those brakes were not much reliable or efficient. Users back then relied on flat landings to reduce their speed.
Only from the 1980s, the brake system started to be better. Hence, if you find a go-kart with disc brakes, it might be from the 1980s.
Materials 
Vintage go-karts were mainly formed of 3 types of materials:- wood, metal, or vinyl. These 3 types of go-karts have their own features.
You can identify these materials by checking the walls, chassis, wheels, and hubs. Here are the features of each of these go-karts:
Wooden go-karts: Wooden go-karts were pink or mahogany. They had composite frames, iron wheels, hubs, and engine mounts with rubber seals. They can cost you $500 – 1700.
Metal go-karts: They were made of thin aluminium or steel walls. They had bronze brushings, rubber tires, and engine mounts. They have a rather expensive price range of $900 – 4000.
Vinyl go-karts: They had fiberglass or vinyl bodywork, rubber grips, vibration, dampeners, and plastic seats. They'll cost you $240 – 1000. 
Chassis Design 
The chassis design of vintage go-karts will evoke nostalgia with their low-to-the-ground and steel tubing frame. Vintage go-karts have unique bodies. Often they were found with fiberglass bodies or sleek designs. 
In an old go-kart, you will find ladder frames, angle bars, and channels. The oldest models were often simply glued or lashed. However, over time, more refined chassis designs were found in go-karts like welded joints and channel bars.
These days building a go-kart by yourself can be cheaper than buying one. The market of the go-karts chain is heavily condensed, so choose wisely.
If you want to restore your vintage go-kart, follow the video:
In case you want to buy a go-kart, Segway Ninebot Electric GoKart Pro- 4 is a good choice. 
Tips for Identifying Vintage Go-Karts
Even though you might understand the factors of vintage go-kart identification, it is still confusing where to start. It's hard to understand technical terms about engines, brakes, and tires.
So, here are some tips for identifying vintage go-karts:
You have to run in-depth research on the brands that sold or manufactured vintage go-karts. This research will help you to identify and understand vintage go-karts.
You can seek opinions from different forums and experts who have extensive knowledge about vintage go-karts. You can seek help from social media groups or online forums.
You can join vintage go-kart clubs and attend shows like Vintage Kart Association. You can learn a lot about vintage go-karts by taking part in different shows, events, and competitions.
Joining a vintage club or planning to race? Get a retro vintage go-kart t-shirt to fit right in.
Frequently Asked Questions (FAQs):
What Is The Average Price of A Vintage Go-Kart?
The pricing of vintage go-karts may vary from model to model. The range of price of vintage go-karts is from $200-$1000.
What Are Some Popular Vintage Go-Kart Manufacturers?
Some popular manufacturers of vintage go-karts are – Fox, Rupp Industries, Manco Products Inc., Bug Kart, and as such. For more manufacturers, you can refer to the Vintage Kart registry.
What Are The Dedicated Events for Vintage Go-Karts?
Vintage Karting Association is the best option for events and shows. However, you can also follow Rock Island Grand Prix which features a special 'Vintage Karting Grand Prix'. Also, GoPro Motorplex hosts different vintage karting events.
Closing words 
Vintage go-kart identification can be hard with all the technical factors and features. However, with proper research on brands and vintage go-karts' history, it will be easier to identify vintage go-karts.