Identifying a Carter go-kart relies on key features. 
First, the go-kart's model and serial number indicate its year. The model number begins with "17," then letters and digits. 
Second, the engine's brand and type, either on the engine or in the owner's manual, help you locate parts. 
The VIN on the upper firewall behind the driver's seat is also crucial. When the car was produced and other vital information are listed. 
Finally, you can identify your model by the Carter logo, which displays the model number and firm name.
That's not all. Learn in detail how to identify the Carter go-karts in this article.
Key Takeaways
Identification of Carter Go Kart through Model and Serial Numbers
Engine Brand and Model Knowledge
Frame Number (VIN) Significance
How to Identify Carter Go-Kart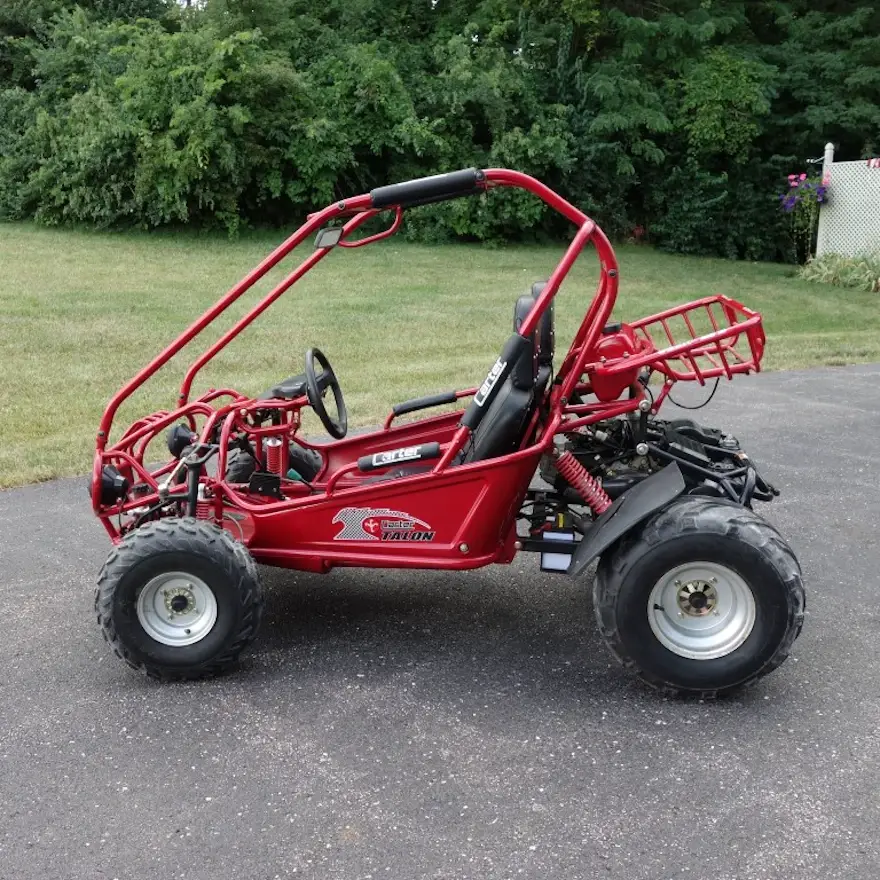 In this section, we will discuss the features to analyze for easily identifying Carter Go-Karts. You can analyze the same features for your Manco go-kart model identification as well.
Model And Serial Number:
Your Carter go-kart's model and serial numbers are located on both sides of the frame. This distinguishing information is frequently shown on a red or silver label.
The model and serial number are the key components of Carter Go-Kart identification. These distinctive markers are crucial for classifying and dating your go-kart. An important piece of the puzzle is the serial number, which is usually etched onto the frame. 
Model Number Decoding:
Model numbers for Carter go-karts have a recognizable pattern. The most notable thing about them is that they frequently start with the number "17". 
It is followed by a string of alphanumeric letters that identify the particular go-kart model. Identification of your Carter go-kart demands deciphering its model number.
Determining The Manufacturing Year:
Additionally, the serial number provides a way to identify the year your Carter go-kart was manufactured. The go-kart's production year can be determined from the first two digits of the serial number. 
With this information, a greater understanding of a given year's production can be gained. By carefully reviewing these numbers, you can learn more about your go-kart's history and make better upkeep decisions.
Engine Model and Brand:
The engine is the beating heart of any go-kart, and Carter models are no different. Each Carter go-kart component matches a certain engine manufacturer and model. 
In order to maintain, repair, or upgrade your go-kart, knowing the engine's brand and model is essential. You can use two main sources to determine the engine's brand and model:
The Engine Itself: A label or embossed symbols identifying the manufacturer and model should be visible if you carefully inspect the engine. The engine's serial number can usually be found on the engine case's lower front left side.
Owner's Manual: Carter go-kart owner's manuals often contain detailed information on the engine, including its make and model. If it's tough to interpret the engine marks, this can be a useful tool.
Frame Number Or VIN:
Each go-kart is uniquely identified by its VIN/frame number, which is a 17-character string of letters and digits. In most models, it's located on the upper firewall, usually behind the driver's or passenger's seat.
The model year, place of manufacture, and distinctive serial number of the go-kart are all contained in this alphanumeric code. VINs can be used by owners and enthusiasts to verify the authenticity of their Carter go-karts.
The VIN is also essential to many administrative procedures, including registration and insurance. Insurers and government agencies can precisely document and classify the vehicle, ensuring compliance with all legal requirements.
As for Carter Go-Kart's individual fingerprints, frame numbers are crucial to distinguish them from one another. The process to find it is similar to Ultramax chassis identification. 
Logo:
The distinctive logo of Carter go-karts is a noticeable and recognizable element. The emblem adds another level of identification by serving as a visual cue to identify the precise model. 
An emblem of Carter go-karts often includes the company name, Carter, as well as the model number. Drivers and observers can usually see the Carter go-kart logo on the front. 
The logo might also be engraved on some versions' seats or the steering wheel. The brand's identity will always be prominent thanks to this strategic positioning.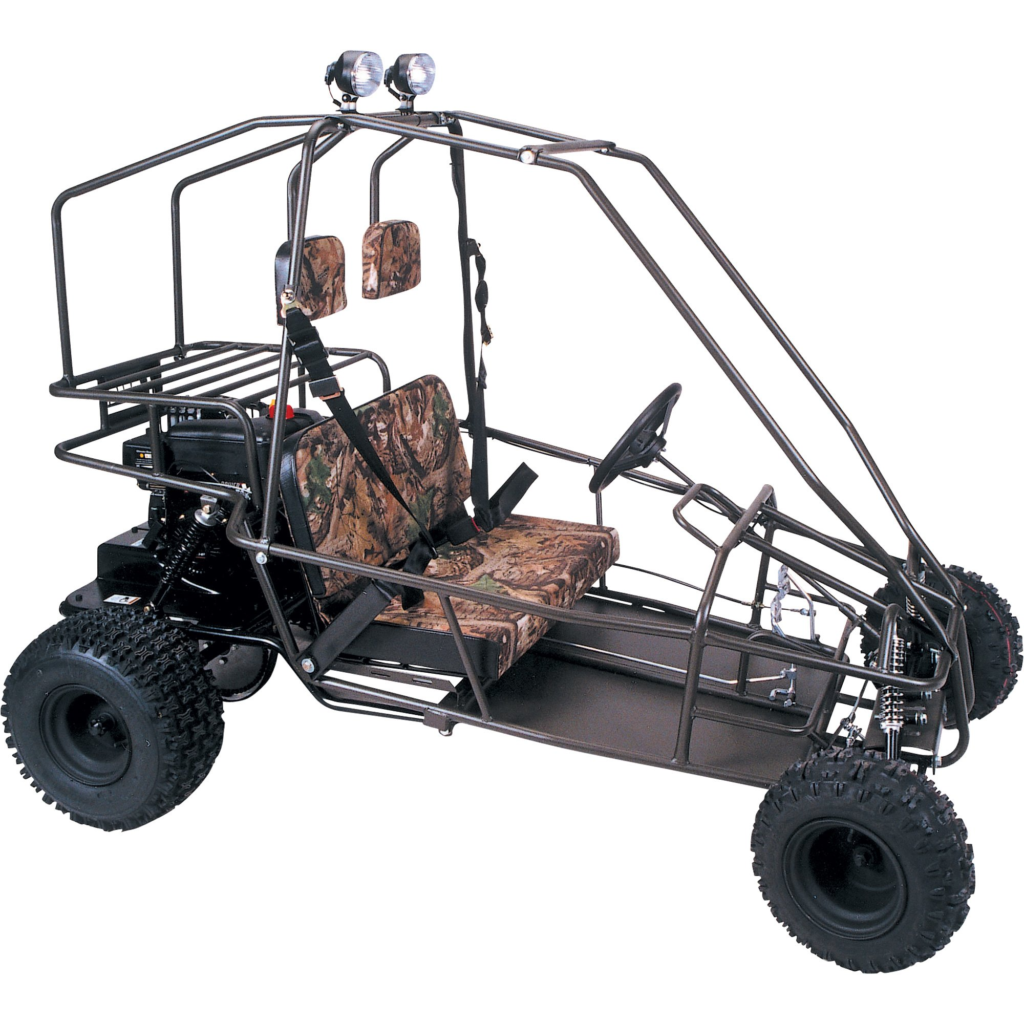 Tires:
Even though the tires are much smaller in Go-Karts, the performance of any go-kart depends heavily on its tires. That's because they are the point of contact between the vehicle and the track. 
Carter go-karts are no different, and their unique tire sizes serve as a useful distinguishing feature. 
For your reference, here is a list of tire sizes for some of the popular Carter Go-Karts:
| | | |
| --- | --- | --- |
| Carter Go-Kart Model | Front Tire | Rear Tire |
| INTERCEPTOR GTR 250/300 | 23×7-10 14 | 25×10-12 14 |
| GSX 150 R 2 | 20 x 7-8 | 22 x 10 -10 |
| GSR150R2 | 20 x 7-8 | 22 x 10 -10 |
| Talon 150 GX/FX/DLX Series | 19 x 7.0-8 | 18×9.5-8 or 22×10-10 |
And this is how you can easily identify your Carter Go Kart. Now it's time to take it out for a spin at the Oklahoma City go-kart track!
Frequently Asked Questions (FAQs):
How fast does a Carter go-kart go?
These impressive karts can go up to 38 MPH, which makes for a fast and exciting journey. Carter go-karts have a strong 150cc engine and an electric start to make them easy to start. Plus, their full suspension system makes sure that even on rough ground, the ride is smooth and comfortable.
How can I make my Carter go-kart faster?
Carter go-karts can be made faster by removing the speed governor, also known as the speed restrictor. With this change, the engine can run without the speed limits that were in place, which makes it go faster. You may need to make more adjustments and take extra measures if you change the speed of the go-kart. 
Why is my go-kart so slow?
One of the most common reasons why a go-kart won't speed up is because the motor is clogged or broken. So, you should make sure your carb is running at its best. The carburetor's job is to mix the right amount of air and fuel before it goes into the engine.
End Note
That's all for today. We hope that now you understand the identification process of Carter Go-Karts. 
We will be back again soon with more informative pieces for you. Till then, it's goodbye from our side! Happy Go-Karting!