Go-Karting Dangerous or Safe?
So, the answer to all of these questions is, both. That means go-karting is both dangerous and safe. But why? Well, simply to say, go-karting is a safe way of having entertainment. Go-karting provides a fantastic riding experience to riders.
Go-karting allows you to have quality time with family and friends. Additionally, go-karting is preferable to racers because it gives an amazing racing experience. As a result, kids, teens, adults, and people of different ages love to ride go-karts.
However, go-karting is considered one of the safest games if riders wear proper safety equipment at the time of riding a go-kart. Furthermore, it is essential to keep an eye on the proper rules and regulations and follow them for go-karting.
A safe outdoor or indoor playground with a safety boundary is suitable for riding go-karts. There are different go-kart tracks available in different areas for go-kart racing as well. That's why we can say go-kart racing is a danger-free game if you race on safe ground.
On the other hand, go-karting can cause back pain because of using a bigger or smaller go-kart. Also, severe dangers happen sometimes because of go-karting to those people who ride furiously on dangerous roads without safety precautions.
Accidents may happen at the moment of riding a go-kart. But an accident is an accident that may occur at the time of walking as well. So, you have to stay alert at the time of playing with a go-kart. It is the easiest way to stay safe.
What are the Common Injuries Caused by Go-Kart?
Answer: Dangers of go-karting are old yet an essential matter. Because of the dangers of go-karting, different common injuries are caused sometimes. Among some common injuries, there are hyperextension wounds to the cervical spine, thoracic injuries, and fractures.
Also, blunt injury in the abdominal area, fracture in different parts of the body, etc. are common injuries of go-karting. Hyperextension wounds and blunt-injury happen for traumatized events.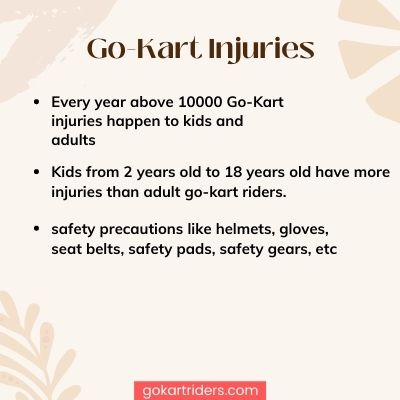 Instead, fractures mostly happen in parts like shoulder, hand, arm, fingers, leg, toe, feet, etc. for riding abruptly on the busy areas. A lot of people have injuries at the time of go-karting because of avoiding necessary safety equipment.
As a consequence, a front or back collision can cause bone fractures in different parts of a rider's body.
The Statistics of Go-Kart Injuries
Several statistics have been conducted and published on go-kart injuries. Go-kart accident statistics can show us the approximate occurrence of injuries that happened because of go-karts. Although most injuries occur with private go-karts, some also occur because of racing furiously on unsafe roads using go-karts.
However, the United States Consumer Product Safety Commission has shown that every year above 10000 go-kart injuries happen to kids and adults. Kids from 2 years old to 18 years old have more injuries than adult go-kart riders.
Based on another study, children have to stay around four to six days in a hospital because of go-kart injuries. Moreover, above half of the kids that have go-kart injuries have required an operation. Some kids even required more than one operation as well.
Another go-kart accident statistic has shown that kids who have private go-karts are likely to face accidents than the kids who don't have go-karts. Also, several accidents occur for not using safety precautions like helmets, gloves, seat belts, safety pads, safety gears, etc.
A study on kids' go-karting has shown that kids have injuries because of flipping go-karts without enough expertise. Additionally, kids who ride without parents' surveillance have most of the injuries as they don't get what to do at a sudden moment.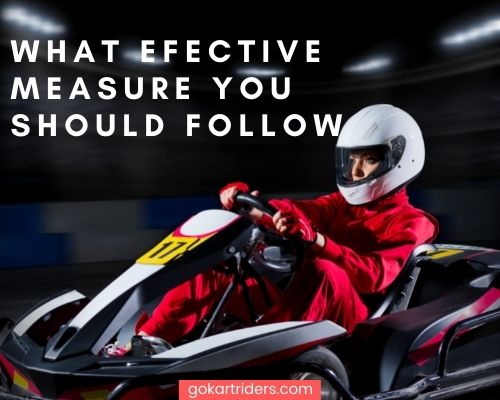 What Effective Measures Should be to Avoid Injury?
Answer: We can avoid the things that we know are dangerous for us. But we can't avoid such things that are out of our sight. That's why accidents happen at the time of playing or gaming. Even it may happen at the time of walking on a flat road as well. Therefore, we can take effective measures to avoid injury. Some effective measures that we can take are as follows.
Caution: First of all, caution is always better than cure. Thus, we can stay cautious at the time of playing, racing, or riding with a go-kart. By being careful, we can avoid simple and primary occurrences.
Avoid busy ways: Severe injuries happen because of riding go-karts in places where there are other types of vehicles existing. A highway or a busy road is not perfect for go-karting. So, we can simply shun busy places for go-karting.
Go-kart tracks: Using go-kart tracks for riding as well as racing with go-karts can prevent accidents. That's why there are different go-kart tracks available in different places. So, instead of riding on a dangerous trail, we can ride a go-kart on a go-kart track that has a safety boundary.
Safety Precautions: Additionally, a strong helmet, a good pair of gloves, and a suitable pair of shoes are the prerequisite of go-karting. For the sake of safety, every rider must follow this prerequisite. It will help riders stay out of severe danger.
Quality go-karts: The authority of go-kart tracks should focus on keeping such go-karts that have s safety belt and a strong brake system. Good quality go-karts are also needed to provide on the go-kart tracks for go-kart racers. Otherwise, injuries may happen anytime.
Racing rules: There are exceptional rules and regulations for racing with go-karts. One should know them and follow the rules before joining a go-kart race. Proper regulations will assist go-kart riders to ride amazingly and have fun at a time.
Regular Exercise: Although not mandatory, it is sometimes required to have regular exercise. It makes us healthy and keeps our muscles flexible as well as resistant to fracture. Consequently, we can work or play with much patience. Therefore, to avoid go-kart injuries, we can practice riding the kart regularly. It will also be a kind of exercise for riders.
Miscellaneous: In the middle of playing, take adequate rest to boost up your energy. It will help to keep calm and stay away from accidents. Having nutritious foods is also required mostly for sports lovers. It makes a person strong and resistant to danger from inside and confident from outside.
Lastly, we must keep an eye on these basic measures. Only then we can avoid injuries and enjoy a safe go-karting.
So, Is Go-Karting Safe or Not?
After the above discussion, the question remains whether go-karting is safe or not. We suggest that you take the essential measures before riding a go-kart. The knowledge of go-kart riding is a must among the essentials.
Kids should start riding a go-kart under their parents' surveillance. Besides, precautions should be taken so that riders can avoid any accidental occurrence. Good quality go-karts are also required to ride and race safely using a go-kart.
In addition to all, choose the existing go-kart tracks nearby your area. Because these tracks are great for offering a suitable and safe place for go-karting. Therefore, people of different ages can have unlimited fun riding different types of go-karts in go-kart tracks.